Starting today, March 31st, the Homeschool Village is hosting a Garden Challenge that anyone can participate in ~ even if you don't have garden space!   Here is what Homeschool Village has to say:
We are encouraging our community to garden by joining The HSV Garden Challenge! Even if you have one tomato plant on your back porch, herbs in your window sill, or acres for potatoes … share your plan, planting, cultivating, and harvest photos with us throughout the months of March, April, May & June — and you will be entered to win a $20 visa card to use at your local grocery store!
To participate:
Join us and share once per month March 31st, April 28st, May 26th, and June 30th – sharing your latest garden update . Include: 1 current photo, progress, lessons/resources being used, and homeschooler's reaction / involvement!
Find out more about the Garden Challenge at the Homeschool Village. They will be hosting a monthly link-up where everyone can share what they are doing, planning and progress on their gardens and/or containers.
In addition, Homeschool Creations has an awesome Gardening Unit! Check it out here! This is for preschoolers.  Everything you need for the entire unit! FREE!  As well as bonus free stuff if you link up today over at Homeschool Village with your garden plans!
Here is what we are doing for our garden right now: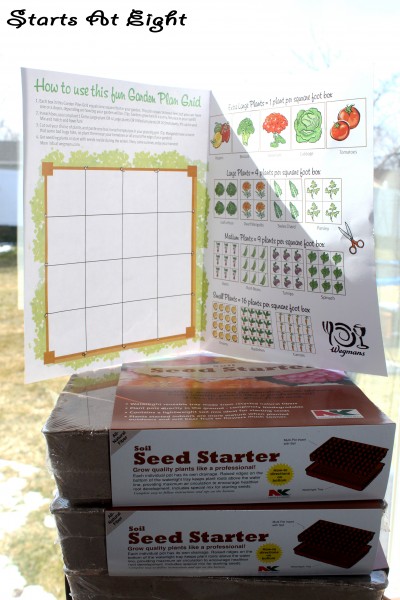 Here in NY there is still snow on the ground. We usually don't trust too many plants outside until later in May :(. I know, it seems like forever from now!
Right now we are buying our supplies to start our seeds in our bay window. That means we search out our gardening gloves, little shovels, and all the little empty pots and plastic drainage trays that we can find from last year. The we buy more potting soil, Osmocote for vegetables, seed starter trays, and seeds.  At the end of April when it is time to post again we will have just started planting our seeds to put in the bay window.  Then by the end of May when it is time to post again we will just be planting our seedlings into the garden outside.
We are looking forward to a large garden expansion this year.  This will only be our third year planting a garden.  For the first two years we have only had one 4'x4′ square to garden in.  This year we are adding 3 more 4'x4′ squares for us to garden in.  It will take some work to dig out all the grassy area in our backyard to make room for this expansion, but we are looking forward to having all this extra space to plant more of the things we love, and to try some new things as well.
I plan on using the Garden Preschool Pak from Homeschool Creations for Ava. I ordered Jack's Garden, along with a couple of other books for us to explore. With the older two, who already know how a seed turns to plant, I don't plan on using anything formal. We are going to do a lot of work and hands on building of the expanded garden with the older two as they enjoy science so much more when it is doing instead of just reading!
I will end  this post with a photo from our previous year of gardening. It will make a great comparison for the new expanded garden we are planning for this year!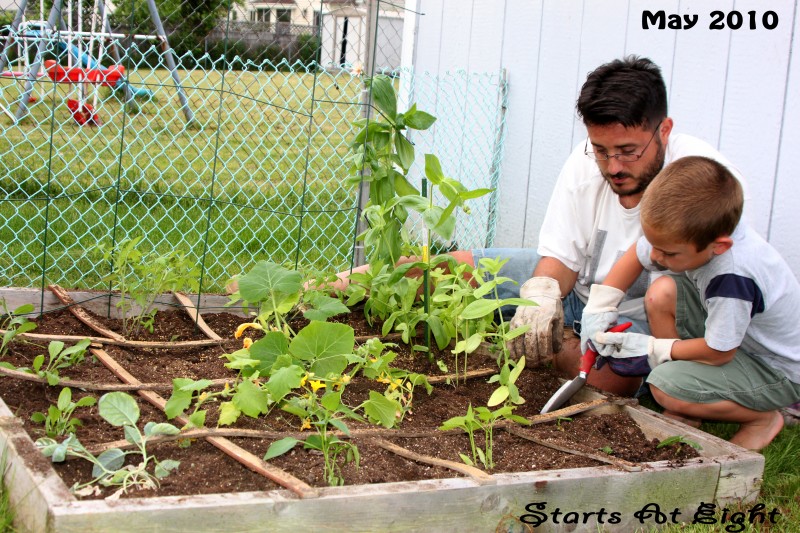 Here is this months link up at Homeschool Village. Pop over and check out all the garden plans!