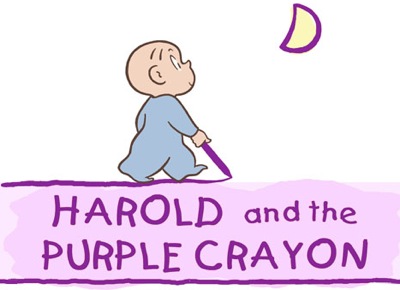 Ava and I spent a week in Harold's world! The drawings are so simple, yet the story elicits such a large amount of imagination! We talked about what we would draw and how cool it would be to be able to draw in our life whatever it was that we needed. I have compiled a list of things that we reference, used, wanted to use, etc., all relating to
Harold and the Purple Crayon
Harold and the Purple Crayon Discussion Questions:
Some are straight forward comprehension questions and others rely on the child to think a little bit deeper.
1. What time of day does Harold take his walk? (evening)
2. What does Harold draw for himself that he believes he needs? (moon to see and path not to get lost)
3. How many trees are in the forest that Harold draws? (1) Why does he draw this many? (so he doesn't get lost)
4. What does Harold draw to protect his apple tree? (a "frightening dragon")
5. What does Harold draw due to his hand shaking? (the ocean)
6. What does Harold draw to help him in the ocean? (a "trim boat")
7. What does Harold have to eat for his picnic? (9 pies, his favorites) What is your favorite kind of pie? What would you chose for your picnic?
8. Why is Harold so tired? (he had a long journey/adventure/trip)
Harold and the Purple Crayon Writing Activities:
For writing practice I created a Harold Lined Paper Writing Sheet.
Here are some suggestions of things you can ask your child to write:
1. Write one or more sentences summarizing the story.
2. Write one or more sentences about why you liked or did not like this story.
3. Pick one or more favorite sentences from the book to copy.
This was Ava's favorite sentence and picture in the book. She even counted all the windows in the picture!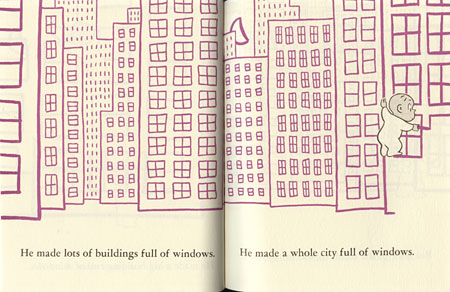 4. Write one or more sentences about where or what you would draw if you had a purple crayon.
Harold and the Purple Crayon Arts & Crafts:
1. Use a large piece of paper, poster board, white board, butcher paper and a purple crayon. Have your child either draw what they would have drawn if they were Harold, or have them draw a scene from Harold and the Purple Crayon.
2. Try this Harold and the Purple Crayon Chalk Pastel Activity from HodgePodege
3. Print out and color these FREE Harold Coloring Sheets that I created for Ava to color.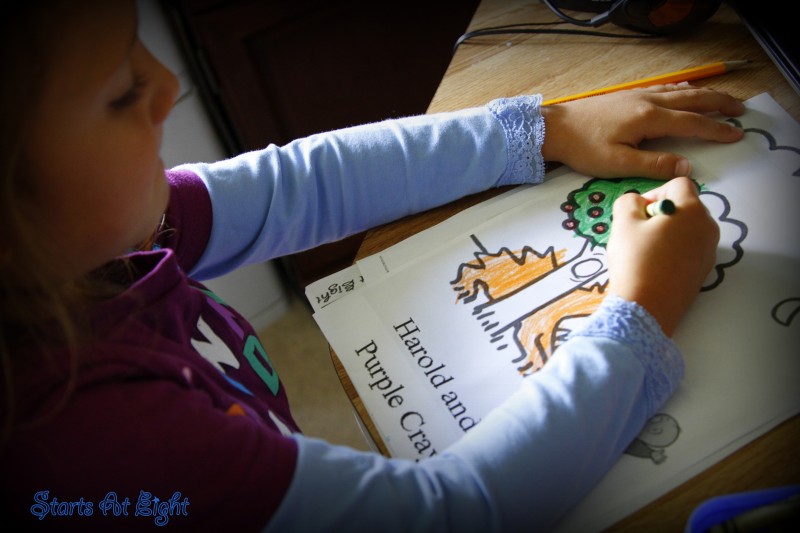 3. Have your child pick one color and create art with it using multiple mediums. For instance using the color red you could use red paper, paint, crayon, pom poms, pipe cleaners, sparkles, beads, ribbon, markers, felt etc. Then let their creativity take over and create something using all these same colored items.
4. Another variation of a one color art activity I found online.
For further reading and Harold fun:
Harold and the Purple Crayon (1955) was so popular that he inspired a whole series:
Harold's Fairy Tale (Further Adventures of with the Purple Crayon)
(1956)
Harold's Trip to the Sky
(1957)
Harold at the North Pole (1958)
Harold's Circus (Purple Crayon Books)
(1959)
A Picture for Harold's Room
(1960)
Harold's ABC (Purple Crayon Book)
(1963)
Other fun online resources/activities:
2. Watch How Crayola Crayons Are Made:

3. Watch this Harold Video:
)
---
The Big Book of Homeschooling
To get tons of great advice, and move beyond the basics of academics, pick up a copy of The Big Book of Homeschool Ideas. Some topics included are things like active learning, learning with video games, helping teens/tween become independent learners (one of my chapters), teaching on the road, learning with movies, high school literature (one of my chapters), and gardening.
This book can carry you through all your years of homeschooling, covering the stages your children will mature through: preschoolers, elementary grades, middle school, and high school. As your life situation changes, you will find new chapters that apply to you. You can view the full table of contents to see all 103 topics!
If you would like to purchase a PRINT Copy that option is now available via Amazon!! The Big Book of Homeschool Ideas – Print Copy