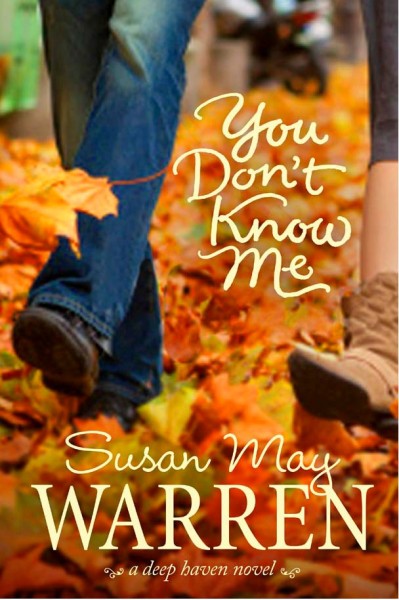 About the Book:  You Don't Know Me (Deep Haven)
Sometimes the secrets we keep to protect ourselves can be our undoing.
To all who know her, Annalise Decker is a model wife and mother. She's a permanent member of the PTA, never misses a sporting event, and is constantly campaigning for her husband's mayoral race.
No one knows that Annalise was once Deidre O'Reilly, a troubled young woman whose testimony put a dangerous criminal behind bars. Relocated through the Witness Security Program to the quaint harbor town of Deep Haven, Deidre received a new identity and a fresh start, which began when she fell in love with local real estate agent Nathan Decker.
Twenty years later, Annalise couldn't be more unprepared for her past to catch up with her. When Agent Frank Harrison arrives with news that the man she testified against is out on parole and out for revenge, Annalise is forced to face the consequences of her secrets. Will she run again, or will she finally find the courage to trust those she loves most with both her past and her future?
Susan May Warren is the RITA award-winning novelist of over thirty novels. A five-time Christy award finalist, a two-time RITA Finalist, she's also a multi-winner of the Inspirational Readers Choice award, and the ACFW Carol Award.
A seasoned women's events speaker, she's a popular writing teacher at conferences around the nation and the author of the beginning writer's workbook: From the Inside-Out: discover, create and publish the novel in you!.
Find out more about Susan May at http://www.susanmaywarren.com/.
What I Thought: Immediately after finishing this book towards the end of August I wrote a post about it, where you can quote me saying this, "This book dug at the very core of where I am at right now. The message of how damaging secrets and lies are to a family and the need for truth and honesty above all is rattling through my inner core."
Annalise is not the only one in the story who has her secrets, although hers might be the most life altering secret, hers is no more or less damaging to the family as a whole. I have read not only Susan May Warren's other Deep Haven novels, but other books of hers as well and I can say with certainty that this book does not disappoint. While this one lacks some of the romance that her other novels contain, this one in my opinion digs deep at a serious issue plaguing many today, secrets and lies. They tear not only at the person keeping them, but the people in their lives as well.
Susan May Warren speaks so poignantly in her Note From the Author at the end of the book saying, "While we think that secrets protect our loved ones, secrets are a cancer, and instead of bringing peace, they eat away at our security." (You can read more of her note here at the bottom of my other post.)
After having read the first three books in this series, the one thing I would like to note about this series as a whole is that given it's claim to fame of being set in a small town, I wish we saw more of the connections and overlapping of the some characters. While there are mentions here and there I feel as though more details and intertwining is missing as the series continues.
Find out more about the book and read other reviews here.
---
Disclaimer: I want to thank Susan May Warren and Litfuse Publicity for supplying me with a digital copy of this book for me to review. While I received this free of charge in exchange for my review, my opinions are my own, and have not been influenced in any way.