Have you ever been to an event, say a festival or party, where someone was painting faces?  Did you ever have your child tugging at your shirt insisting they must participate in said painting of faces? Wouldn't it be great to be able to do the face painting yourself?
With Easy Do-It Yourself Face Painting you can save money and learn to do the face painting yourself.
It makes a fun party treat or a unique twist on your homeschool art class!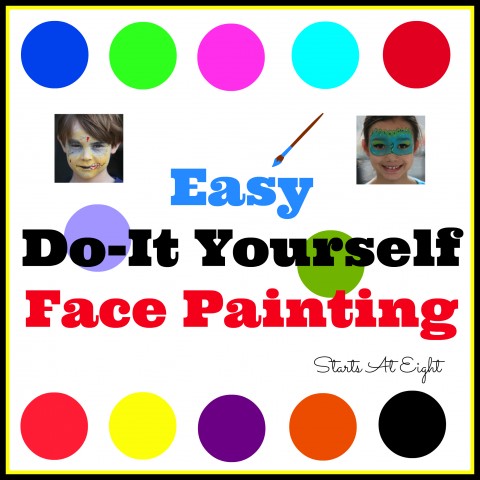 Now you are wondering how to get started with this easy face painting I have promised you!
FacePaint.com offers not only a huge selection of face painting kits and supplies, but they also provide you with FREE Face Painting Video Tutorials!
Beyond the video tutorials you can even download a FREE color pdf of the step by step instructions for these face painting masterpieces.  The pdf instructions include photos of the steps as well as helpful tips and a supply list.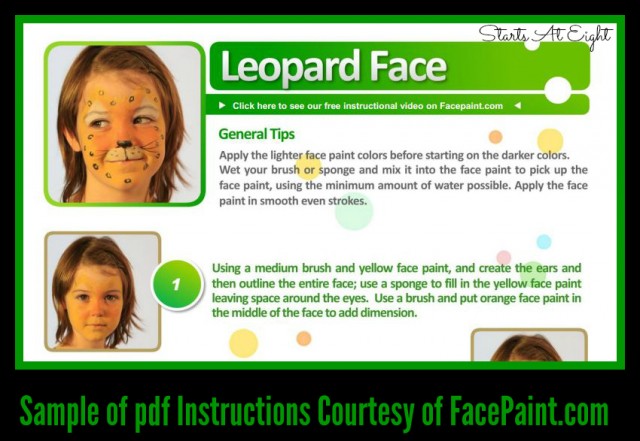 Face Painting as Homeschool Art
Face painting is just how it sounds – painting on a face.  The last time I checked painting was a part of art class, so why not face painting for some fun in your homeschool!
One of the things I saw when I looked at all the choices at FacePaint.com was a plethora of zoo animals.  This summer we are using our down time to visit our local zoo, read about zoo animals, make crafts, create a lapbook and more, all with zoo animals.  These animal options offer a fun way to add art into our zoo animal themed summer!
Here are some great examples:

There are options for painting animals  like lions, and tigers, and bears – Oh my!  Then there are snakes, frogs, ladybugs, monkeys and more!  My point is that on FacePaint.com there is an endless amount of face painting options for you to choose from.
Face Painting for Birthday Parties
We all know that kids love themed birthday parties.  They jump at the latest super hero or tv character that they are obsessed with.  I remember ladybugs, Spiderman, football, dinosaur, princess, and so many more themed parties that we had for our children over the years.
A fun party activity would be to paint the attendees faces with something from the theme of the party.
Here are some great examples:

Purchasing Face Paint – Stencils – Glitter & More:
Purchasing your face painting supplies can be quick and cost effective.  At FacePaint.com they have monthly coupon codes and $5.99 flat rate shipping.
Not interested in what is offered with the monthly coupon code?  No problem!  For my Starts At Eight readers from now through the end of August 2014 you can get 5% off anything on the site!