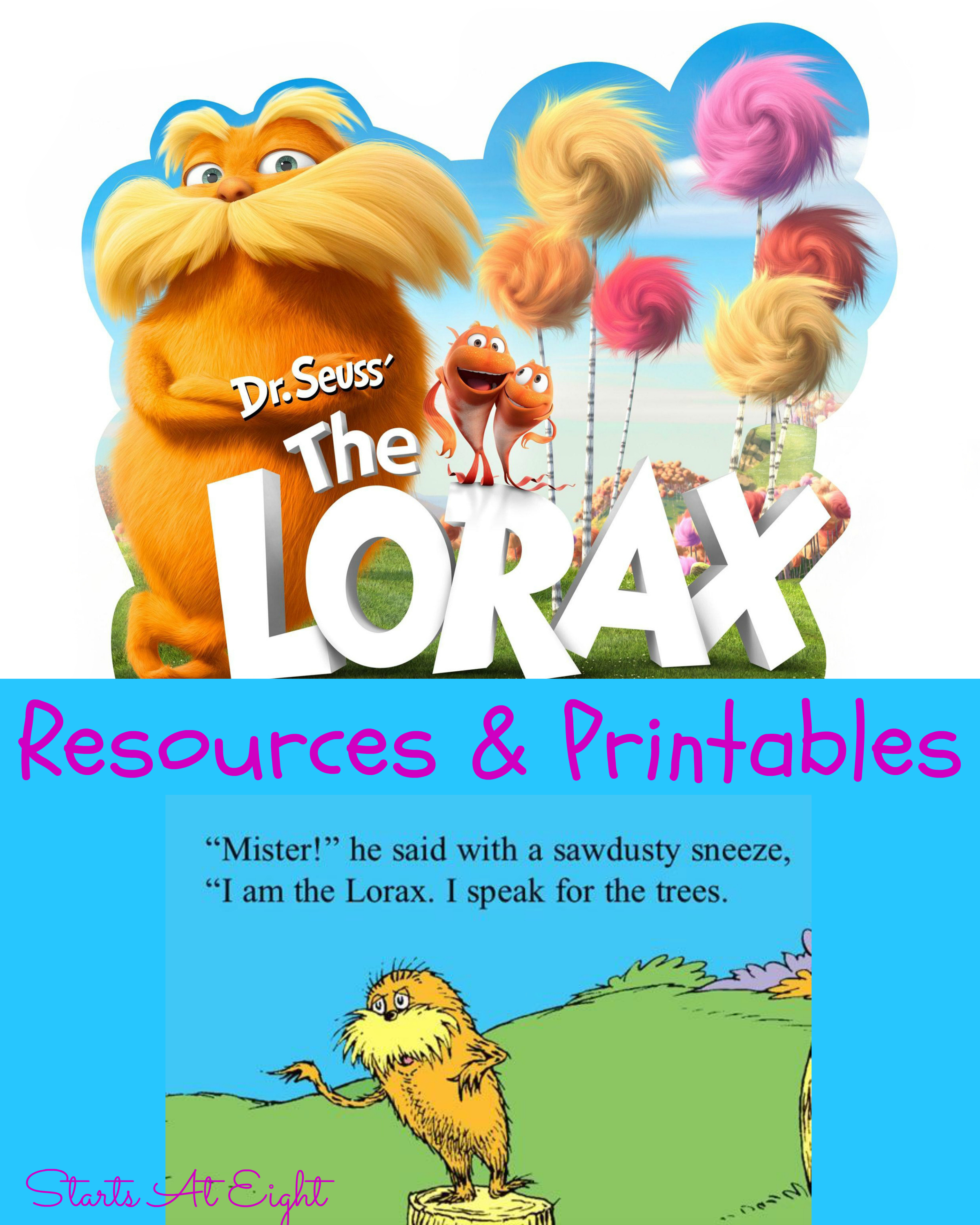 In honor of Dr. Seuss's birthday this month we decided to jump on the band wagon and do a small unit ourselves! Rather than try to cover everything, I just decided to use The Lorax. I have actually never read the book myself (gasp)! Also, the movie is now out in theaters and the kids want to see it, and I have this thing about reading the book before you see the movie!
Here in this post are the resources I compiled. We are using most, but not all of them. If you check out my Weekly Wrap-Up at the end of the week, I will have photos and an overview of what our Lorax Unit turned out to be!
The Lorax Resources:
I started by looking for the book at our local library, but alas no luck. Given it is Dr. Seuss celebration time (in honor of his birthday on March 2nd), they were all checked out! So I purchased the interactive book for my iPad instead. Ava just loves it, and it helps out when I am busy with the older two because she chooses the read to me feature and lets the app do the reading (it also has corresponding sounds that she really likes)!
There is also a cute free Lorax app where you can make his mustache for yourself!
As I dug around for some resources and activities, I decided to compile them together, not only so that I could find them again, but so that I could share them as well!
Here are some fun free printables, including a how to draw the Lorax, writing paper, book marks, and more.
These are Lorax Lesson Plans, as well as a link to an interactive Save the Trees Game where you catch the Truffula seeds to replant.
A great Lorax FREE Unit Study!
Ava has been big into crafts recently and this one of the Truffula Trees is really cute!
Over at 2TeachingMommies there are Lorax printables for toddlers as well as Pre-K
The Lorax Project where you can learn about actual forests, animals, and things like recycling that you can do to help save our trees!
The Lorax Movie themed printables can be found here. Ava and I have enjoyed playing the memory game we found here. I printed it on card stock so it would be a little sturdier.
Discussion questions:
What was the land like before the Once-ler came?
Did the Once-ler like the trees? Why did he chop down the first truffula tree?
What did the Lorax mean when he said "I speak for the trees?"
Why did the Once-ler keep "biggering and biggering" his factory?
What happened to each animal as he did it? Bar-ba-loots? Swomee Swans? Humming Fish?
What do you think he could have done differently while still 'biggering' his business?
Can you cut down trees but still keep enough in the forest for the animals?
How do trees help the earth: plants, animals, air quality, heat, noise, etc?
What could the Once-ler have done differently to help each animal stay there?
Do you think the Once-ler feels good about his decisions? Why or why not?
What does the Once-ler say you can do with the truffula seed?
Could he have done this while the factory was still making Thneeds?
---
---
Other Dr. Seuss Fun: