Each year we set out about 3 weeks before Christmas to cut down our Christmas tree.  Check out our Christmas Tree Memories to get a look at what a fun experience it can be to cut down your own tree.  We bundle up and head out to a local tree farm where you can find a plethora of different types of Christmas trees to choose from.  Trees like the Fraser,  Balsam, and Douglas Firs and the Concolor, Norway,  Blue & White Spruces.  But what are the differences in these trees?   What makes these types of trees good for use as our Christmas Trees?  As a homeschool family we use this opportunity to include Christmas Tree Science as we have so fondly deemed it.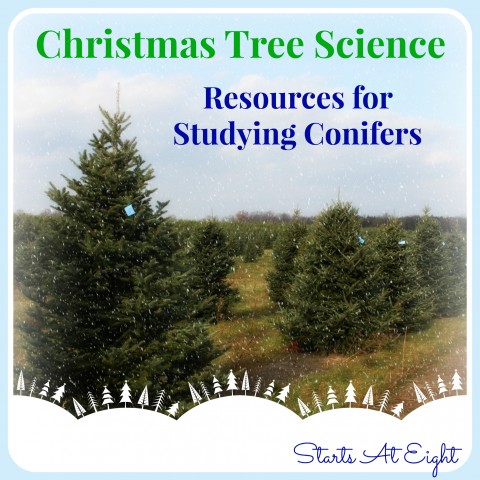 Christmas Tree Science Facts:
All Christmas Trees are conifers.  This means that they produce cones.
They are also evergreen which means they do not shed their needles.  Their needles (leaves) are unique because of their hard narrow shape.
There are approximately 30 million Christmas trees told in the United States each year.
It can takes as many as 15 years to grow a tree of typical height (approximately 7 feet).  Average growing time is about 7 years.
We prefer a Fraser tree for our home.  The combination of the pleasing pyramidal form, good needle retention,  dark blue-green color and pleasant scent have led the Fraser firs to become one of the most popular Christmas trees.
The most popular Christmas trees are: noble, balsam, Douglas and Fraser firs and Scotch, Virginia, and White Pine.
For more Christmas Tree Facts check out this printable called Real Tree Fast Facts.
Christmas Tree Identification:
Heading out to cut our won tree gives us a great chance to check out the different types.  Even if you are putting up an artificial tree you can still go to your local tree farm to check out the different types for yourself.
Check out the National Christmas Tree Associations website  for a quick look at Christmas Tree Characteristics.  You can print the page out and take it with you to the tree farm.
Video on Identifying Christmas Tree Varieties:
Christmas Tree Science Resources: