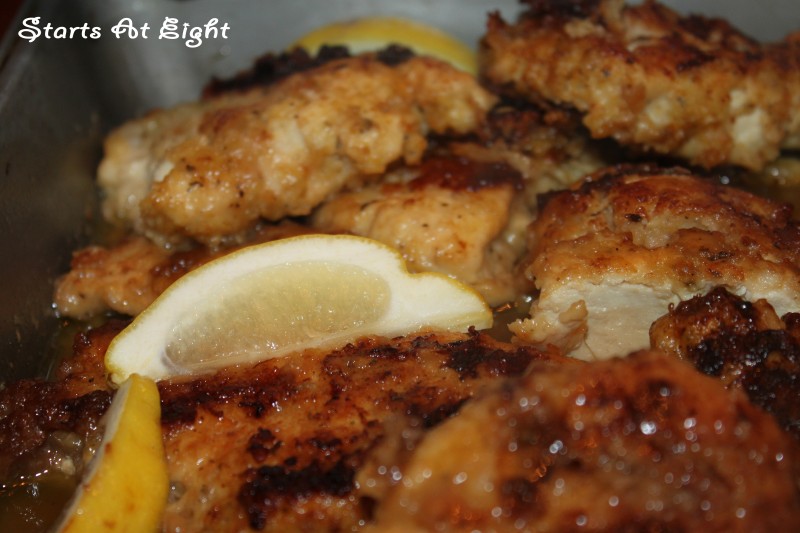 Chicken French
Serving Size:
6 adult portions of 1 whole chicken breast (2 pieces as they were cut in half during preparation)
Ingredients:
6 boneless chicken breasts
1/2 cup olive oil
1 cup all purpose flour
6 large eggs, whipped
1/2 cup water
1 1/2 cups sherry or white wine
4 tablespoons butter
2 lemons
1 teaspoon chicken base or chicken bullion
1 lb. Angel Hair Pasta
Directions:
Cut the chicken into tenders (about a 1/2 a breast per strip) and pound them out flat and even. They cook quicker this way. A meat mallet or side of a cleaver will do this job.
Pour the oil into a frying pan, add 1-2 tablespoons of butter and melt together at medium to medium high heat. (The egg should bubble on contact.) Dip the meat into the flour, covering both sides. Using a fork, dredge the meat through the egg wash, covering both sides. Place chicken into the frying pan and fry until golden brown on both sides.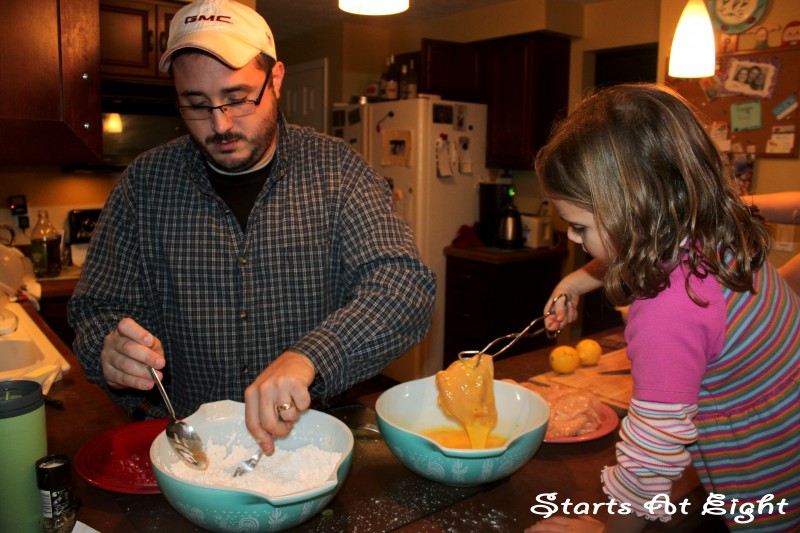 Sauce:
Into a pan add 1 to 1/2 cups of sherry (or white wine). Add the remaining butter and the juice of two strained lemons. Also used two lemons cut into thin slices to use as a garnish and the rest gets juiced through a strainer. Add chicken stock to this (1 tablespoon chicken stock base and 1/2 cup water) to make it richer. Arrange chicken into a baking dish and pour the sauce over it.
Place lemon on top of the chicken (as a garnish) and cover with foil. Place into the oven at 225 to 250 degrees F for 15-30 minutes (to keep it warm and allow some of the juices to soak in).
Serve over Angel Hair.