About I Believe in Genevieve: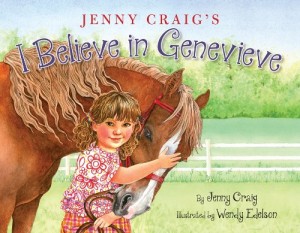 When young Genevieve first hears of the Rancho Paseana riding camp, all she can see is a blue ribbon. More than anything, Jenny wants to compete in her town's horse show at the end of the summer, and win. She realizes that in order to be competitive she will need to nourish her body with healthy foods an stay active.
With her sister Trudy by her side, Jenny finds that preparing healthy snacks an staying busy outside is a lot of fun. Jenny uses this same logic to care for her horse, Candy Ride, and by the end of the summer the horse is fit and strong.
I Believe in Genevieve also serves as a guide for healthy living both through the story as well as in the helpful extras found in the back of the book.  Children can challenge themselves by recreating the nutrition and exercise plans in their own homes.
About Jenny Craig:
Jenny Craig is known worldwide to millions of people as the spunky, creative woman who introduced a whole new approach to healthy living and weight management.  In addition of founding the renowned and healthy diet program sh is also an avid horse lover and owns a ranch in Rancho Santa Fe, California.
Along with her late husband Sidney, Jenny Craig raced the star Thoroughbred Candy Ride, the winner of the 2003 Pacific Classic in track record time.  The horse has since gone on to be one of America's top stallions.
The Craigs raced dozens of outstanding horses over the years, including champion Paseana and multiple-stakes winners Exchange, Dr Devious, Sidney's Candy, Candy Ride and Twirling Candy.  She drew much of her inspiration for her book from her riding experiences.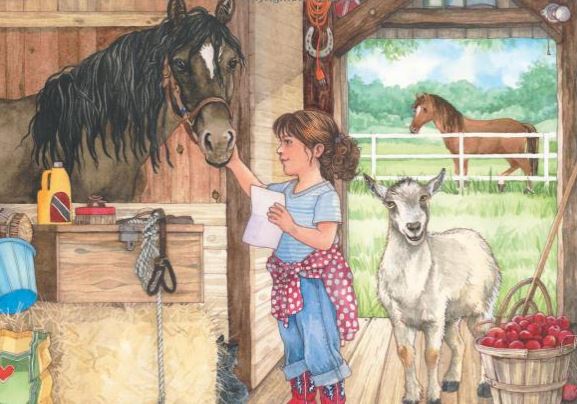 What I Thought:
First off, you can't help but notice the beautiful illustrations in this book!  My hats off to Wendy Edelson for her realistic yet nostalgic feeling illustrations that help draw you right into the story.
The main draw for me with this book was the horses.  I have a seven year old horse lover at home.  We ride once a week at our local stable and she longs to be old enough to help in the barn and have a horse of her own someday.  This book engages you in everything little horse lovers see and experience in a horse barn.  From grooming and feeding, to riding and trotting it is a little girl's dream.
The added twist as you might call it to this book is the healthy eating aspect.  In the beginning both Genevieve and her horse Candy Ride are weak and tired from their bad eating habits.  When they change their diets due to another little rider they see that is so good, their riding improves too.
While this healthy eating aspect does seem a tad forced into the story, in today's climate of bad eating habits and obesity in kids (and adults alike) I think that encouraging healthy eating through a story that demonstrates a positive outcome from it is a gentle way to encourage kids to eat healthier.  I know the first thing my seven year old wanted to do, after making her own obstacle course, was to make some trail mix from one of the recipes included in the back of the book.
All in all I Believe in Genevieve is a much loved book on our house.  My daughter loves whole horse story aspect, and I can appreciate the positive message of healthy eating it is trying to send to parents and children alike.
Purchase a copy of I Believe in Genevieve
---
Disclaimer: I want to thank Jenny Craig, and Regnery Publishing, Inc. for supplying me with a copy of this book for me to review. While I received this free of charge in exchange for my honest review, my opinions are my own, and have not been influenced in any way.
---