Saint Patrick is the patron saint and national apostle of Ireland. St Patrick is credited with bringing Christianity to Ireland.  Saint Patrick's Day was made an official Christian feast day in the early seventeenth century.  The day commemorates Saint Patrick and the arrival of Christianity in Ireland, as well as celebrates the heritage and culture of the Irish in general.  Here is a collection of 5 Children's St. Patrick's Day Books That Teach about St. Patrick and Ireland.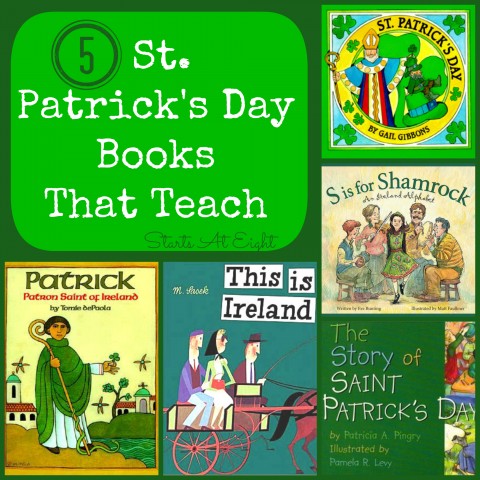 5 St. Patrick's Day Books That Teach
The is a handsome picture-book biography from Tomie dePaola.  The story of Patrick's life, from his noble birth in Britain, to his being captured and taken to Ireland by a group of bandits, to the "dreams" that led him to convert the Irish people to the Christian faith. DePaola also retells several well-known legends, including the story of how Patrick got rid of all the snakes in Ireland.
A basic introduction to the holiday-how it began, the life and works of St. Patrick, and the various ways in which the day is celebrated.  Gail Gibbons's simple, clean, full-page watercolor-and-ink illustrations flow logically from one to the next. Particularly welcome are descriptions of some St. Patrick's Day symbols, such as shamrocks, leprechauns, and Celtic harps.
The story begins with the traditional symbols of the day that are often found in schoolrooms, such as shamrocks, harps, and leprechauns. Then the narrative moves to a short biography of Saint Patrick himself: as a shepherd, as a missionary, and as a teacher. This colorful book ties together the life of Patrick with the traditional images of Ireland.
This is Ireland, first published in 1964, brings the Emerald Isle to life, where the shamrock grows and a leprechaun stands at the end of every rainbow, guarding a crock of gold. There's Dublin with its bustling crowds, tall steeples, and Trinity College; there's Clonmacnois, the burial place of kings; there's the Blarney Stone to kiss for eloquence, and much, much more in this verdant, friendly land filled with enchanted lakes and mountains that fall steep to the sea.  The stylish, charming illustrations, coupled with Sasek's witty, playful narrative, makes for a perfect souvenir that will delight both children and their parents.
Ireland holds a big place in world and human history. And many from around the globe proudly lay claim to ancestral ties there. S is for Shamrock: An Ireland Alphabet gives readers a guided A-Z tour of this small island country.  Famous landmarks such as the Blarney Stone and Finn McCool's Giant Causeway speak to the land and history that shaped Ireland and its inhabitants.  To find recipes, games, interactive maps and much more for this title visit Discover the world Books!
Also Check Out: