It has been since January that I have done one of these posts.  My reading time has been spent consuming Gone with the Wind and I did a series of posts about that book, separate from my standard "Book Review" post.  After finishing Gone with the Wind I needed to go a little lightweight in the reading department.  Emilie Richards is one of my favorite current authors as I enjoyed her Shenandoah Album Novels so much!  I noticed she will be putting out a new book in June which is a sequel to Happiness Key called Fortunate Harbor.  Thus, I decided that I should first read Happiness Key in preparation for the new book coming out!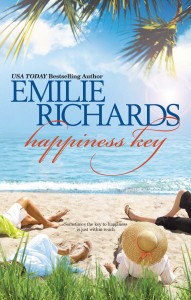 Title: Happiness Key
Author: Emilie Richards
Copyright Date: July 2009 – paperback, 560 pages
Publisher: Mira books
ISBN: 978-0778326601
Brief Character List: Tracy Deloche,  Janya Kapur (husband Rishi), Wanda Gray (husband Ken), Alice Brooks (son-in-law Lee Symington and granddaughter Olivia),  Marsh Egan (son Bay)
Summary in my words: Tracy is a California high society rich girl, until her husband gets sent to jail for his "business dealings".  All that she is left with is this piece of land called Happiness Key in Florida that had been in her name.  She moves there, broke and needing to sell the place.  The trick is that Marsh Egan is a lawyer for a conservation group that will not let that land be developed.  Tracy starts out her stay there by finding one of the residents of the small cottages dead.  This single act fuels her growing relationships with the women in the other cottages.
Janya who was forced to leave her wealthy family in India, shamed, for an arranged marriage to a man she barely knows.  Then, no holds bar Wanda Gray who speaks her mind, has a secret job and a failing marriage.  Finally, there is Alice who seems forgetful and confused.  Her son-in-law and granddaughter are staying with her, but Tracy does not know why.
Together these woman search for the mystery surrounding their dead neighbor, Herb, and discover truths about their own lives along the way.
What I Thought: As always, I love the way Emilie takes multiple characters, puts them together, and watches them fumble their way through their lives and relationships.  There are so many unspoken mysteries that work themselves out as the story unfolds.  I did however find the slightest disappointment in the fact that I easily saw the foreshadowing of one of the major conflicts in this book.  Yet, on the other hand, there were a few things I never saw coming!  This was an easy read (especially after Gone with the Wind).  I am looking forward to picking up Fortunate Harbor to see where life takes these women.
Other Books by Emilie Richards: Wedding Ring, Endless Chain, Lover's Knot, Touching Stars, Sister's Choice, Parting Glass, Whiskey Island, Prospect Street, Blessed is the Busybody, Let There Be Suspects