Someone from our gym found this article on the 27 Don'ts For Parents of Gymnasts that they were kind enough to share with us.  I am posting it here, first and foremost as a reminder to me, (and hopefully for other parents as well) to always be positive and supportive, and keep the long term goal of happy, productive adults in mind! 🙂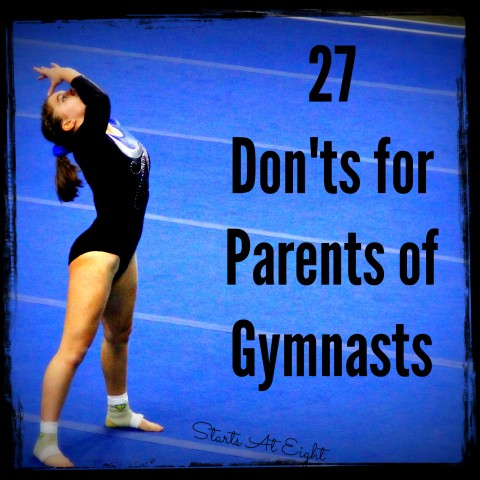 It was written by J. Howard, Professional gymnastics coach since 1980, Tumbling, Double mini and Trampoline coach since 1986, gymnastics author of 26 books, Gymnastics/Sports hypnotist, Coach of Gymnastics, Tumbling, Double-mini, Trampoline and Cheer-leading State, Regional, National, Jr. Olympic National, Jr. Elite National and Jr. World Age Group Champion medalists, commercial gymnastics web site designer, consultant and owner, gymnastics business consultant, Gymnastics staff trainer, Gymnastics equipment and facility layout designer, NCAA Division I cheer-leading coach for two years, Company CEO, business, business strategy and computer consultant. Enjoy…
Gymnastics in and of itself is beneficial for gymnasts at all levels of participation.
Here are 27 things parents of gymnasts should avoid doing so they don't interfere with the positive benefits:
Don't compare your gymnast's progress with that of other gymnasts.
Don't become overly ego-involved with your gymnast's success or lack of it.
Don't take judge's scores too seriously, especially at the lower levels.
Don't forget the need for fun in gymnastics.
Don't stand for unacceptable behavior from your gymnast during practice or competitions.
Don't participate in gossip about anyone in the gymnastics community.
Don't interfere with coaches and their coaching duties during practice or competitions.
Don't pressure your gymnast regarding skills or competition.
Don't set unrealistic goals for your gymnast.
Don't predicate your love or attention on your gymnast's competitive success.
Don't base your own ego or self-esteem on the success of your gymnast's progress or competitive success.
Don't lose your long-term perspective about the importance of your gymnast's participation in the sport.
Don't let yourself care too deeply about your gymnast's competition results.
Don't undercut your gymnast's confidence in their coaches or coaching.
Don't show any negative emotions while watching your gymnast practice or compete.
Don't try to make your gymnast talk with you immediately after a gymnastics meet, especially if they performed poorly.
Don't do or say anything to make your child feel guilty for the time and money you are spending on their gymnastics or any sacrifices you feel are making for them to participate in the sport.
Don't badmouth your gymnast's coaches, your gym or other gymnasts in front of your gymnast.
Don't attempt to coach your gymnast yourself.
Don't alienate your gymnast's coaches.
Don't predicate your support for your gymnast's participation in the sport on any expectation of a monetary return like receiving a college scholarship.
Don't try to recreate your own career or live out your own sports dreams through your gymnast.
Don't do anything to make enemies with other gymnast's parents.
Don't expect anything more from your gymnast except their best effort.
Don't ever do or say anything that will cause your gymnast to think less of you.
Don't use sarcasm, threaten or use fear to try to motivate your gymnast.
Don't expect anything more from gymnastics than physical fitness, life skills and fun for your gymnast.
---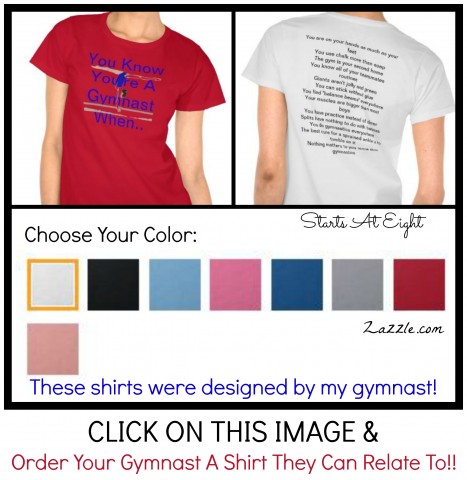 ---
I have to say that this list brings more than one thing to mind.  Throughout Chloe's 7+ years in gymnastics we have come across more than a few of these problems and have struggled with a few of these ourselves.  Number 17 in particular is one that I struggle with.  I will often tell Chloe how much money we soak in to her gymnastics with an added statement about how we are happy to do it, but…..
So many of the above list are things we want for Chloe, like doing HER best, like NOT comparing herself to others, like setting realistic goals, respecting the coaches (for us and her).  It is so important to support those that are teachers and role models for your children, even if you don't always agree.  Those discussions are better left for closed door conversations!
I thought high school was pure HELL, but I don't think it even comes close to the drama and politics that adults can stir up!  We all know who we think are the "crazy gym parents", and not only do I hope I am not one of them, but it is something I actively think about and work on.  One of the things we talk about with Chloe is about how she won't remember the scores or the places that she ranked 10 years from now.  Some things she might remember are the fighting through an injury to go and support your team, or the early morning car trips with her dad where they came up with crazy names for the places they are going.
I will remember this:  the evident look of pride, contentment and joy that she had every time she won even the slightest little thing.  It will always be amazing to me how happy she can be, even over 11th place!  The competitiveness in me is one thing I will always stifle and I am thrilled to see that she does not have so much of that.  Because in the end she will be a happier, more well rounded person if she is more of a team player and less of a competitor.