Spring is here and the bees have been invading us all around!  It has given us the perfect opportunity to learn about them.  Since we collected resources, and learned about them ourselves, I thought I would share our All About Bees Unit Study for others to enjoy.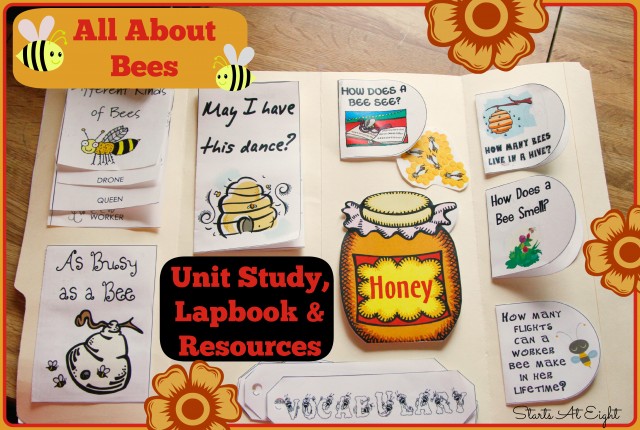 Like with most of our unit studies these days, this one began as whim of our little one and thus turned into a unit study.  We usually head off to library to gather books which we read over a period of a week or two.
Then we began putting all that information we learned together using this FREE All About Bees Lapbook from Homeschoolshare.  We created a video to show you the lapbook and tell you some of the things we learned about bees.
All About Bees Lapbook Video:
This book, The Bumble Bee Queen by April Pulley Sayre is a fantastic book with lots of information about bees in story form.  We had taken the physical book out of the library and then I found this one in video form that was such much fun to watch.
The Bumble Bee Queen Animated Science Story:

Finding Out About Bees for Kids:

Related All About Bees Facts:
All About Bees Printable Resources: