Spring is here and the bees have been invading us all around! It has given us the perfect opportunity to learn about them. Since we collected resources, and learned about them ourselves, I thought I would share our All About Bees Unit Study for others to enjoy.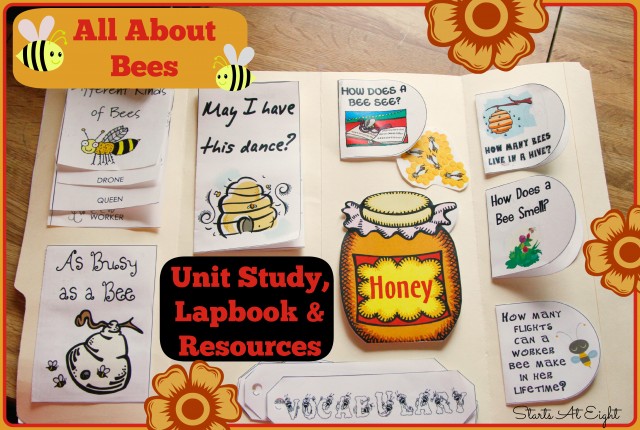 Like with most of our unit studies these days, this one began as whim of our little one and thus turned into a unit study. We usually head off to library to gather books which we read over a period of a week or two.
Bee Books for Kids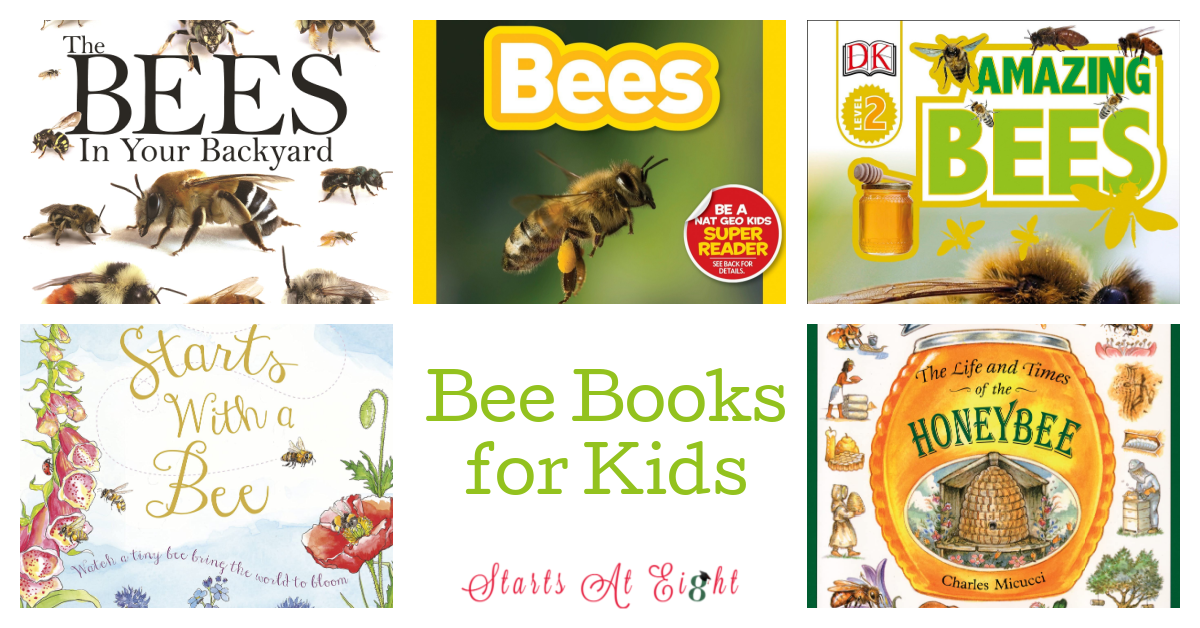 The Life and Times of the Honeybee – Why do beekeepers use smoke machines when collecting honey? Can a bee really sting only once? Why do bees "dance"? In concise, detailed text and abundant illustrations that range from the humorous to the scientific, Charles Micucci offers a wide-ranging and spirited introduction to the life cycle, social organization, and history of one of the world's most useful insects. He includes information on how bees make honey, what a beekeeper does, and products that contain beeswax-everything from lipstick to waxes for buffing surfboards.
Amazing Bees: Buzzing with Bee Facts! – Learn everything there is know about bees in Amazing Bees! From buzzing to different flowers to being a vital part of the earth's ecosystem, bees are very busy creatures.
National Geographic Readers: Bees – What's that buzzing around? It's a busy bee! With beautiful, engaging, and authentic photos, and accessible text, kids will learn all about these incredible insects in this level 2 reader.
It Starts with A Bee – Winter, Spring, Summer and Fall, the bee tends to the flowers and plants. As the seasons change and the garden blooms into a wildlife wonderland, the bee is joined by well-loved minibeasts and creatures – worms, beetles, spiders and mice – who make the wild garden their home.
A rhyming poem builds page on page, echoing the life the bee brings to the garden.
The Bees in Your Backyard – A Guide to North America's Bees. an engaging introduction to the roughly 4,000 different bee species found in the United States and Canada, dispelling common myths about bees while offering essential tips for telling them apart in the field.
Bee Lapbook
Then we began putting all that information we learned together using this FREE All About Bees Lapbook from Homeschool Share. We created a video to show you the lapbook and tell you some of the things we learned about bees.
All About Bees Lapbook Video:
This book, The Bumble Bee Queen by April Pulley Sayre is a fantastic book with lots of information about bees in story form. We had taken the physical book out of the library and then I found this one in video form that was such much fun to watch.
The Bumble Bee Queen Animated Science Story:
Finding Out About Bees for Kids:

Related All About Bees Facts:
All About Bees Printable Resources:
This is a collection of bee printables and activities. Many of them are FREE!