Social media is everywhere. For socializing and staying connected, sites like Facebook, Tumblr, Instagram, and Twitter are necessary parts of being a kid these days. Here are 5 things your teen should know about using social media so that they can stay safe online and get the most out of what the internet has to offer.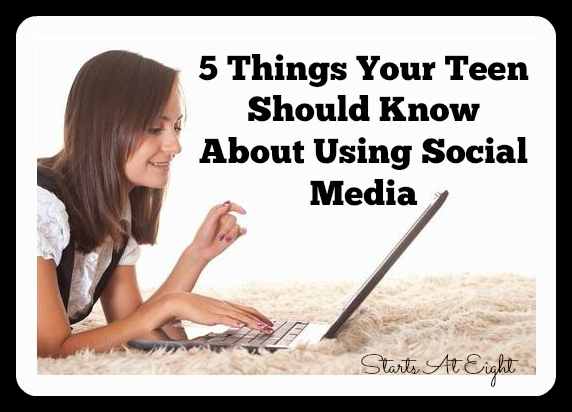 Before going any further I want to mention that there is absolutley NO substitute for good communication.  Keeping the lines of communication open with your teen are vital to them growing their character in positive ways.  There is NO filter, or program that can do it all, and raise your child to have good judgement, that is up to you.
5 Things Your Teen Should Know About Using Social Media
1. Know Basic Internet Safety:
We can all use a reminder of internet safety tips from time to time.  Kids who are just getting exposed to the internet need to know a few basic rules right off the bat to stay safe.
Never share your passwords with anyone, even close friends.
Never give away personal information to strangers.
Avoid sharing information or pictures privately over text, email, or IM that you wouldn't want to be shared publicly.
If anyone posts or sends something over social media that makes you uncomfortable in any way, tell someone and don't hesitate to block that person.
2. How to Deal with Cyberbullying:
Cyberbullying is a huge problem for kids nowadays, and if bullying goes unchecked it can cultivate serious problems such as depression, anxiety, eating disorders, and even suicide. Hopefully your child will never be the victim of cyberbullying, but statistics show that at least half of adolescents will experience bullying on social media sites at some point. With those numbers there's a good chance that your child will either be directly affected by cyberbullying or at least be witness to it, and only about one in ten kids tell their parents.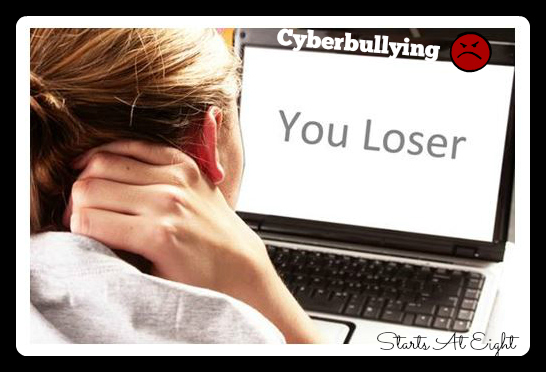 Here are some things you can do to give your child the tools they need to deal with cyberbullying:
Create a dialogue. Make sure that your child feels safe telling you or another trusted adult about any bullying they may experience or witness. Also discuss the consequences of posting mean content or sending hurtful messages. Everyone has bad days or gets mad at people, but the internet is not the place to vent those feelings.
If they experience cyberbullying in any form, make sure they save a screencap of the incident for reference in case the post or message gets deleted.
Advocate for anti-bullying campaigns in your child's school which focus on cyberbullying.
Make sure your child is aware of the resources available to them including yourself, teachers, school counselors, and other mental health professionals they might have access to so that they know who to turn to if they ever need help.
3. Post Appropriate Pictures:
Sharing photos to Facebook, Instagram, Snapchat, and other social media sites it commonplace nowadays, but young internet users don't always know what's safe and what's expected of them.
Talk to your child about what's OK to post online and make rules about what you don't want them to post, like photos where they're not dressed appropriately or photos that share their address or location. Be clear about the consequences of posting inappropriate photos, how they can be easily shared and are hard to remove completely once they've been posted.
4. Keep to Age-Appropriate Sites:
There's a reason why Facebook won't let 13 year olds create profiles. Kids are often trying to push their boundaries and often exploring social media sites before they're intellectually ready for them. If you don't want your child on certain social media sites because they're too young, find some fun alternatives (Neopets, Club Penguin,NickJr, and PBS Kids are all great, educational game sites created just for kids) and keep an eye on what sites they're visiting.
5. Stay Respectful:
There are times when it's absolutely OK to use social media and cell phones, and sometimes it's even OK to do at school, but there's also a time when phones, tablets, and laptops should be put away. When teachers see kids looking at social media sites on their phones it can be seen as disrespectful and even a tool for cheating and plagiarism, all of which can have serious consequences. It's better just to put the phone away.
The same is true at home with their family, or hanging with their friends.  Remind your teens to put the phone down, put the device down, and see who is right in front of them.  It is incredibly rude to be totally distracted by your phone while engeging with others.  Kids need to learn that there is a time and a place, and grow to use good juedgment about when is the right time and place.  You communication and guidance is key in helping them succeed with this.
AuthorBio:
Tara Heath is a journalist who lives in California. She has two children of her own and knowshow important it is to set rules and boundaries when it comes to technology and especially social media. She hopes these tips help when talking to your own children.