Winter has hit us full force here in Western NY!  I believe we had more snow this past weekend than we have had all winter!  Schools were closed on Friday due to the 14 or so inches we received in a short period of time.  What is weird about the whole thing is that it is warm.  Well, relatively.  It has been hovering around 34-36 degrees which gives us heavy, wet, slushy, snow, instead of light, fluffy, blowing snow.  Needless to say, the crazies (my husband is included in this) in our house took it upon themselves to shovel paths for snow barriers in the front yard and engage full on in a snow ball fight!
It started with just Jayden and Joey.  The trenches were dug by Joey with a shovel.  Then they took their opposing sides and started heaving the "bombs" at each other.
In comes our neighbor, Marissa.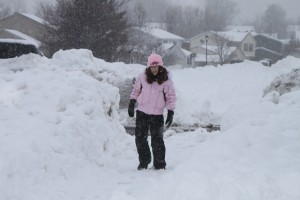 Followed by Chloe who was ready for a fight!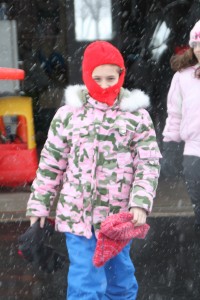 Trouble ensues when the enemy fort is invaded!