The College Board announced this month that there is a major SAT Overhaul coming for the spring 2016. The full specifications of the exam along with extensive samples for each section will be available on April 16, 2014.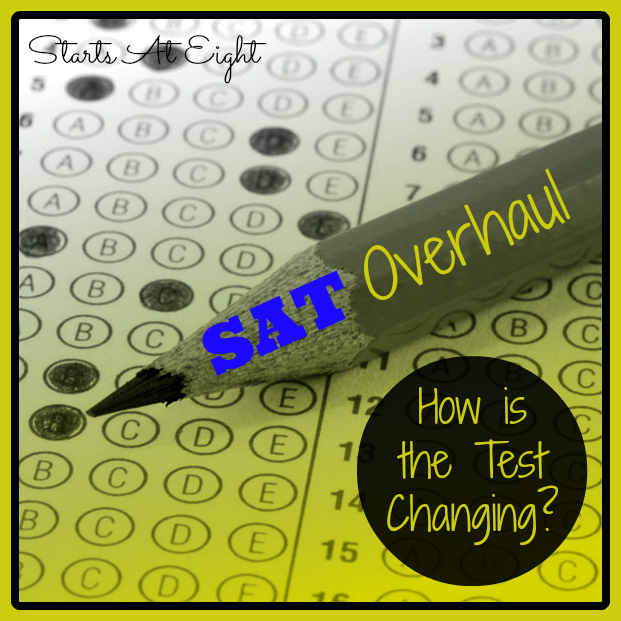 In an article from the New York Times on March 6th, 2014 you can find out The Story Behind the SAT Overhaul.
8 Key Changes in the SAT Overhaul:
1. Returning to 1600 scale from 2400
The SAT previously had a math and reading section, each scored from 200 to 800. Then in 2005, the College Board implemented a new writing section, introducing a full score of 2400.  The test will now return to a perfect score being 1600.
2. Essay is optional instead of mandatory
The essay portion will now be an optional part of the SAT with a separate given time limit and score.
3. Includes passage from a founding document
Each SAT exam will include a passage from "founding documents of America," such as the Federalist Papers, the Declaration of Independence, and the Gettysburg Address.
4. No penalty for wrong answers
The previous SATs penalized students' scores for wrong answers.  With the new SATs, the College Board will no longer deduct points for incorrect answers.
5. No more "obscure" vocabulary words
The College Board says it will test vocabulary focused on words that are "widely used in college and career" instead of "words that are sometimes obscure."
Standardized tests have become "far too disconnected from the work of our high schools. They're too stressful for students, too filled with mystery and "tricks" to raise scores and aren't necessarily creating more college-ready students," says College Board President and CEO David Coleman.
6. SAT will be available in paper and digital forms
7. Limits on calculator use
A calculator will be permitted only in certain parts of the math section, as opposed to all of the math section in the current exam.
8. Shorter exam
The new exam will be three hours, with an optional essay of 50 minutes. The old exam was three hours and 45 minutes.
The test will include three sections — evidence-based reading and writing, math and an optional essay — each retooled to stop students from simply filling a bubble on the test sheet.
Look here to get it straight From the College Board
Preparing for the SATs was also a consideration in Coleman's announced changes. College Board has partnered with Khan Academy to offer free SAT preparation. Partnering with Khan is intended to make the SAT more transparent, and cut back on perceptions of inequality around expensive test preparation services. Khan emphasized that he is planning to challenge the existing test prep industry by offering high quality, easily accessible tools, for FREE of course!
By the spring of 2015 Khan plans to offer access to start-of-the-art, interactive learning tools that will offer you not only practice,but help in finding your gap areas. Until then, if you are taking the SAT in 2014/15, you can start practicing now with hundreds of previously unreleased Math, Reading, and Writing questions from real SATs and more than 200 videos that show step-by-step solutions to each question at Khan Academy.