Planning for high school and college really ups the ante when it comes to what you need to do and know! While I was working out my curriculum plans for my oldest, I realized in order to accurately account for everything she would need, I would need to have a full 4 year high school plan!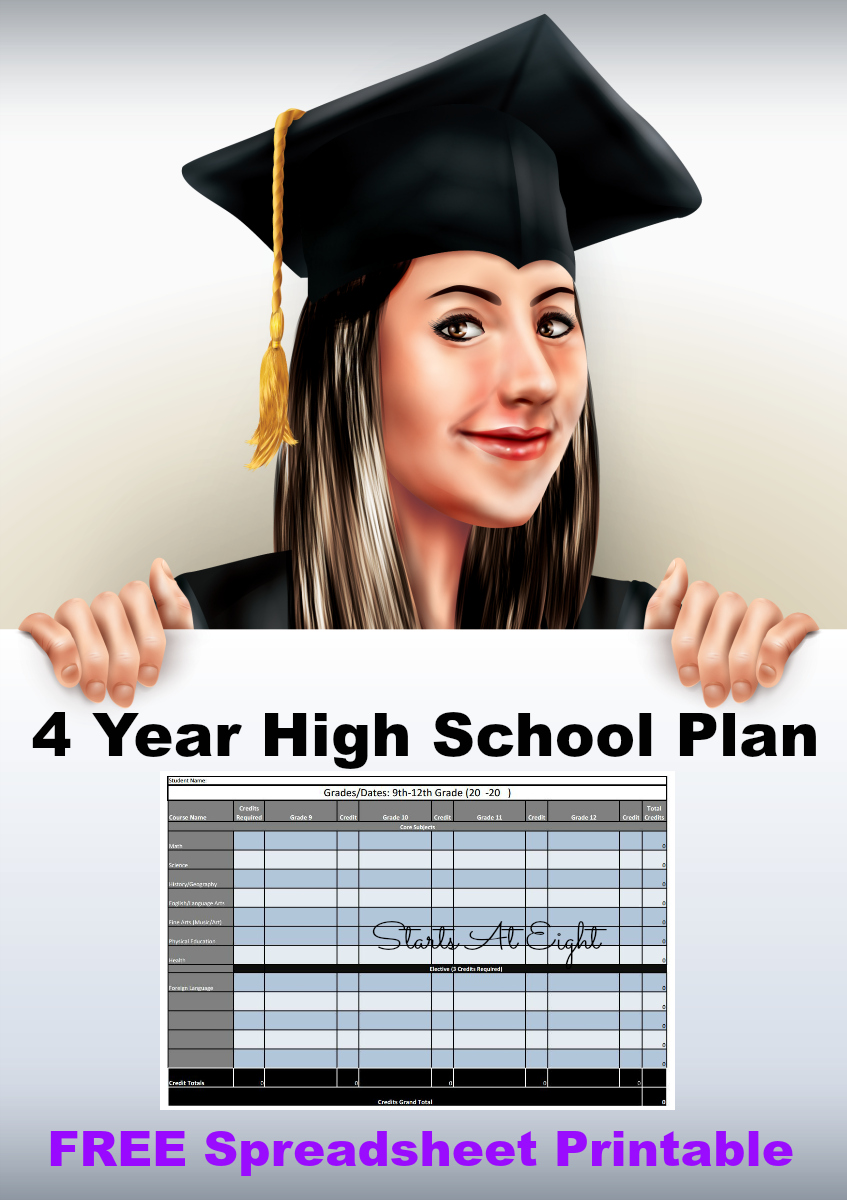 I realized planning just one year would not allow me the vision to see ahead and be sure we would cover everything both required by our state (Homeschooling in NYS), and that we desired to adequately prepare her if she chose to go on to college.
4 Year High School Plan
In order to make something visual I could add to, change, and expand on, I created this Excel Spreadsheet to plan out her high school credits over the 4 years.  It includes the credits that are required by the NYS regulations, courses typical for college bound students (like 2 years of a foreign language), and high school elective courses.
Homeschooling High School: Round One
This is the original 4 Year High School Plan I created for my oldest (who is graduating college this year). If you click on the image it will enlarge so you can see it better. I have since moved Foreign Language down to electives because that is what they are considered.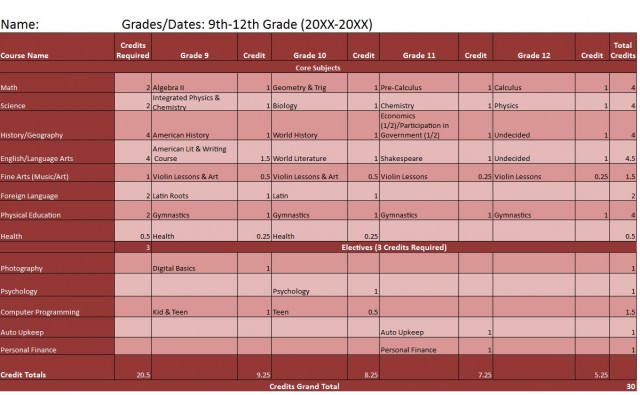 Also be sure to take a More In-Depth Look at our Homeschool High School Electives Choices: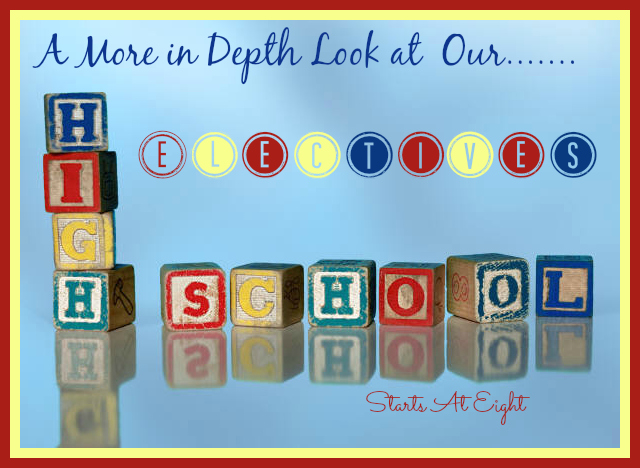 Homeschooling High School: Round Two 
Round two of homeschooling high school arrived this year with the start of my son's 9th Grade Homeschool Year. While a few of the curriculum choices have changed, the way I plan has not! I still believe a 4 Year High School Plan is the best way to organize and invision what my kids need to cover and how we will accomplish that.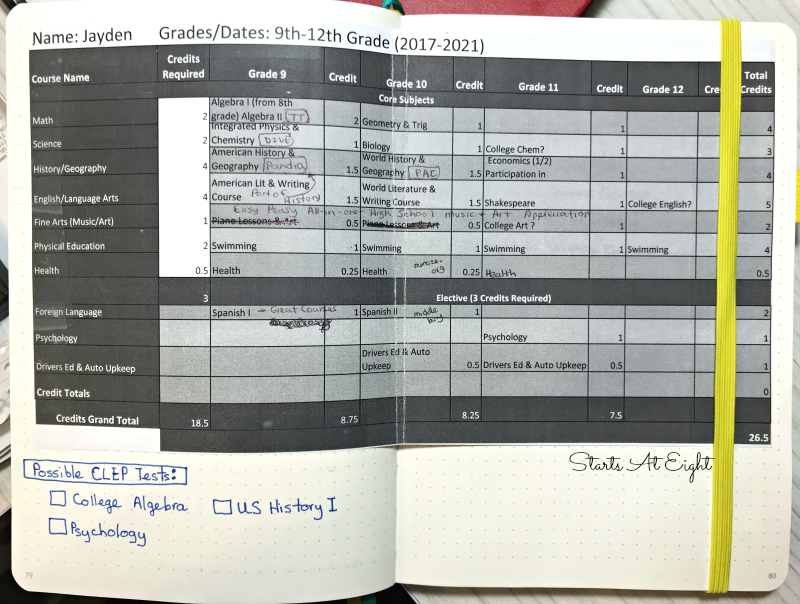 As you can see above (be sure to click on the image to make it larger for easier viewing) I printed a general plan and since have changed things and made notes on it.
FREE 4 Year High School Plan Spreadsheet Printable
Now that you have seen my planning choices you should have a better idea (and more resources) for creating a 4 Year High School Plan for your children.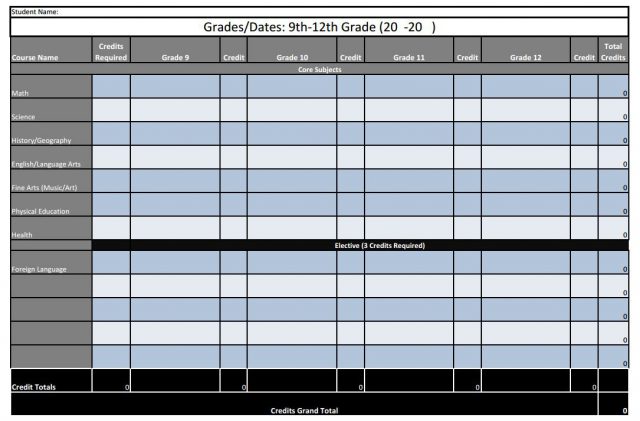 Here is the 4 Year High School Plan Spreadsheet Printable that can be totally customized by you, for your needs/subjects.  You can fill it all in, save it, and print it.  If you love it please share this post with others so they can come and use it. 🙂
Download Your FREE Spreadsheet Printable Here ->> 4 Year High School Plan FREE Spreadsheet Printable
Want it as a straight PDF Printable? Download that HERE ->>  4 Year High School Plan PDF Printable
More Homeschool High School Help
If you like this you might also like the Plan Your High School Electives FREE Printable Pack that I have created.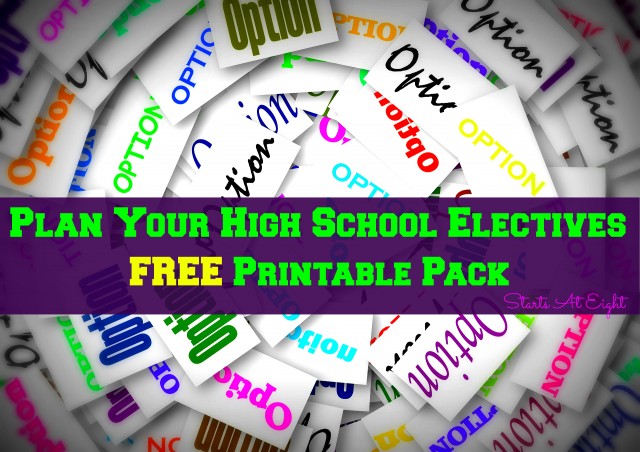 *This post was originally written in July 2013 and has now been updated with a newer version of the Excel spreadsheet and more information pertaining to planning and homeschooling high school.