Last month I wrote a post pertaining to the anxiety surrounding the act of Homeschooling High School. I spoke of my anxiety level being unusually low, due in part to my due diligence in completing research on the subject.  One of the topics I spent time researching is the possible elective courses for high school.
Here is the New York State Homeschool Law pertaining to the High School years:
"For grades nine through twelve: English (four units); social studies (four units) which includes one unit of American history, one-half unit in participation in government, and one-half unit economics; mathematics (two units); science (two units); art and/or music (one unit); health education (one-half unit); physical education (two units); and three units of electives. The units required herein are cumulative requirements for grades nine through twelve."
(Note: a unit = 6,480 minutes which is = 108 hours; you would typically consider 1 unit to equal 1 year)
My focus recently has been on the "three units of electives." What is considered an elective for high school? High school electives go beyond the core classes of English, math, science, and history. Electives supplement the educational years with classes that interest your child and prepare them for adult life. Here is a list that HSLDA has compiled of possible electives for high school.
High school is a time where your teenager should be exploring their interests in an effort to find a career path that is right for them; Anything from photography to auto repair, and computer programming to nursing. Electives do not require as much time or work as your teenager's core coursework, but should include educational content.
For job related subjects like veterinarian, auto mechanic, or nurse you can include volunteer hours for your teenager to see and experience first hand what that job would entail. You can also use such resources as on-line videos, community classes or workshops,and neighbors willing to share a bit of their skills.
High school is also a time where your teenager needs to learn to be ready for adult life. Therefore teaching life skills as high school electives is a good idea. We all need to be able to take care of ourselves. You can include classes in health and physical education, covering such things as nutrition and disease, and encouraging them to fix their own nutritional meals and to be responsible for their own exercise. Teenagers also need to learn to take care of their own banking and finances. No matter if your teenager plans to go to college or not they will need some instruction in finances. They will need to learn how to balance a checkbook, budget their finances, and have a working knowledge of credit and loans. Things like meal planning and shopping for deals are real life skills that will serve them well in their adulthood.
There are other life skills like gardening or sewing, home repair/maintenance and farming that may be important skills to pass on as well. The only subjects in high school with a 4 year requirement are English and Social Studies (at least in NYS), so if your child wants to do a 3rd/4th year of Math, Science, Phys. Ed. (which are all required for only 2 years) then those can be called electives as well.
It turns out that there are lots of ways to make electives work. High school is a time for your teenager to choose something they want to do, hopefully have fun with it, and expand their world while doing it.
List of Possible Topics/Courses for Electives:
Accounting, Business Management, Business Math, Personal Finance
Agriculture, Botany, Floral Design, Horticulture
Anthropology, Astronomy, Architecture
Appliance Repair
Art History, Art Studio, Drawing, Jewelry Design, Drafting, Ceramics, Painting, Print Making, Sculpture
Audio Production, Cinematography
Auto Body Repair, Autoshop, Auto Mechanics
Calligraphy, Carpentry, Woodworking
Computer Applications, Graphic Design, Networking, Programming, Technology, Keyboarding/Wordprocessing, Graphic Communications
Concert Band, Choir, Music Appreciation, Music Theory, Drama, Vocal Music
Cosmetology
Creative Writing, Fiction Writing, Poetry, Etymology, Journalism
Dance (general, beginning, advanced)
Debate, Ethics, Logic
Equine Science, Equestrian Training
Foreign Language, Sign Language, Speech
Geography, Government, Civics, Current Events, Political Science
Home Economics, Interior Design
Medieval History, Mythology
P.E., Pilates/Yoga, Aerobics, Nutrition Science
Photography, Photoshop, Webpage/Website Design
Physiology, Psychology, Sociology
Religious Studies, Theology
Robotics
World Literature, World Religions
Zoology
---
Get Help Planning Your Elective Courses for High School: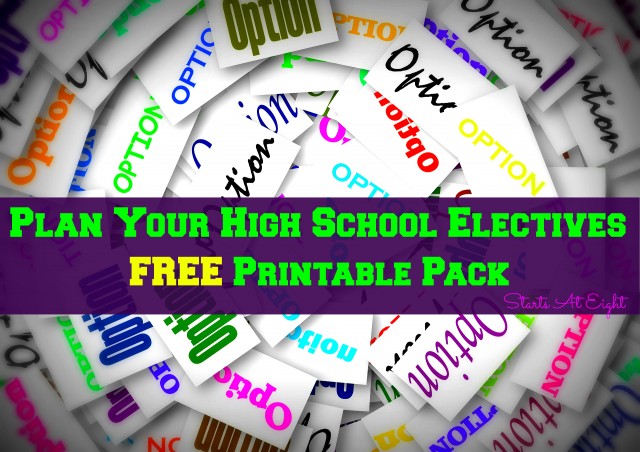 ---
The Big Book of Homeschooling
To get tons of great advice, and move beyond the basics of academics, pick up a copy of The Big Book of Homeschool Ideas. Some topics included are things like active learning, learning with video games, helping teens/tween become independent learners (one of my chapters), teaching on the road, learning with movies, high school literature (one of my chapters), and gardening.
This book can carry you through all your years of homeschooling, covering the stages your children will mature through: preschoolers, elementary grades, middle school, and high school. As your life situation changes, you will find new chapters that apply to you. You can view the full table of contents to see all 103 topics!
If you would like to purchase a PRINT Copy that option is now available via Amazon!! The Big Book of Homeschool Ideas – Print Copy