Quote for the week:
You can't stop my love for you, it will be here that's a given
As long as I am living on this earth, one thing is true
You can turn away and forget me, curse my name
You can even let me go,
but you need to know, my love is unconditional

In honor of Dr. Seuss's birthday which was on March 2nd. Ava and I spent this week reading The Lorax and doing Lorax related activities which we compiled into a lapbook on Friday. I will be posting a separate post about how her week went and what she did, hopefully tomorrow.

Monday: I think Monday was our most productive day EVER! Due to having a whole lot going on later in the week, I had to really pack Monday and Tuesday full. Each week I usually deem Tuesday our "Busy Busy Work Day", but this week both Monday and Tuesday needed to be that way.

We are spending a bunch of weeks learning a little bit more about some of the countries in Africa. After looking at the map of Egypt Jayden was asking why there were only cities along the Nile River. That led to a discussion about how much of Egypt is desert. We talked about how living in a land with so much desert would cause people to have to live close to water and why. His observation was later confirmed in a book we were reading which states, "Egypt is largely desert land and receives very little rain. However, the Nile River flows through the country, watering a fertile green valley. North of Cairo, the river widens to form the Nile delta. Ninety-Eight percent of Egypt's population live in the valley and delta of the Nile."

Tuesday: On both Monday and Tuesday Chloe and Jayden worked diligently on the first of two Vincent Van Gogh projects they will be doing. This one is based on his famous sunflowers and done with oil pastels.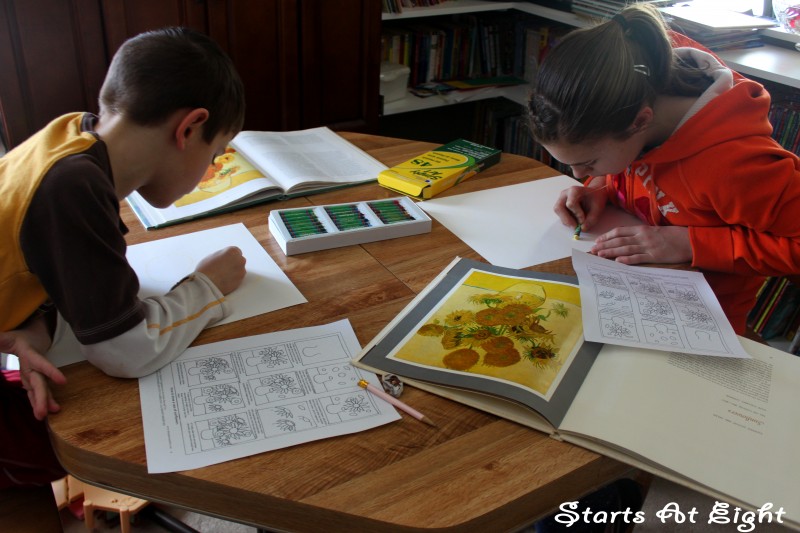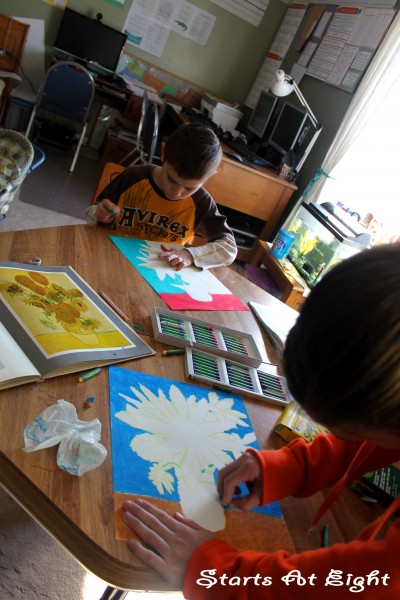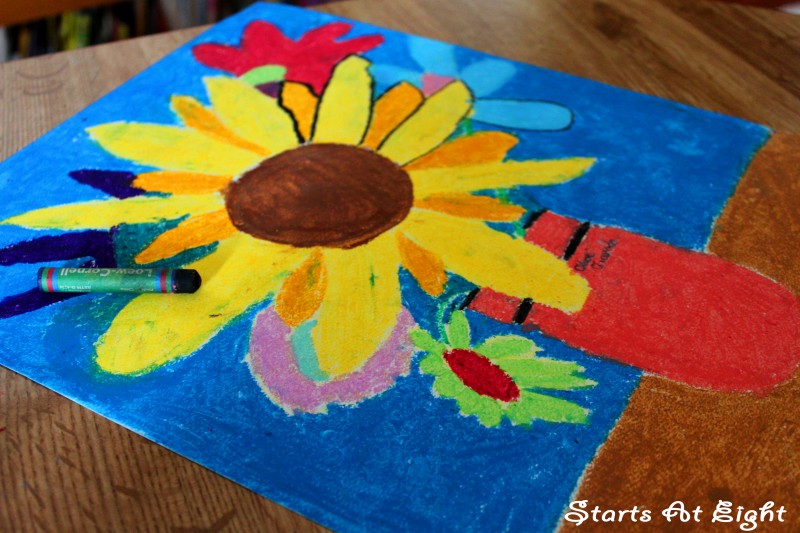 Wednesday:
Jayden made cookies from Ethiopia. While reading the book Cultures of the World – Ethiopia he found a recipe that he not only thought he would like, but that he thought he could make. I was out of the house with Chloe while he worked on this with Grandma. Apparently there was a mix up in how they were supposed to be cooked and thus the cookies ended up tasting on the oily side. They were very flaky like a tortilla shell (and not that good), but he was very happy with what he had accomplished!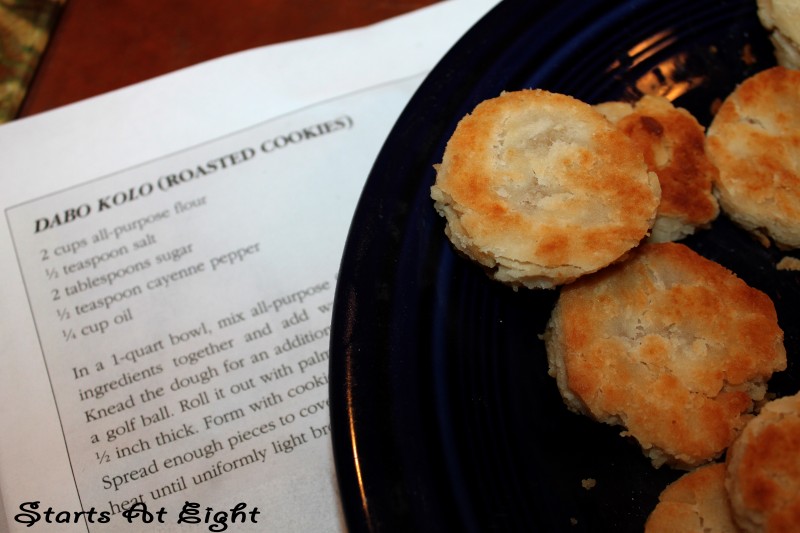 [image width="146″ height="200″ frame="simple" align="right"]http://www.startsateight.com/wp-content/uploads/2012/03/Turtle-Cover.jpg[/image]
In the evening we hunkered down to watch Turtle: The Incredible Journey per the kids begging. Last year we were in Florida just a few days before the turtle nesting season was to begin. This documentary had great footage from the baby turtles coming out of the sand all the way through the life of the turtle.

We just got a trial membership to Netflix and found it there. We also have a Van Gogh: Brush With Genius in the cue to watch next, as well as a Coral Reef documentary that was deemed by Netflix to be "like" Turtle. It is perfect timing for the Van Gogh one considering that the kids just finished their first of 2 Van Gogh art projects this week!

Thursday: We were out of the house all day on Thursday. Between Ava's Daisy Girl Scouts in the morning, lunch on the go in the car, and Homeschool Ice Skating, we were gone from 9am-2pm. Then we crammed in chores and instrument practice before dinner and then we were off to gymnastics for Chloe and our family track run for the rest of us.

Friday: Today Jayden and Chloe headed off with Poppy again for Jayden's chess club. They also hit the Dollar Store so Chloe could buy green St. Patrick's Day stuff to wear for her gymnastics competition that is coming up.

Meanwhile, Ava and I finished up her Lorax unit by putting her lapbook together. If you stop back tomorrow I should have that post done and up. We put a true ending on our Lorax unit by spending a little quality Mommy Ava time at the movie theater! What is so funny is that when you ask her how she liked the movie she will tell you about how much she loved the strawberry lemonade. (It was the frozen treat I bought her to enjoy while we were at the movies!)