This week was an unusual one for us because all the local schools had their Winter Break. For us that means not hitting the museums and other local outings because they will be much busier than what we like. It also means that Chloe wants to fill her social calendar since most of her friends go to public school and this means they are finally off and free to hang during the week. I opted to keep our basics of math, music, spelling, and grammar, up and running this week. Chloe was told she would have to manage her time and get her school work done if she wanted to keep her scheduled dates with her friends.
Jayden's social calender is not yet developed so he was still home with me all week. This was good because it gave me a chance to help him with his "Independent Project" on Florida. We spent time working on sifting through the useful and not so useful information on the internet to fill in his notebooking pages about Florida. He is looking forward to finishing the written part of the project because we have a salt dough map planned for the project part.
Monday: Joey was off for President's day so we got to spend some time as a family. Chloe and I made a special trip to JoAnn's so she could by the fleece she wants to use for a blanket I am helping her make. In the afternoon Chloe and Jayden had their music lessons. It was nice for me because I actually got to sit in and listen to them instead of being out in the car with Ava.
Tuesday: Chloe had a friend over for the day. She was reminded once again how difficult that can be sometimes because her brother and sister want to be included in what she and her friends are doing.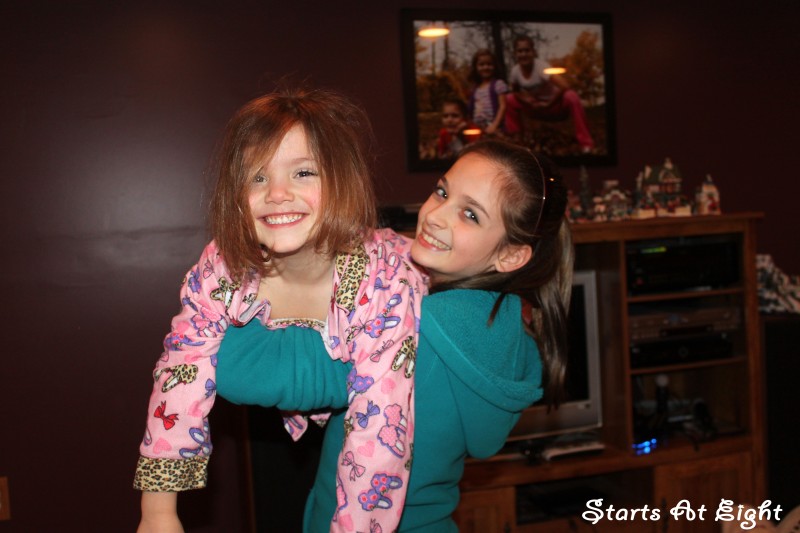 Wednesday: We skipped our usual storytime and mall trip because it was going to be busy, but primarily because we got the rare chance to hang out with my friend Shana, and her boys. They came over to play and eat lunch with us.
Thursday: I got some much needed me time away from the kids. My mom took me bathing suit shopping for my birthday in anticipation of our upcoming trip to Florida in April. Today we noticed Ava's Daisy Troop Sunflower pot was sprouting the first of the sunflower buds!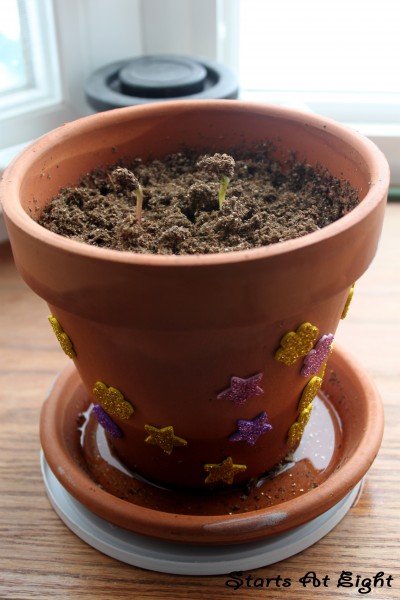 Friday: February 25th…..my 34th birthday. I got to spend this day as I usually do, home taking care of school, laundry, kids etc. Only I got the added bonus of an emergency vet trip with Oscar who has yeast infections in both ears. Then I was doubly blessed to have him vomit all over the front seat of the truck on our way home! Poor puppy, he was so traumatized over the whole thing!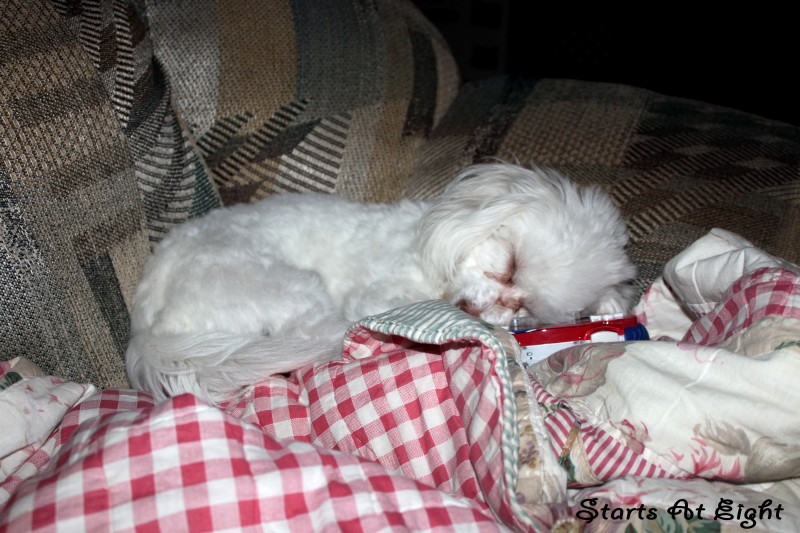 The good news is that my mom made one of my favorites for dinner! Sauerkraut and hot dogs! My family was so unpleased with the smell…which made me all the more happy! 🙂 Then we topped the night off with yummy ice cream cake!
MY HIGHLIGHT OF THE WEEK WAS THIS…..Somehow, someway, Daddy got his pinch hitting teacher hat on and found a way to work through math with Chloe!