Having homeschooled for over 11 years now, and having done numerous curriculum reviews, I have accumulated an abundance of curriculum that I no longer need. I have one that has graduated, none of elementary age any more and two very different children from the first that are still homeschooling. What does this all mean? It means I am having a used homeschool curriculum sale!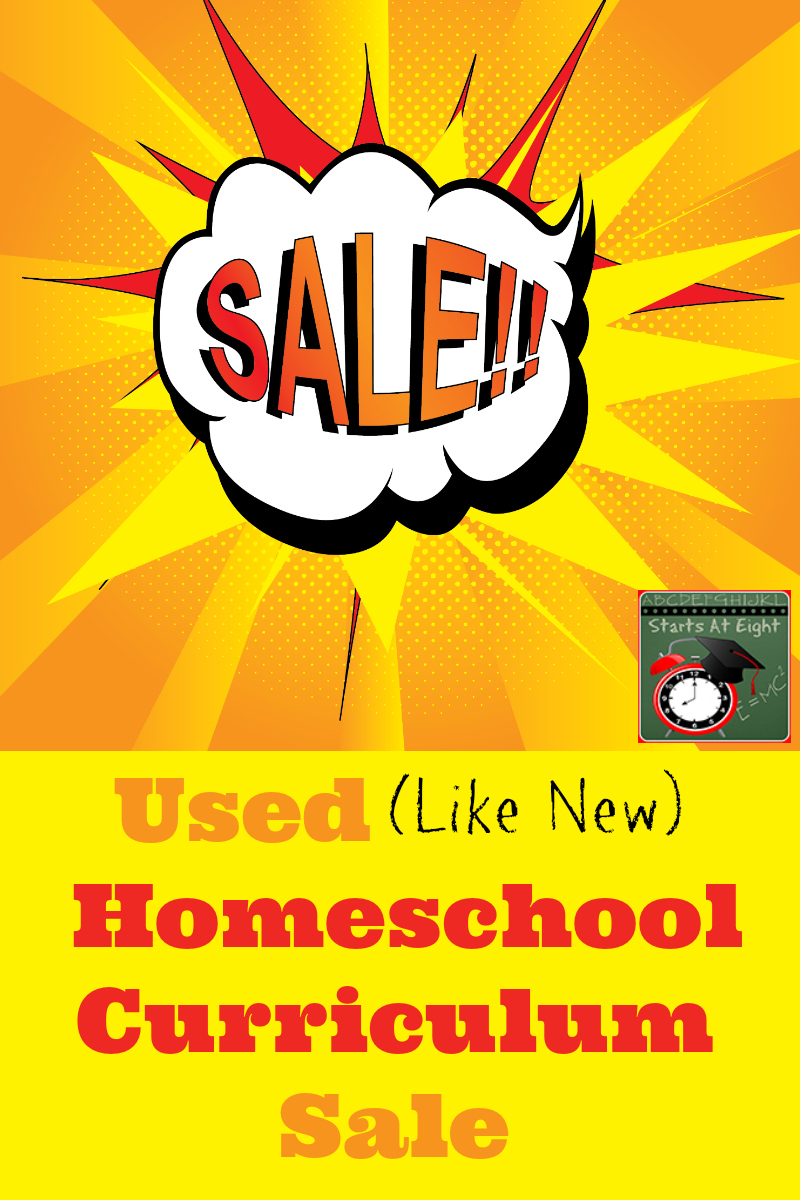 I have curriculum in every subject, spanning different ages, and various learning styles. While the title says "used curriculum sale", many of the items have never been written in and are "like new". I will do my best to describe any writing or flaws if an item has them. Each item is sold "as is" and cannot be returned for any reason.
SHIPPING COSTS (to US only): $6 for first item (lot), $3 for each additional item (lot). Individual Books (like a single Teacher's Manual $5). I am not looking to make money on shipping so if you have questions or want to try and combine things just e-mail me. heidi @ startsateight .com and I will weigh your items to get the most accurate shipping price I can.
Payments will be accepted via Paypal. As people are free to buy and pay at various times, I will be shipping in batches – once a week. Upon payment confirmation I will get your box ready to ship. When I have shipped I will send you an e-mail with the tracking number so you know when to expect your package.
E-mail heidi @ startsateight .com with the items you would like. I will get back to you to let you know if they are yours or already spoken for! As soon as I receive payment for an item I will mark it as sold!
Used Homeschool Curriculum Sale
"Dedicated to protecting and nurturing the early years of childhood, Before Five in a Row opens up the world of learning through great books and creative play, and builds a solid foundation for more formal education to come.
This important product has two sections: the first presenting 23 Five in a Row-style mini-units (plus an extra mini-unit) based on outstanding children's books for ages 2-4+.  The second presents an entire treasury of learning readiness activities intended to be used in your every day life: things to do in the kitchen, at the store, at bedtime, bath time and more."
While I do not have all of the books used in this curriculum I have many of them. Each of the books are in good used to like new condition. Some I bought used myself to use with this curriculum, and some I bought new.
Accompanying Books: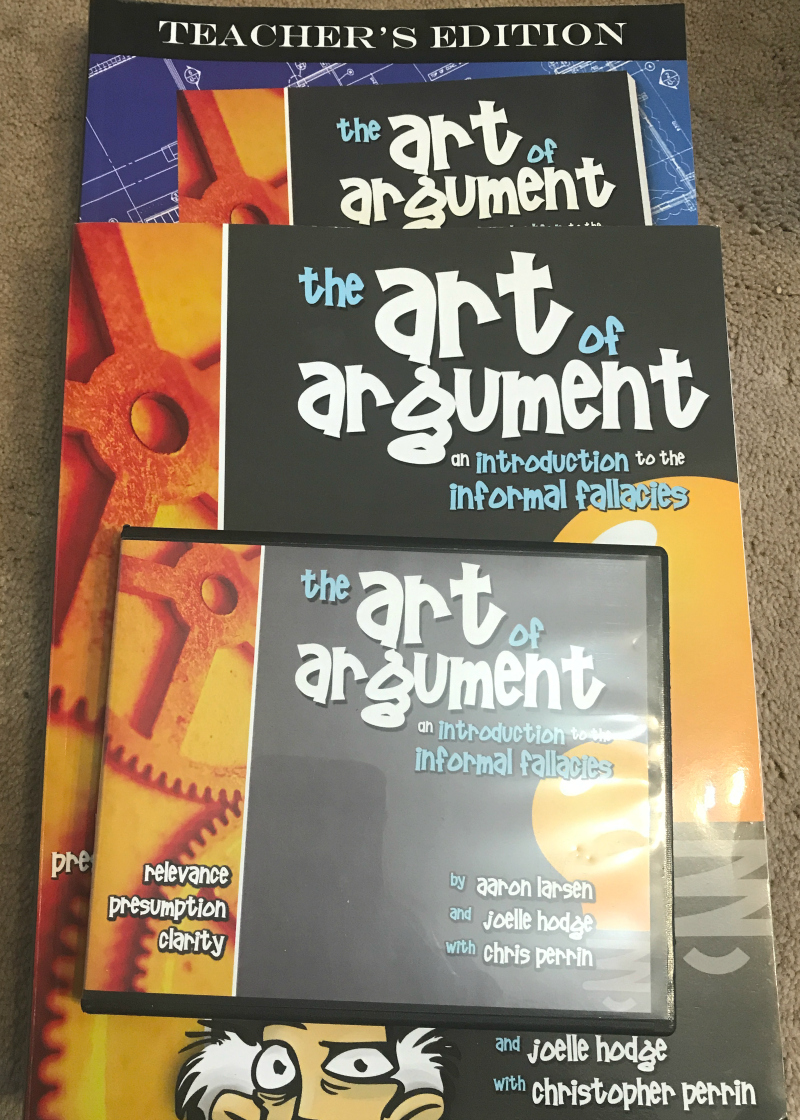 A trimester, one-semester, or yearlong course for grades 7-12
"Middle and high school students will argue (and sometimes quarrel), but they won't argue well without good training. Students who complete The Art of Argument will know how to reason with clarity, relevance, and purpose . . . and have fun along the way! They will study and master 28 logical fallacies, which will provide an essential lifetime framework for filtering good and bad reasoning as well as writing and speaking effectively. This mastery of informal logic is a foundational subject by which other subjects are evaluated, assessed, and learned."
All 3 pieces are included in this set.
The Art of Argument Student Edition (this has two pages where definitions were written in and then erased)
The Art of Argument Teacher's Edition
The Art of Argument DVD Set
Here is a joint review of The Art of Argument curriculum that I wrote over at Hip Homeschool Moms.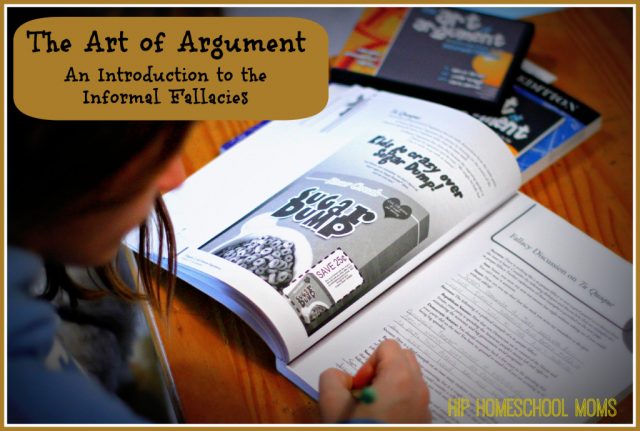 This is only the Pre-Algebra 2.0 Text and Pre-Algebra 2.0 Answer Key/Test Bank.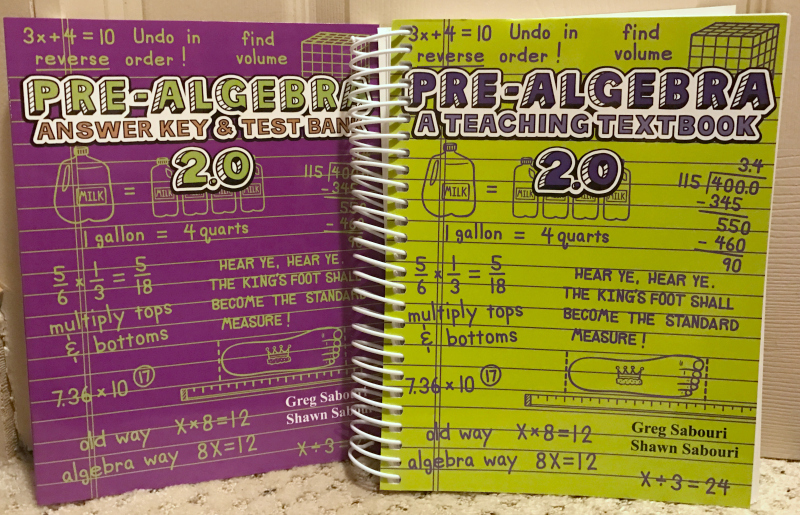 We have been using Teaching Textbooks in our homeschool for many years. My oldest daughter, who used it for all of her high school math from Pre-Algebra through Geometry, scored very well on her math entrance exams for college. While I know many who like to use just the text, or use the text along with the cds, we have always just used the cds. This was the first Teaching Textbooks we purchased and thus did not know what our preference would be.
Here are a couple of articles I have written about our experiences with Teaching Textbooks: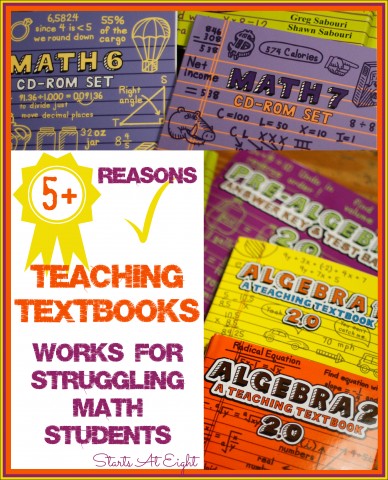 This is a full year World History curriculum for Middle School.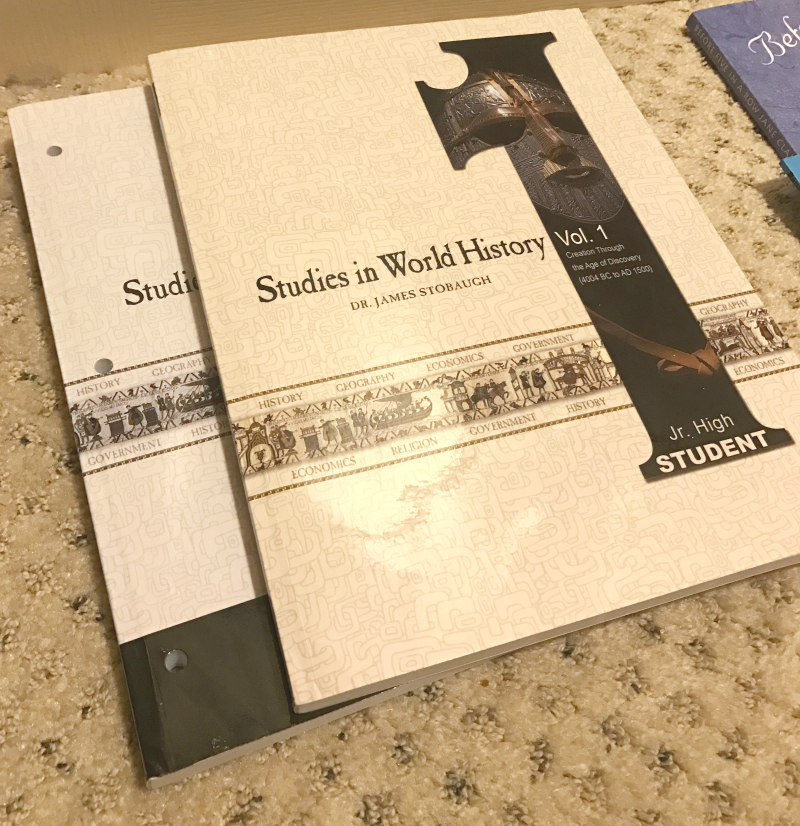 "The course examines the world from creation, through the Fertile Crescent, Egypt, India, China, Japan, Greece, Christian history, and more! With this volume in hand, the student will see history come to life no matter what their pace or ability. This is a comprehensive examination of history, geography, religion, economics, and government systems. This educational program equips students to learn from the starting point of God's creation of the world and move forward with a solid Biblically based worldview."
This set consists of:
Here is the review I wrote: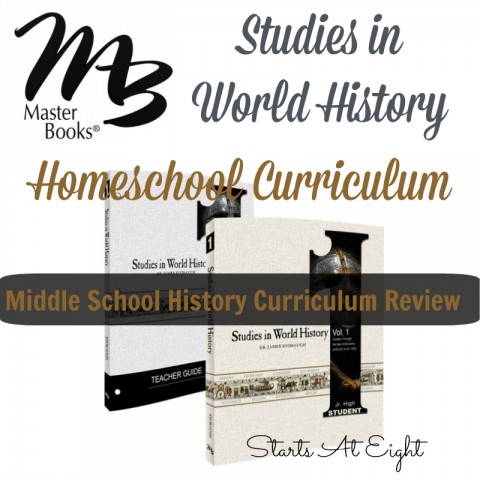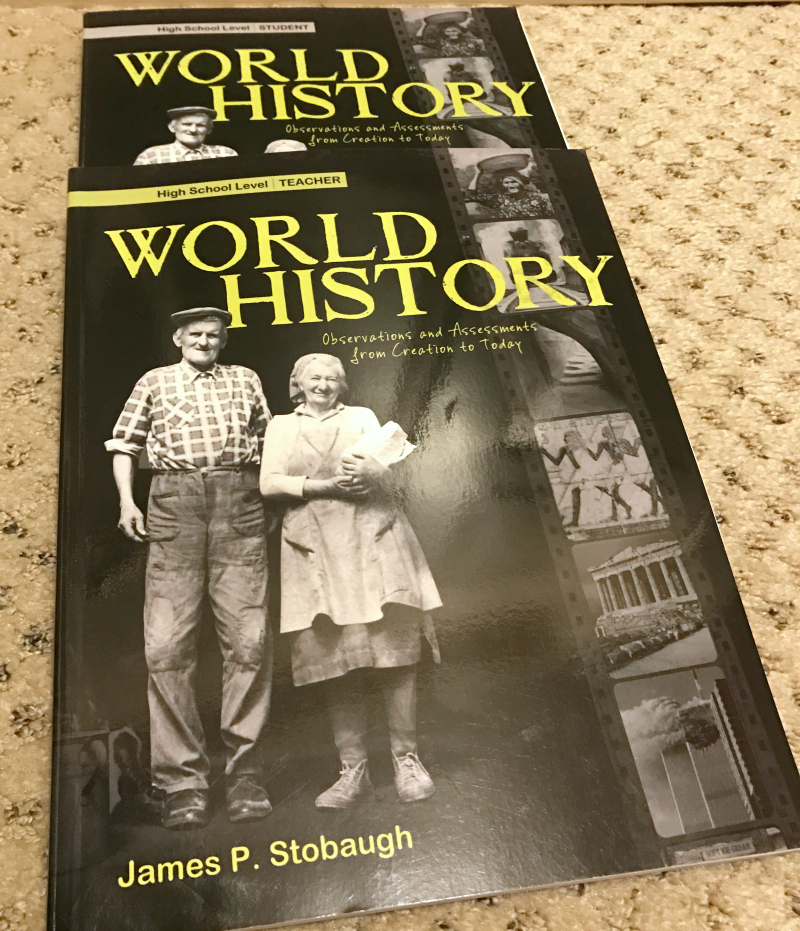 This student textbook covers Mesopotamia, the Jewish Exile, Egyptian life, Greece, Rome, Japan, Indian, Persian, and Chinese history, as well as the Crusades, renaissance, reformation, and more.
Thirty-four chapters each include five daily lessons which take approximately 20-30 minutes each. A short reading is followed by critical thinking questions; an exam is given on the last day of the week. Background information, Bloom's Taxonomy-based questions, concepts, biographical sketches, historical debate updates, worldview notes, and history overview components work together to provide students with a comprehensive understanding of historiographical material from a Christian perspective.
Lessons are one-page and easy-to-read with black-and-white photographs integrated throughout; critical thinking assignments are given in the bottom corner.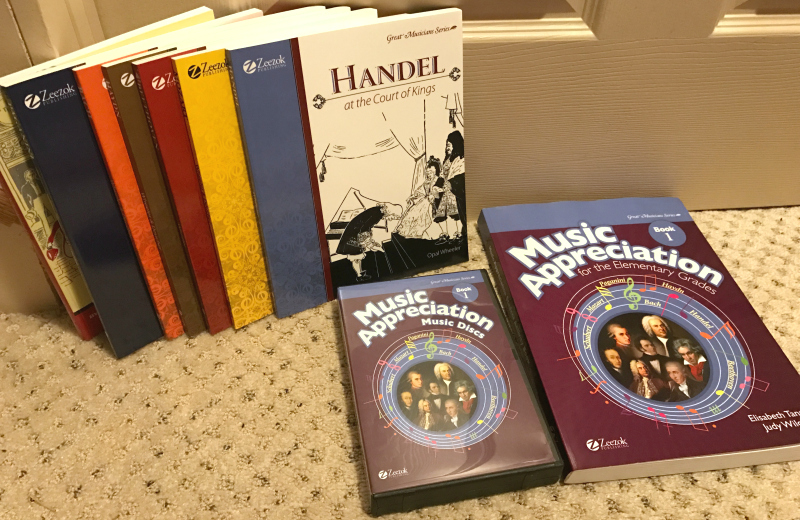 *also included is the lapbook cd which is not shown in the photo above
Zeezok Music Appreciation Review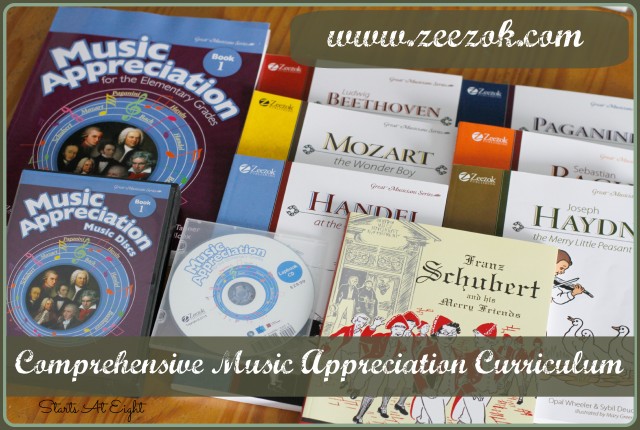 Story of the World Volume 2 – $25 SOLD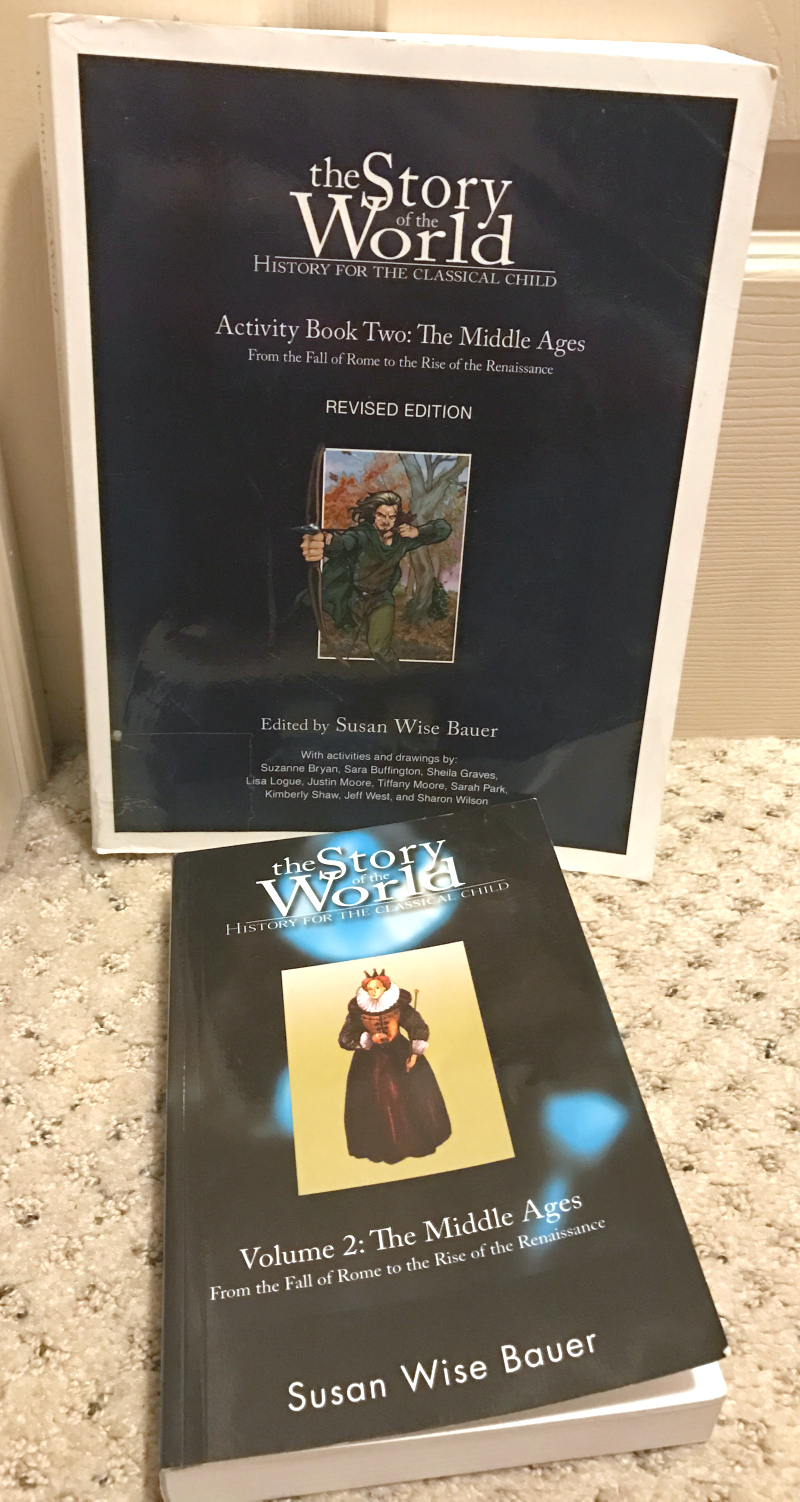 * there is a small tear in the bottom corner of the binding on the Activity Book. It was taped with good clear packing tape and is hardly noticeable. It does not impact the use of the book in any way.
The Story of the World covers the sweep of human history from ancient times until the present. Africa, China, Europe, the Americas―find out what happened all around the world in long-ago times. Designed as a read-aloud project for parents and children to share together, The Story of the World includes each continent and major people group. Volume 2: The Middle Ages, is the second of a four-volume series and covers the major historical events in the years 400 to 1600 CE, as well as including maps, illustrations, and tales from each culture.
This set includes:
Looking for fun ways to use this, schedules, lap book materials and more? Check out my Story of the World Pinterest Board.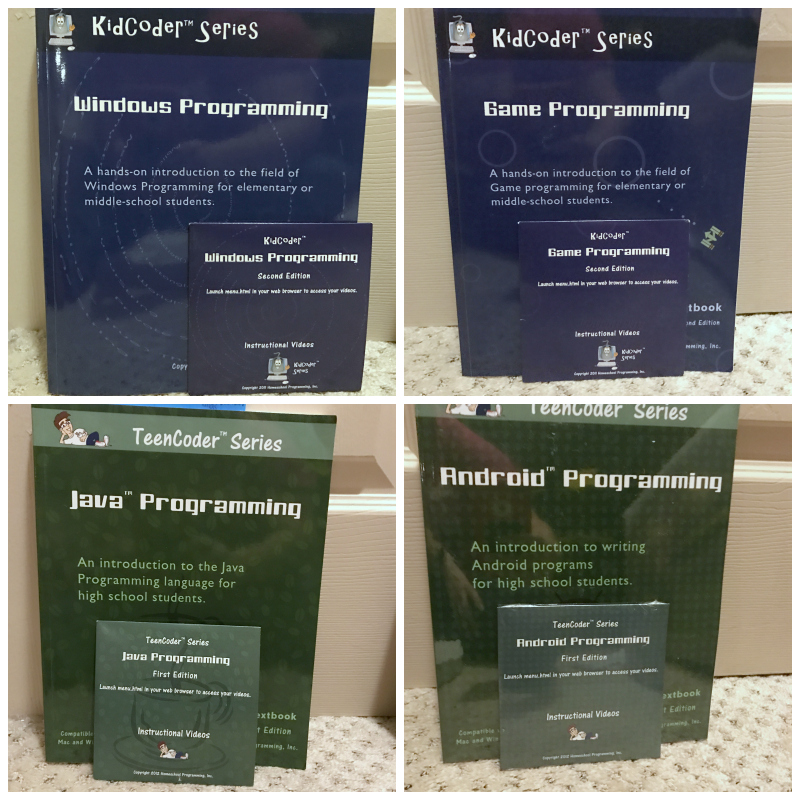 Here is a link to a Review of KidCoder and TeenCoder. Via CompuScholar the courses are offered online. These are the earlier version of those courses that use printed coursebooks with a disc to do the course right on your computer instead of online.
1. KidCoder Windows Programming – $25
Do you have a 6th-8th grade student who wants to learn computer game programming? "KidCoder: Game Programming" is the popular second-semester course in the KidCoder Visual Basic Series. The textbook introduces students to game programming with the Microsoft Visual Basic language. Students will use the free Microsoft Visual Basic Express software on their Windows computer.
3. TeenCoder Java Programming – $25
4. TeenCoder Android Programming – $25
This game is brand new, still sealed with plastic!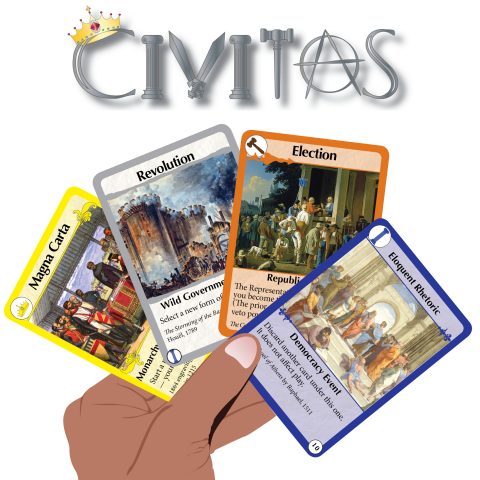 Civitas is a card game about different forms of government. Pass laws, solidify your leadership, and rule the table in this smart, fast-paced game.
Mix-and-match the 8 included decks to rule in a:
Democracy
Monarchy
Communism
Theocracy
Plutocracy
Military
Republic
Anarchy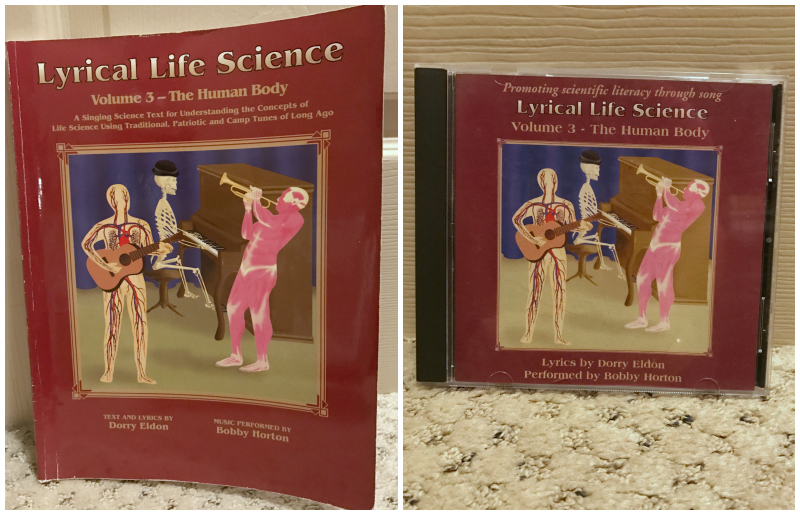 *there is one page that has the vocabulary terms underlined in red
Lyrical Life Science Volume 3 – The Human Body studies one of the most interesting mammals of all! You'll go through all the body systems and understand the interrelationship between them. Because this involves more complicated material (such as the immune system) we think you'll want to save this set for the higher grades. But, then again, if you use it with a unit study approach you can dig in earlier.
This set includes:
Volume 3 Human Body Textbook
Volume 3 Human Body Music CD
Teacher's Manuals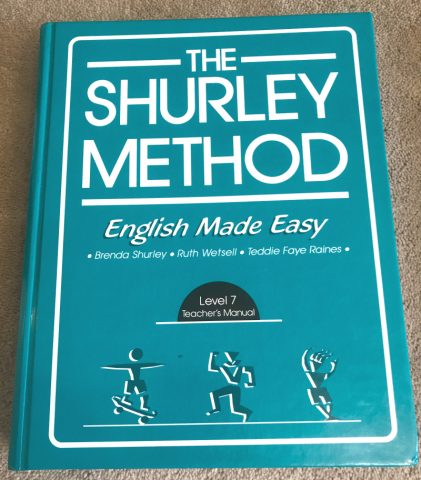 This is the hardcover Teacher's Manual. You can purchase the Student Textbook here.
Teacher's Manual: The teacher's manual is the heart of the program at every grade level. There are five lessons per chapter. Each lesson opens with a planning box, which contains the lesson objectives. The scripted lessons provide you with the exact words for the Question & Answer Flows, questioning strategies, and the teaching techniques that make this program consistent for all grade levels. The script is especially helpful for parents who are new to homeschooling or to Shurley English. Each chapter can be finished in one week. A lesson takes approximately 20-45 minutes to complete. Grammar, language skills, and writing are taught in each chapter.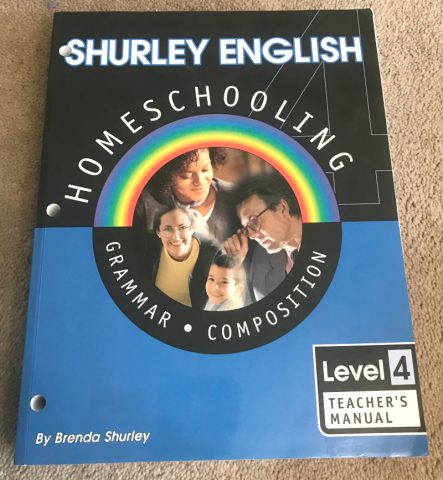 This is the soft cover Teacher's Manual. You can purchase the Student Workbook here.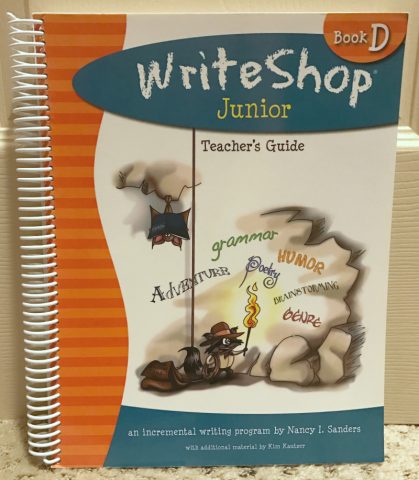 WriteShop Junior teaches students to write and publish fiction, nonfiction, poems, and short reports using a variety of pre-writing games, graphic organizers, and kid-approved self-editing tools. Whether you have a reluctant writer or a more advanced child, this program offers flexible options so students can work at their own level.
You will also need the companion Activity Pack D.
Build language arts skills through the wonders of "living" literature! Keep skills within the context of literature, giving children a better understanding of how these concepts actually work, and reinforcing their correct usage. 36 weekly lessons are divided into daily plans, and centered around four book studies:Carry On, Mr. Bowditch by Jean Latham, The Bronze Bow by Elizabeth George Speare, Big Red by Jim Kjelgaard, and The Horse and His Boy by C.S. Lewis. A summary, vocabulary exercises, discussion questions, graphic organizers, student activities, and a review are included for the book studies, as well as "everyday words" section, library skills, root words and suffix studies. 305 pages, softcover.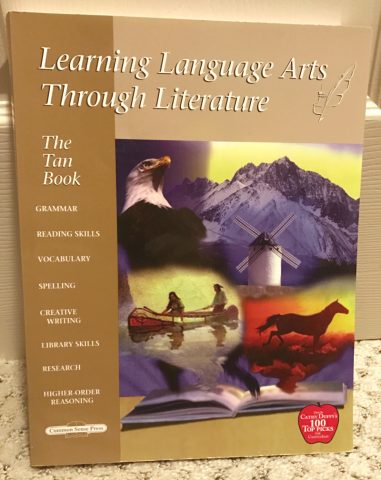 In this text, capitalization, punctuation, and parts of speech are presented in units.
480 pages

28 prepositions introduced 

Materials presented in an easy, step-by-step manner; easy reading

Pre/Post assessment

Age-appropriate, interesting worksheets 

Writing section includes how to write items in a series and appositives

Contains unit reviews, tests, cumulative reviews, and cumulative tests

Reproducible worksheets (answer key on left side and reproducible page on right)

Tests are also in the teacher edition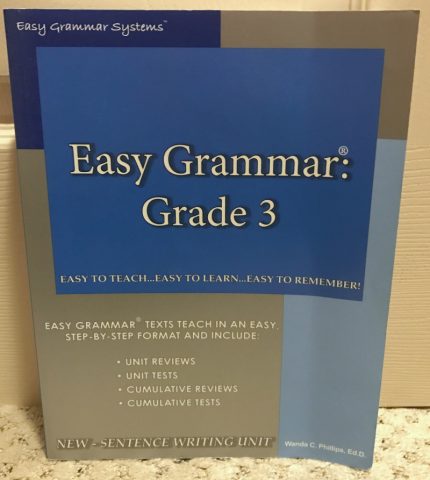 You can reproduce the student pages in this, which is what we did. (This is within the copyright of the book)
First Language Lessons, Level 4, uses classical techniques of memorization, dictation, and narration to develop your child's language ability in the important, foundational years of language study. The text covers a full range of grammar topics, including parts of speech, punctuation, sentence diagrams, and skills in beginning writing and storytelling. Optional end units provide practice in dictionary use a letter writing.
Scripted exercises provide a flexible framework for each lesson. The innovative question-and-answer format makes grammar concepts perfectly clear, while the accompanying workbook makes it possible for busy parents and teachers to spend more time teaching and less time preparing.
I actually still have Level 3 on my homeschool shelf. These make great reference books even after you are done with them!
"Looking for a great historical coloring book? Dover can help you add color to some of the most remarkable events in history! We offer coloring books about dinosaurs, the Old West, the Civil War, Native Americans, the space race, American presidents and first ladies, vintage automobiles and trains, castles and cathedrals, famous explorers and inventors, historic architecture and landmarks, and much more. Black history coloring books feature authentic illustrations about the Underground Railroad, the Amistad, Barack Obama, and more. Each edition offers beautifully detailed illustrations and fact-filled captions."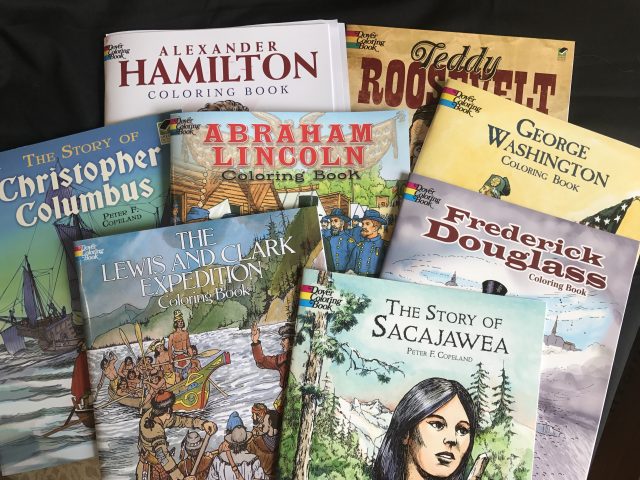 Here are some fun ways we are using Dover products in our homeschool: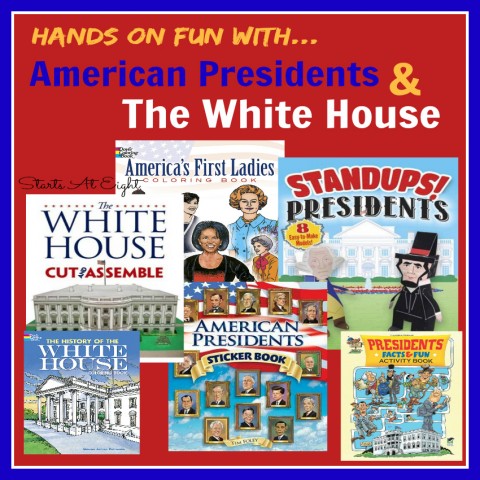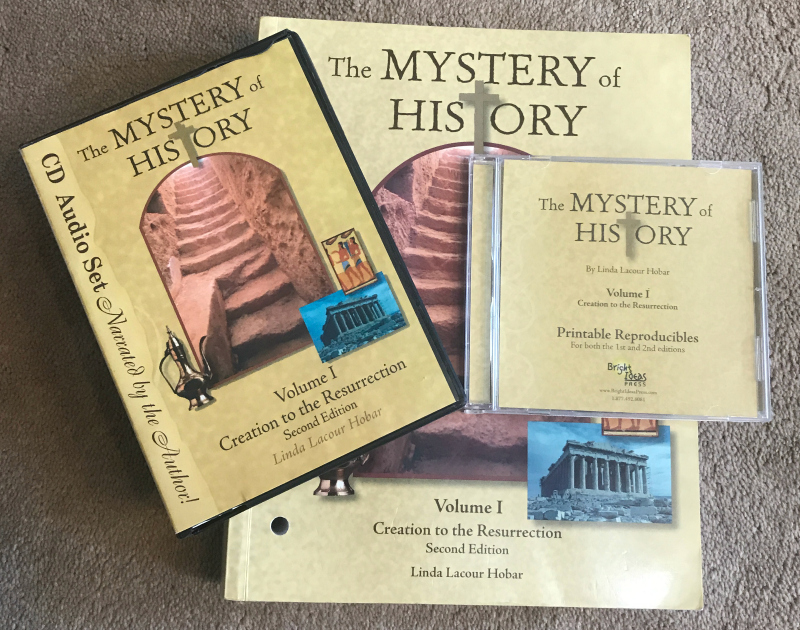 This set includes:
The Mystery of History Vol 1
Volume 1 CD Audio Set (The case is cracked but usable. All CDs are in great working condition)
Volume 1 Printable Reproducibles
Misc Books – COMING SOON
Apologia Field Trip Journal
Reading Journal
Towel Origami
The Complete Idiot's Guide: The GED 5- Subject Crash Course
Coding in Scratch – GAMES Workbook
Teaching Fractions Using Lego Bricks
No More Perfect Kids by Jill Savage & Kathy Koch
Cuckoo Clock Secrets in Switzerland by Karyn Collett
Flourish – Balance for Homeschool Moms by Mary Jo Tate
Tools for Cultivating Your Child's Potential by Zan Tyler
Kids LOVE the Carolinas by George & Michele Zavatsky
MORE TO COME!
Stepping Stones Kindergarten Curriculum
Homeschool Math From Kendall Hunt
The Tenth Street Pet Sanctuary (Understanding & Using Decimals)
What are Your Chances? (Probability in Action)
Simply Coding
PACWorks Histography – A Survey of the 50 United States
Holimath Multiplication Game
Also be sure to check out all the other iHN Curriculum Sales!