Do you find it overwhelming to think about homeschooling Kindergarten? There is such a flood in the market of Kindergarten resources. It can be difficult to narrow down your choices and choose one that will be right for you and your child.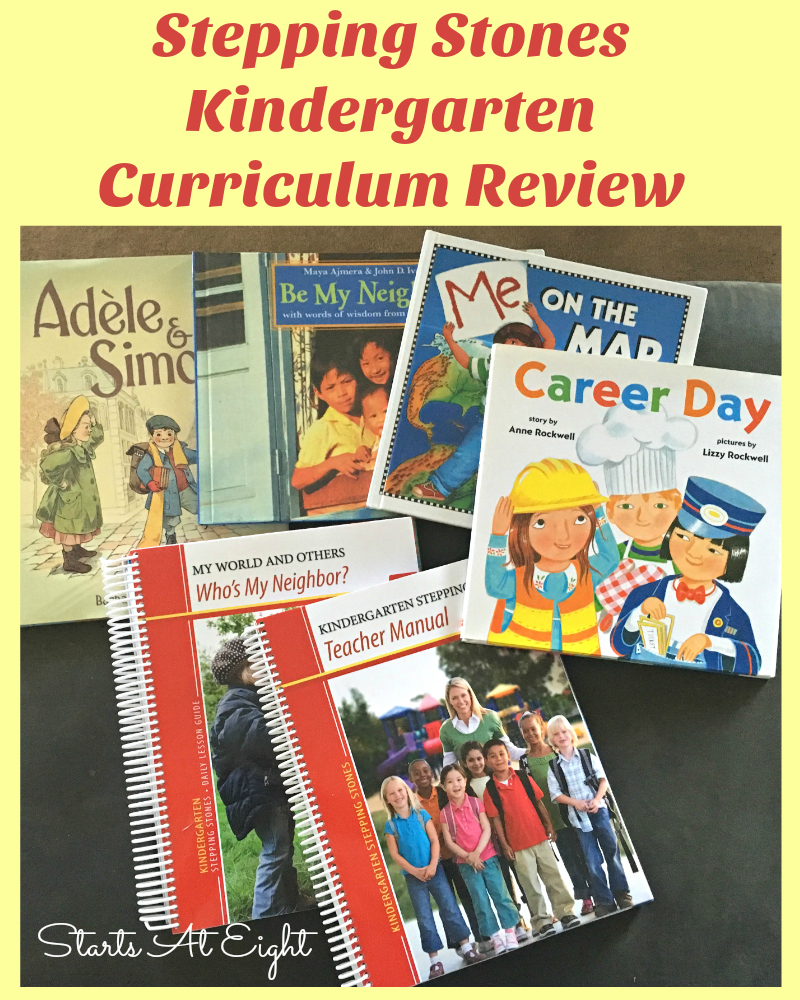 I am happy to be able to share with you this new product I discovered! Kendall Hunt Religious Publishers Kindergarten Stepping Stones Curriculum is a faith based, cross curricular Kindergarten Curriculum.
I received a Kindergarten Stepping Stones Neighborhood unit free for review. I was compensated for my time to create this post, but I was not required to give a positive review. All opinions are my own. See my full Disclosure Policy for additional details.
Stepping Stones Kindergarten Curriculum
Stepping Stones Kindergarten Curriculum is broken down into 9 themed units for the year. Each unit is meant to take about a month to complete and uses 3-4 picture books as well as a Bible Story to work with the theme for that unit. A blackline CD is included for all your printing needs! The Daily Lesson Guide shows you what printables (with each one clearly numbered) to use and then you print them from the CD.
One of the things I love about this curriculum is that you can purchase each themed unit separately. This makes it even more flexible because if you want to spread them out longer, or you just don't have the time to cover them all, or maybe you are not interested in all the themes, purchasing separately offers you the freedom to pick and choose!
Intro- Off We Go! (2 weeks)
Let's Be Friends!
Who's My Neighbor?
Deep in the Forest!
Giving Gifts!
We Are Family!
Brrr! It's Cold!
Wonderfully Made!
Moving On!
We're On a Mission
Each theme is set up to be cross-curricular (meaning it covers many subjects together)! The subjects that are included are Bible, Language Arts, Math, Science, Social Studies, Art, Music, Technology and even Physical Education.
**Note that this curriculum is set up for a classroom. With that being said I found it fairly easy to skip over the things I didn't need (activities for larger groups), and pick from the plethora of activities presented for each book.
Using Stepping Stones Kindergarten Curriculum
We have been using the Stepping Stones Kindergarten Curriculum Who's My Neighbor? theme here in our house.  When I first received the book I was a little overwhelmed by all the pages and information. My first thought was, "This is only 1 month!"
Upon further inspection I realized that not only was each section thoroughly broken down and organized, but that there were also tons of activities to choose from…not all of it would we use or need to use. That is ANOTHER great benefit of this curriculum! There are tons of activities for each theme to choose from. You can pick and choose based on how much time you have, how many children you are working with, what resources you have available, and what you think will best suit your needs.
The 4 Books it includes are:
Me On the Map
Adele & Simon
Be My Neighbor
Career Day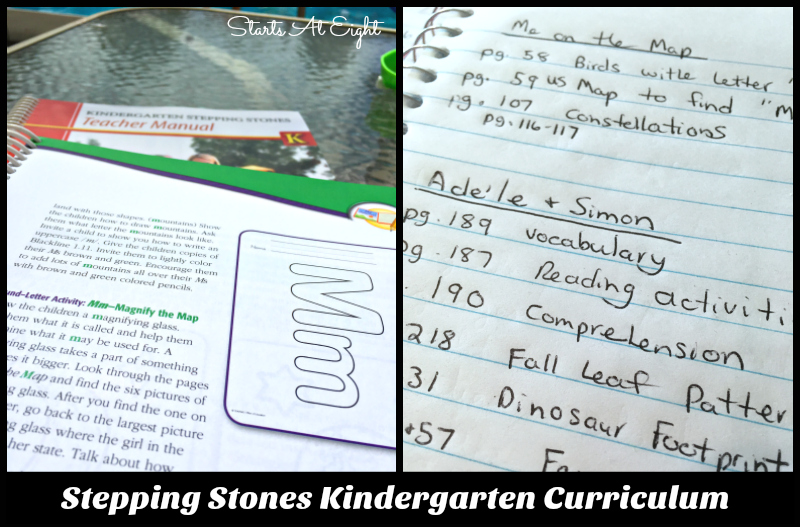 To plan out our time I took to the Daily Lesson Plan Guide, making a list for each book of the activities we would like to cover. This allowed me to have a quick and easy reference for printing from the included blackline CD.
There is an appendix for supplemental books that was super helpful! It allows you to easily expand on a topic with extra book resources.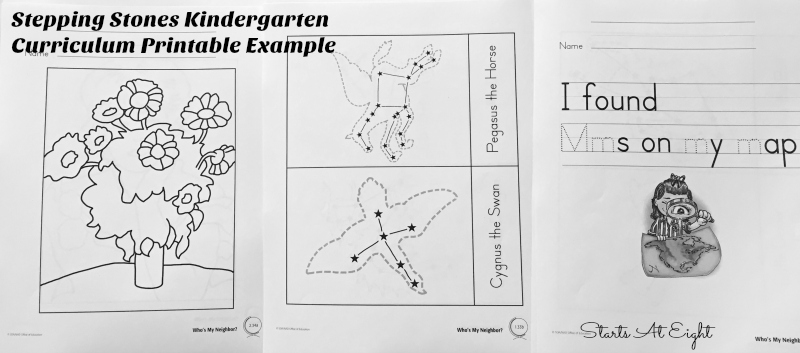 Once you have printed your materials and gathered any other supplemental materials you are good to go!
Examples of the Cross-Curricular Activities
Math Patterns
My daughter loved coloring and cutting the leaves in this pattern activity from the Adele & Simon book. It offered her a countless amount of time creating patterns.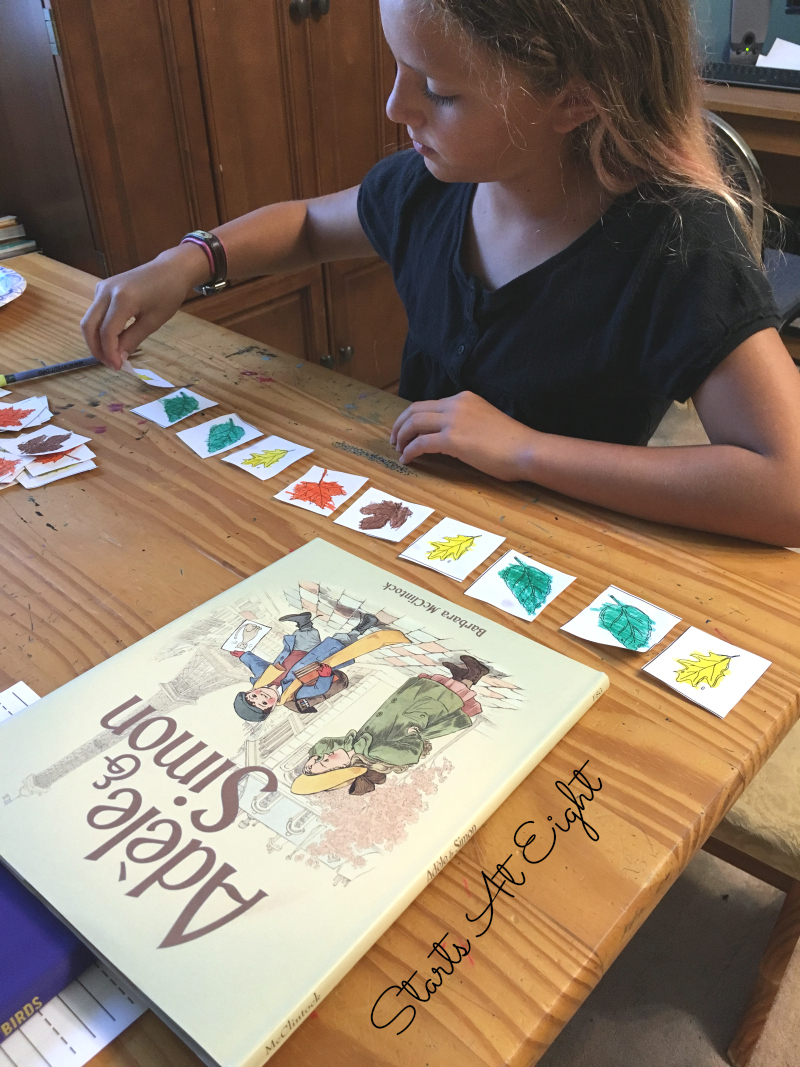 We would play a game where each of us would create a pattern and have the other one figure out what was next!
Letter Recognition
Me on the Map has multiple "M's" in it. For this reason there was a lot of focus on the letter M. Everything from finding words on a map that began with the letter M to writing the letter M and more.
Science
Using all the birds that were provided as a printable that start with the letter M. We not only colored them, but looked up each one to see what they looked like, what they sounded like, where they are typically found, etc.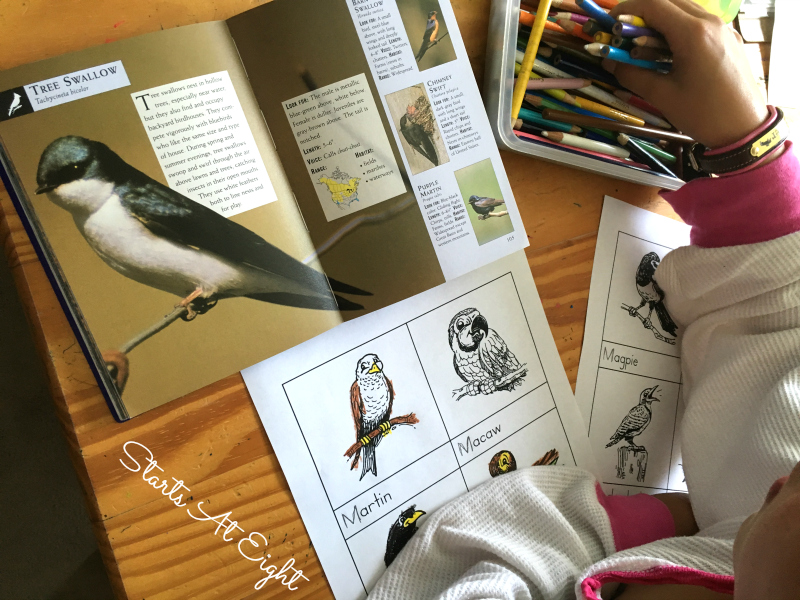 Writing
For Kindergarten they have simple letter writing.  With older children it was easy to add in more extensive writing by having her write out the words (you could even do this in cursive). This could be done with the provided vocabulary words and many of the sets of printable identification cards.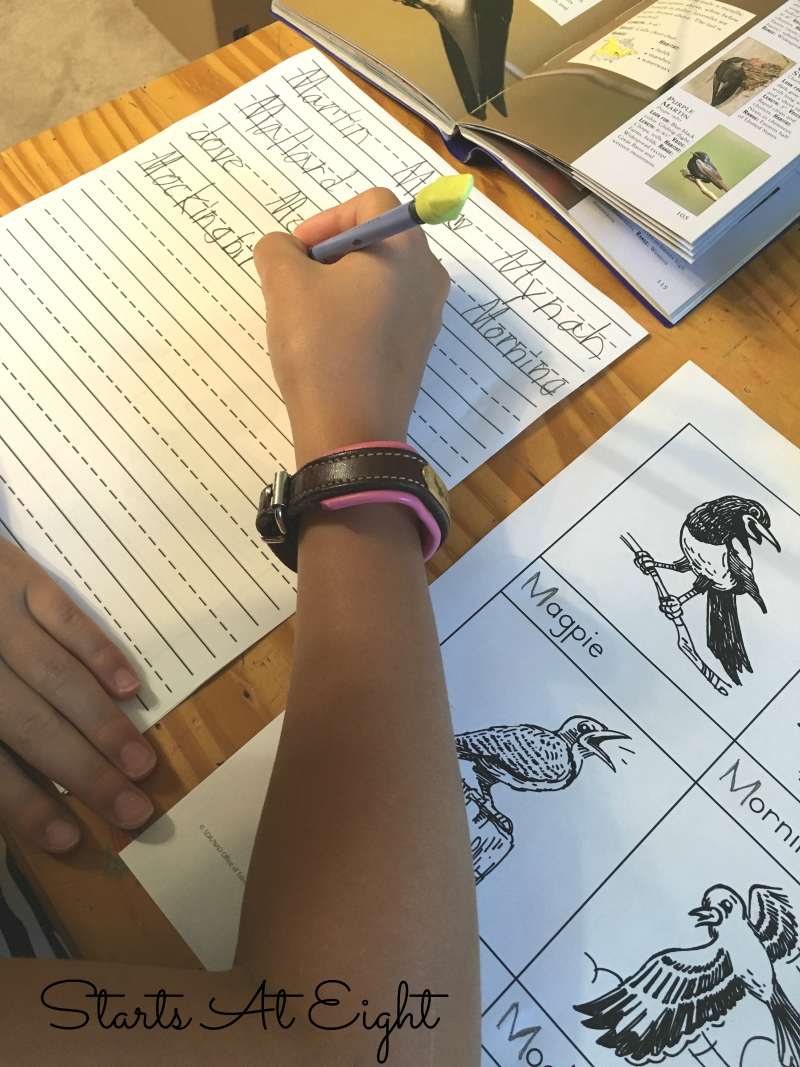 Art
Adele & Simon offered great opportunities to explore famous artists such as Edgar Degas, and Mary Cassatt, as well as a chance to explore their art and create some of their own.
Find Out More & Purchase
You can visit the Kindergarten Stepping Stones website to learn more about this Kindergarten curriculum or Kendall Hunt Religious Publishers website to purchase the curriculum for yourself.
To get connected with Kendall Hunt RPD through social media follow them on Facebook and Twitter.