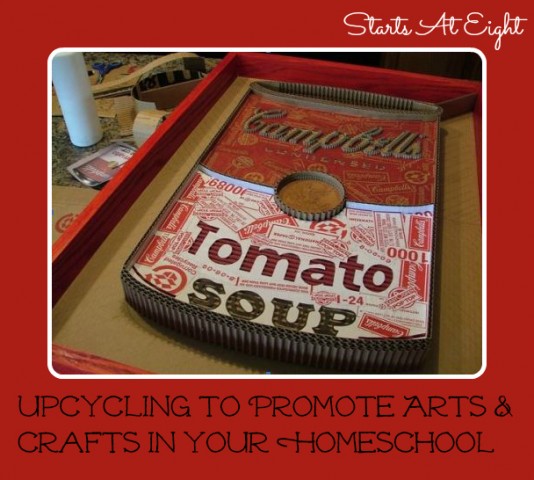 Image from: ThisIsColossal.com
Arts and crafts can be very enjoyable for all involved in the homeschooling experience. While some may think that it's an unnecessary subject in order to teach children then basics, you can always improve the situation by teaching children about different mediums and why they are used. Have you ever thought about upcycling items around your home to create artwork using various mediums simultaneously?
Upcycling is when you take an item that is no longer needed and finding a different use for it instead of throwing it out with the trash. There is a wide range of consumables that can be upcycled in order to develop a new item. So, how do you intermingle upcycling with arts and crafts time?
1. Portraits – Many of us have made the macaroni portrait of ourselves as we were younger. There is nothing that says you need to keep to pastas in order to build a work of art as a self portrait. Virtually any old, broken or other items that are no longer needed can be put together on a sheet of craft paper. In fact, mix in the permanent marker as an art medium in order to fine tune details and colors within the development.
2. Statues – Statues can be made out of nearly anything if you put your mind to it. Empty cans can easily become a life-sized construct of Dad. Perhaps your homeschooled student can take it a step further and collect old makeup cases and such in order to build a statue of Mom. The possibilities are near endless of what your student can create using items that were once considered trash. Armed with superglue, duct tape, hot glue or even nails and screws, you can encourage the child's imagination to build.
3. Logical Facsimile – A popular project that has been duplicated several times over is the use of old license plates to recreate a map of the United States. Each state on the map is symbolized by the corresponding license plate from that area – cut to fit in the shape of the state of course. This project may be a bit dangerous depending on the age of the child as he or she will be using metal sheers and handling very sharp edges. This is aside from having to find license plates from each state. However, this is only an example of similar projects that use logical items to replicate a figure or construct. If you like the license plate idea, there is nothing stopping you from printing out each plate and making it out of paper.
4. Usefulness – Some crafts from upcycling can be developed to provide a practical use. Some of these have been in the forming of using bicycle spokes for clock faces or perhaps using two-liter bottles to build a small greenhouse. You and your student are only limited by your own imagination.
Upcycled art for the homeschool student can not only be cheaper to develop, but also provide the means to explore sustainability and the different art mediums that are available. For instance, you could teach about using chalk as the project could be drawing a tractor on a piece of wood from a pallet. Upcycling for art only requires your imagination in order to look at one object and seeing what else it can become. Allow your student to develop his or her own unique method and see how pure imagination can work.
Author Bio:
Elizabeth Reed is a freelance writer and a resident blogger at Liveinnanny.org. She particularly enjoys writing about parenting, childcare, health and wellness. In addition, she is an expert consultant on issues related to household management and kids.