One of my favorite science topics is the human body. I am so fascinated with how it all works. The Skeletal System is one of the body systems that is so fun to play with and learn about in a hands on manner.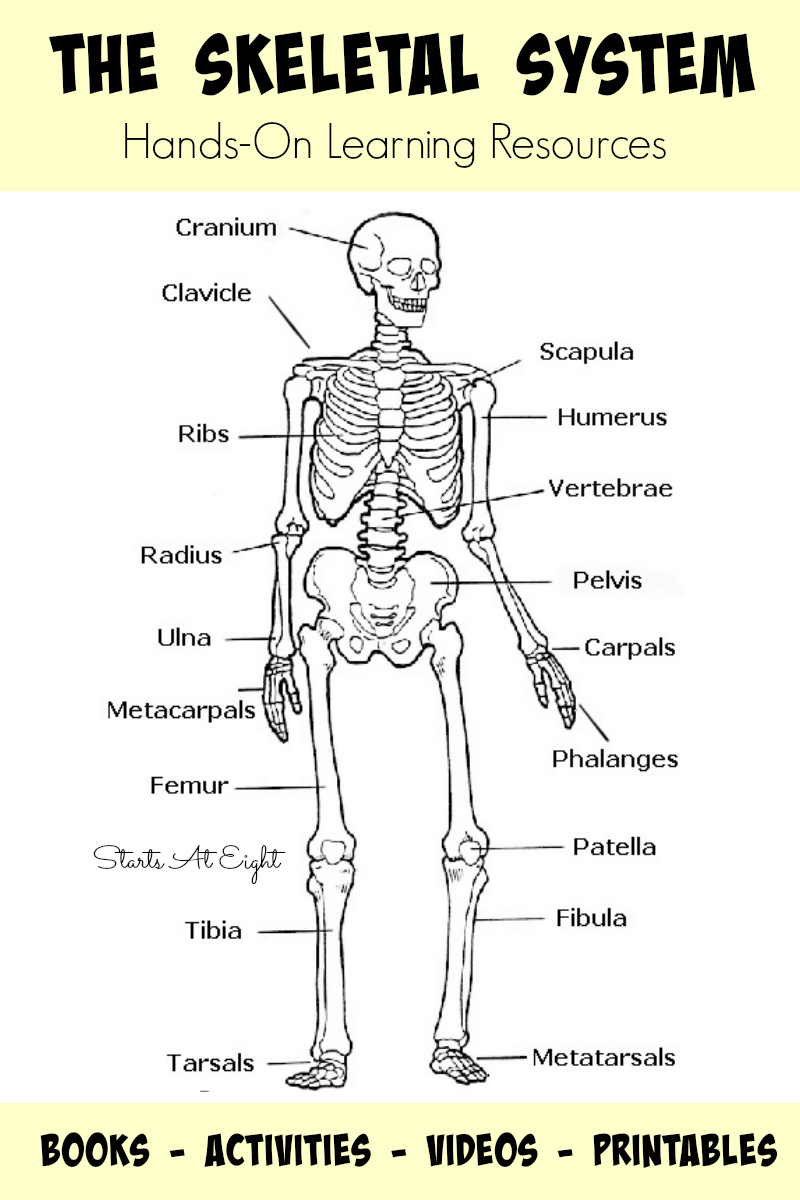 I have gathered tons of resources on the Skeletal System throughout my years of homeschooling. From books, to games, and hands on creations, I have tons of great resources to share with you!
Skeletal System Resources
Hands-On Fun with the Skeletal System
In this interactive object, learners review the major parts of the skeletal system by clicking on the correct term as each bone or joint is highlighted on a skeleton.
2. Haversian Bone System
We did two different activities to demonstrate the characteristics of the Haversian System and how our bones are able to be very light, yet super strong!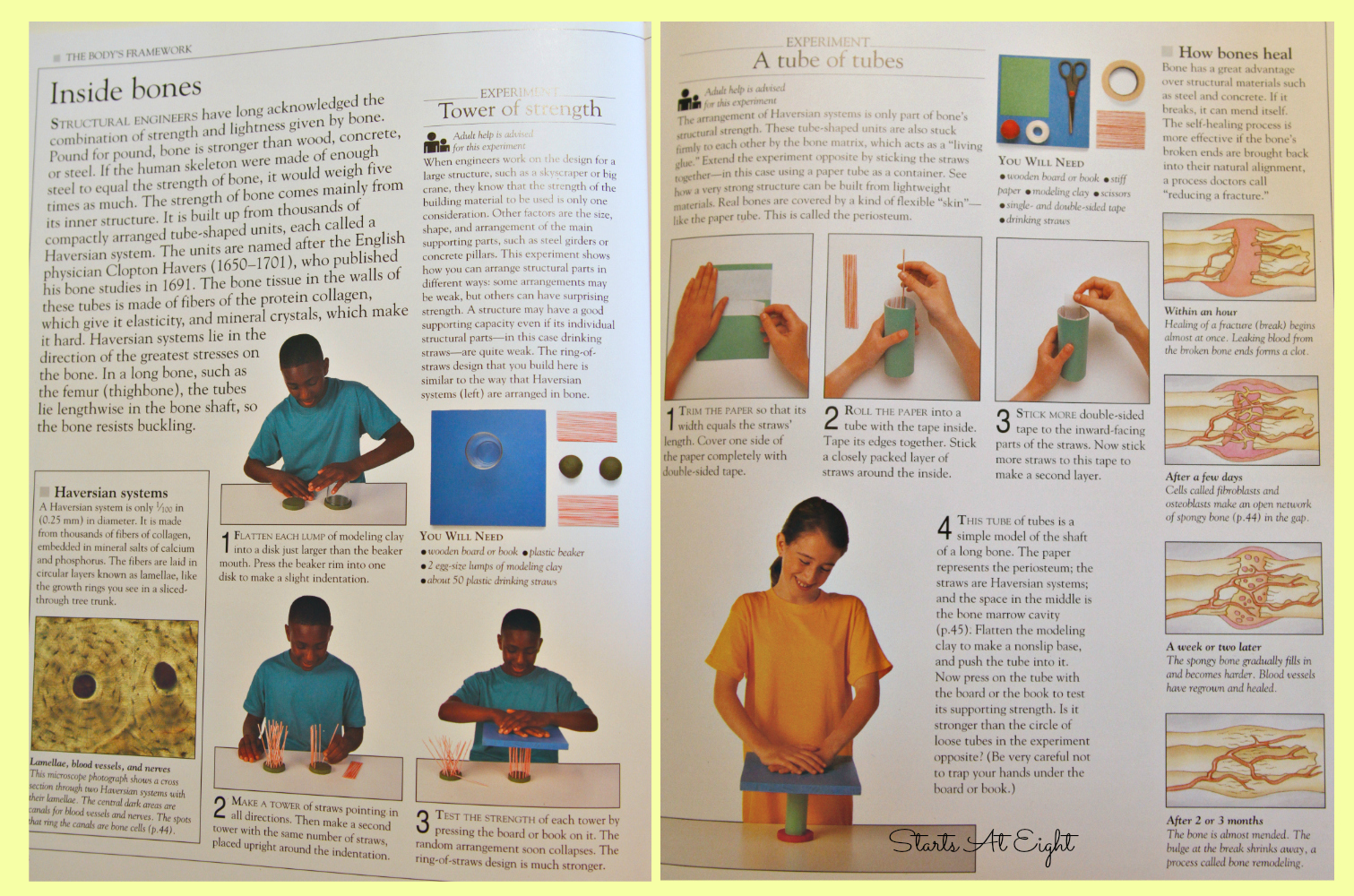 "If the human skeleton were made of enough steel to equal the strength of bone, it would weigh five times as much. The strength of bone comes mainly from its inner structure. It is built up from thousands of compactly arranged tube-shaped units, each called a Haversian system." [An excerpt from Reader's Digest – How the Body Works, by Steve Parker.]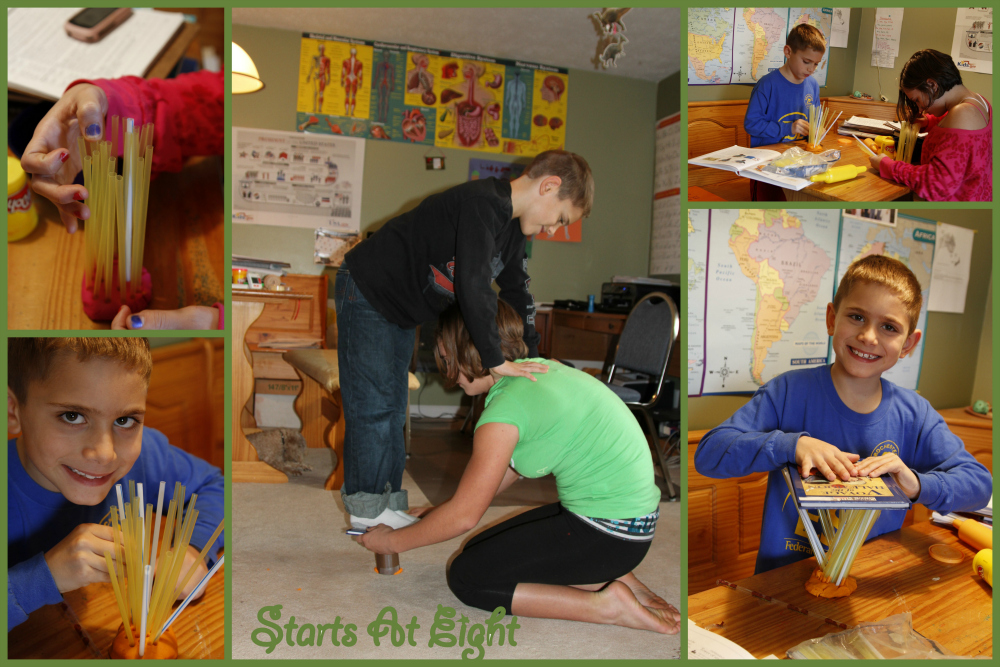 This is great as a younger kids activity for a lapbook or as a smaller scale version of the full sized one I show you next.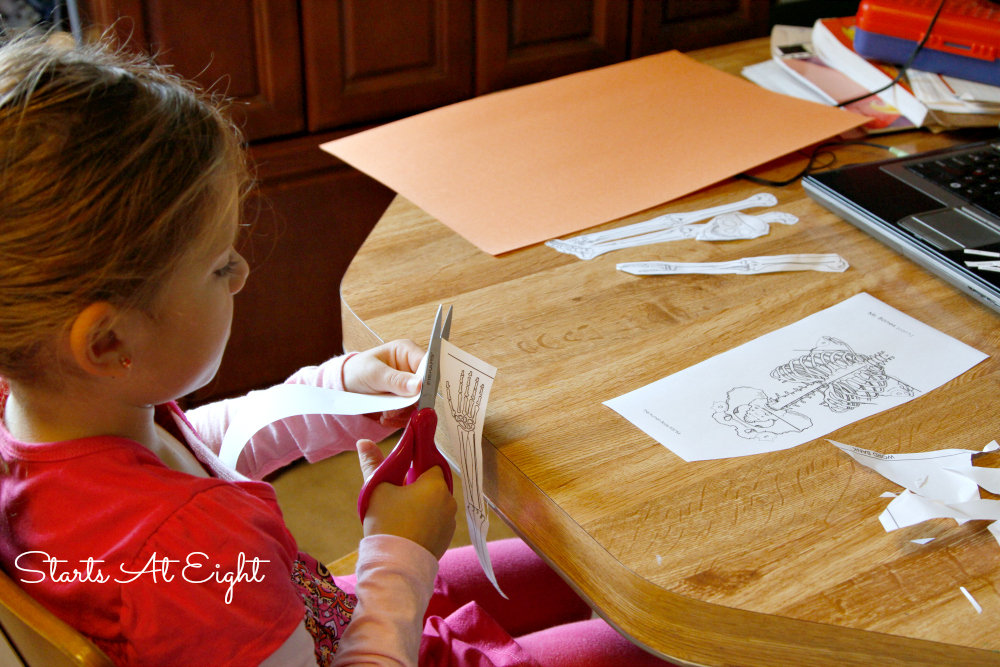 4. Life Sized Human Skeleton
eSkeletons has tons of resources for kids, including a Life Size Printout of a Juvenile Homo Sapien (kid). There is also an adult version.
We used this as part of a human body series that we did. This was a great hands on way to piece together a skeleton. Having the kids each do themselves made it more personal and relatable for them.
We started by taking a roll of Bulletin Board Paper and cutting a length the height of each one of the kids. Then they traced each other in pencil. Using a black permanent marker they went over the pencil lines, adjusting where necessary.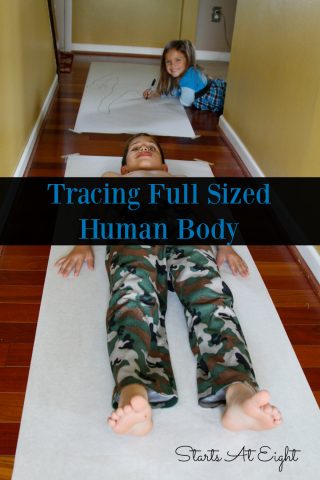 Then we used the Life Size Skeleton Printout to attach to the paper. With my son, who was a very small 10 year old, the sizing was perfect. With my 13 year old daughter we should have used the adult one. Instead she cut out the pieces and drew in the pieces of bone to make it fit. We also made printable labels using the The Skeleton Book from DK as a reference for her to label the bones in the human skeleton.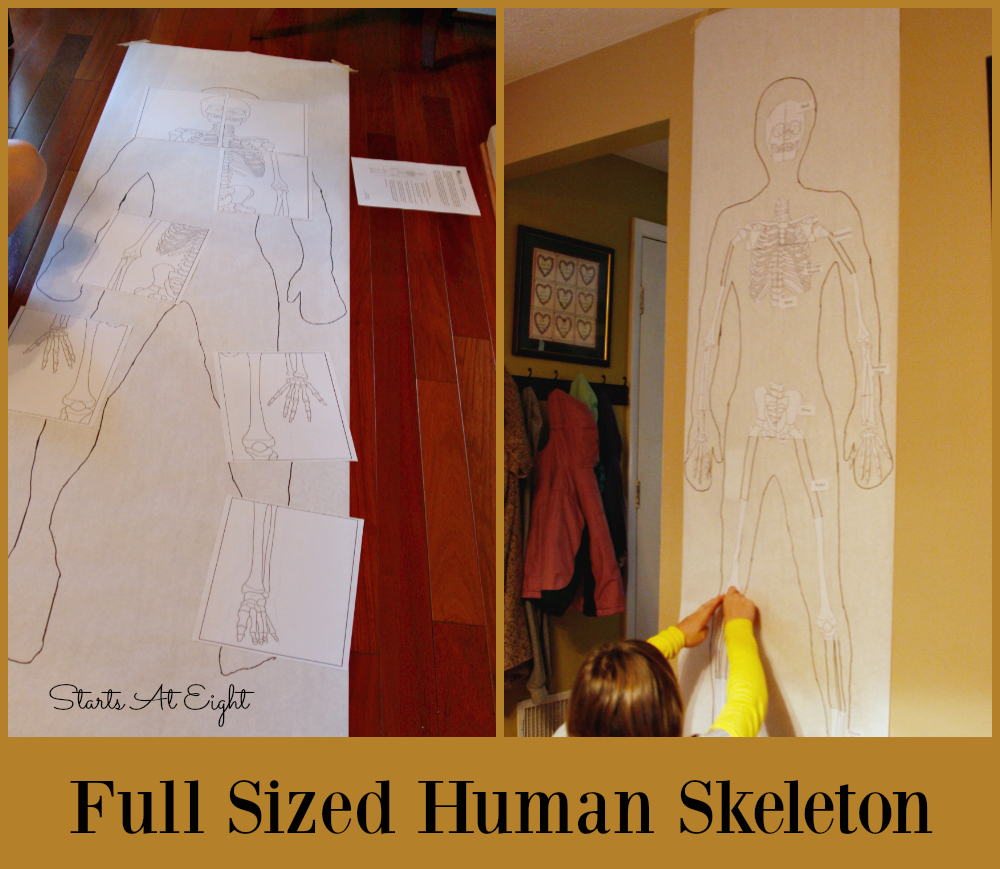 A 66 page interactive (hyperlinked) activity that guides students through the study of the major bones of the human body.
Book Resources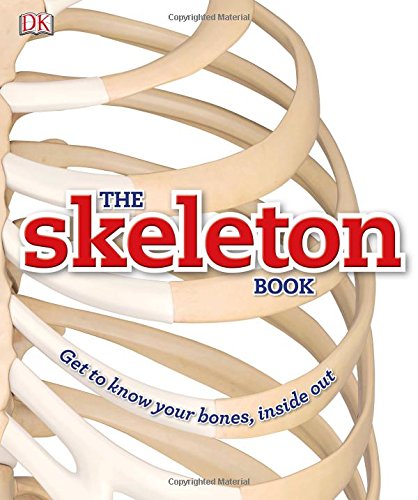 The Skeleton Book from DK – is a perfect reference book for learning about the human skeleton. Pg. 66 & 67 contain a human skeleton with all the bones named. This is a great one to use when putting together your Mini or Life Sized Skeletons.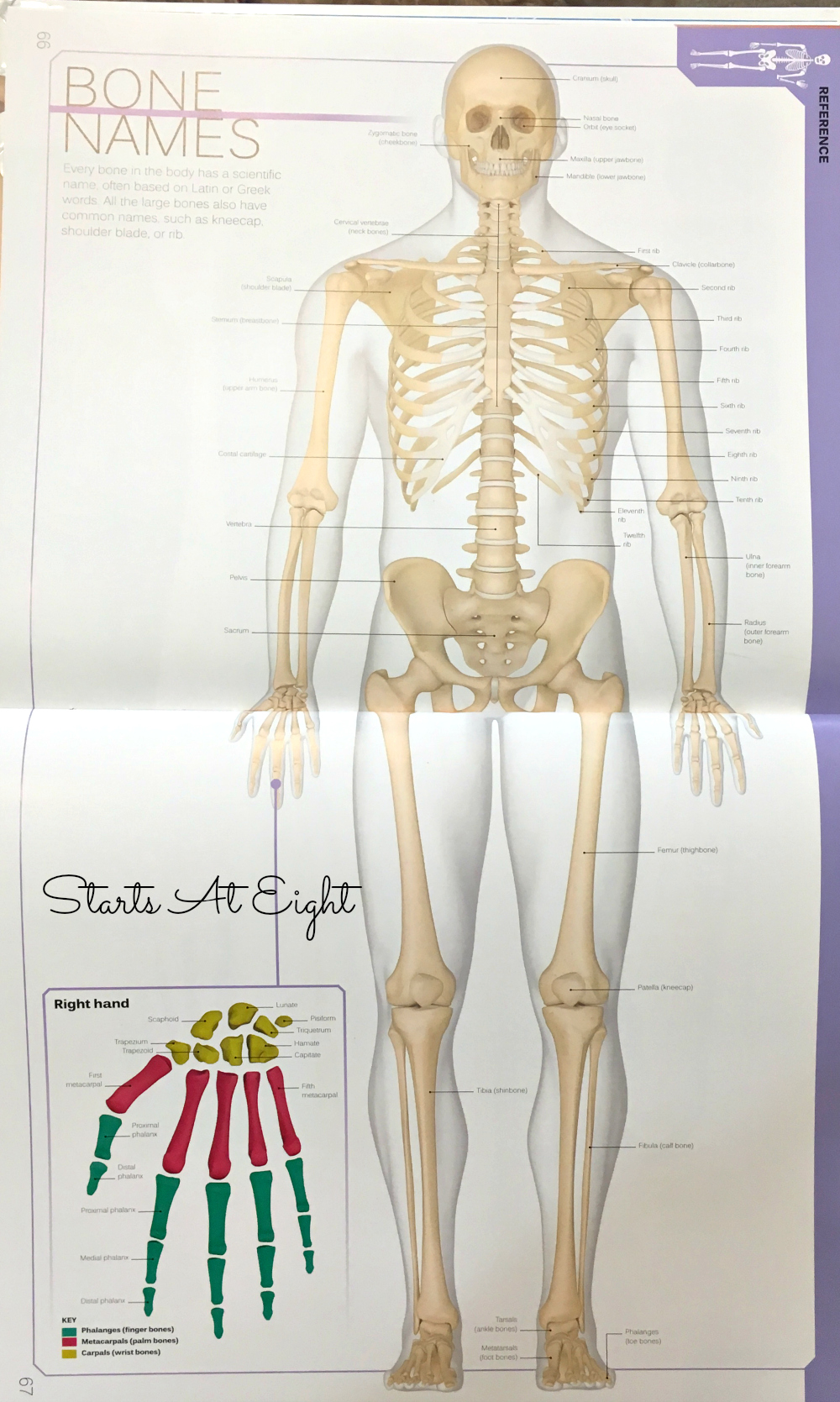 I also love the Full Sized Poster that is included. As you can see it is almost the same size as my 10 year old daughter!
Video Resources
The Skeletal System by MakeMeGenius.com
Note that this one has some errors in it. For instance for vertebrae they say "vertebraetes", for fibula they say "febula", they swapped the radius and ulna as well. Despite a few errors I included this video because my kids found it engaging to watch and I precursored it by telling them there were some errors and asking them to see if they could find them while they watched.
The Skeleton Dance – Dem Bones from Super Simple Songs
Printable Resources