I think all kids delight in picture books and stories due to the vivid imagery and colors to engage them in each one. We really enjoy using stories to help us delve into a topic. In the case of Freddy the Frogcaster you will find it to be a great way to teach your kids about weather.
Whenever a new book enters our house, Ava can't wait to dig in and see what it has to offer.  When Freddy the Frogcaster
 arrived Ava immediately opened it and read it from cover to cover!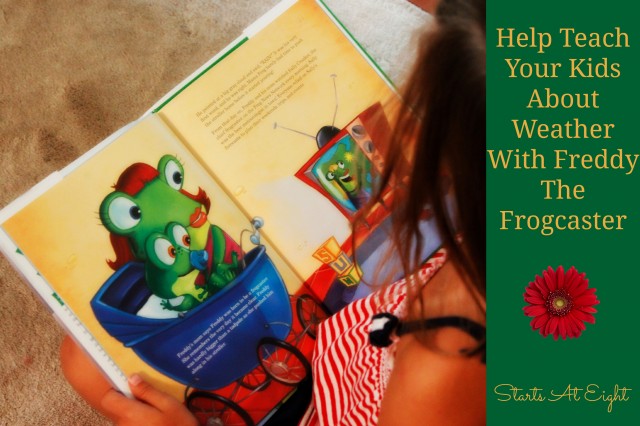 About Freddy The Frogcaster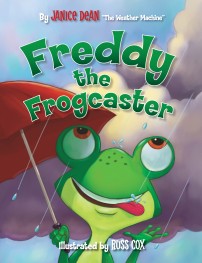 Freddy The Frogcaster is the story of a young frog intrigued by clouds, precipitation, thermometers, barometer, and all things weather.
Freddy's curiosity creates an incredible opportunity when the town's new "frogcaster," Polly Woggins, needs his help in the Frog News Network weather room.
Freddy's inquisitive nature and optimistic spirit help him save the annual picnic and earn the respect of his entire town.
It is written at a guided reading level of K (for 2nd grade readers) and on top of being an engaging story with lots of science woven in, it also teaches kids the importance of determination and following their dreams.
Your child will follow Freddy as he gathers "weather clues" to help him predict what the weather will be and along the way he encourages kids to look, listen, and use the tools around them to find the answers they need! Parents and kids alike will delight in this story and the fantastic weather reference it will become for them.
Freddy the Frog loves learning about the weather, and he's known for having the best predictions in town. But what happens when the town picnic is almost ruined by a storm that catches the local frogcaster by surprise?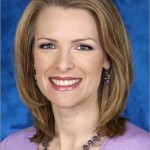 About Janice Dean
Known as the "Weather Machine," author Janice Dean has been forecasting the weather on Fox News Channel and Fox Business Network since 2004. She is a trained meteorologist and was awarded the American Meteorology Society Seal of Approval for her keen skills in forecasting and presenting the weather.
She is the mother of two young boys, and enjoys sharing her love of science with kids and adults alike.
Weather Vocabulary Words
While we follow Freddy along his journey to predict the weather and save the Leapfrog Picnic, Freddy introduces us to many weather related words.  (Just another great way this book helps to teach your kids about weather.)  At the end of the book, Freddy shares pages of fun lessons about the weather, "frogcasting" instruments, the role of meteorologists, and weather terms to help children understand the things they see in the sky.
forecaster or "frogcaster" in Freddy's case
meteorologist
weather station
thermometers
barometers
weather vane
barometric pressure
humidity
predictions
types of clouds
anemometer
low pressure
And Many More!
---
---
Kids Weather Activities & Resources
---
Disclaimer: I want to thank Janice Dean, and Regnery Publishing, Inc. for supplying me with a copy of this book for me to review. While I received this free of charge in exchange for my honest review, my opinions are my own, and have not been influenced in any way.