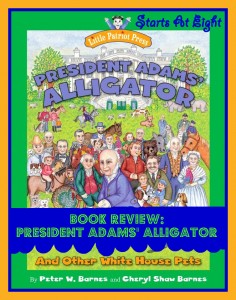 We all know that Thomas Jefferson was our third president, but did you know that he had three very unusual pets? President Jefferson shared the White House with two pet grizzly bears and a friendly mockingbird that would sing along as the president played the violin.
In their new book, President Adams' Alligator, author/illustrator team Peter and Cheryl Barnes tell the exciting tales of our presidents' fun and fascinating animal companions and offer you an engaging way to teach kids about the presidents.
Kids will be thrilled to learn that America's leaders are also animal lovers, and parents will love the history lesson that their children are getting. Educational and entertaining, President Adams' Alligator is at a guided reading level N, and is written for kids ages 8 and up (or children at a 3rd grade reading level).
---
It is no secret that I am a big fan of the books Peter and Cheryl Barnes have already produced together. So of course I was thrilled to be offered the chance to review their latest work, President Adams' Alligator
. Our first exposure to their books was with Woodrow for President.  Both my husband and I were impressed with the child friendly presentation of the content and the intricate attention to details in the illustrations.
President Adams' Alligator is just as wonderful and engaging as Woodrow was.  Children love animals and using animals as a means to include some history and facts surrounding the Presidents of the United States is a great way for them to enjoy and learn.  One of our favorite facts in the book pertained to how many pets President Theodore Roosevelt had.  He had the most White House pets, which reportedly included five dogs, two cats, twelve horses, five guinea pigs, five bears, several pet snakes, assorted lizards, two kangaroo rats, an owl, a macaw, a flying squirrel, a raccoon, a pony, a coyote, a lion, a hyena, a zebra, a badger, and a rat!
To top off this book Peter and Cheryl have added two special features.  First is a hidden alligator in every illustration.  This feature added a great deal of interest to the book because the kids spent a great deal of time studying the illustrations to find the alligator.  Some were easy to find and some much more difficult, with one being poorly placed inside the spine so it was near impossible to find. 🙁
The second special feature comes at the "Tail End" of the book where you can find an extensive parent/teacher guide to help children learn ore little-known facts about the history of domesticating pets, and the earliest, most obscure animals to reside in America's most famous house.  This section also features matching games and quizzes to supplement what kids learned from the book.
All in all this book is a big success!  I really appreciate how giving a look inside the White House residents through their pets makes them seem more relatable to kids y giving kids a connection to the presidents through something kids know, love and understand.  It affords kids the opportunity to become acquainted with some of our Nation's leaders at an early age by adding the element of a child's fascination with pets to the mix.
---
Disclaimer: I want to thank Peter and Cheryl Barnes, and Regnery Publishing, Inc. for supplying me with a copy of this book for me to review. While I received this free of charge in exchange for my honest review, my opinions are my own, and have not been influenced in any way.