Every year in March St. Patrick's Day is celebrated.  Saint Patrick's Day or the Feast of Saint Patrick is a cultural and religious holiday celebrated on 17 March. It is named after Saint Patrick, the most commonly recognized of the patron saints of Ireland.  This is a fun and easy St. Patrick's Day Craft called the Tissue Paper Shamrock.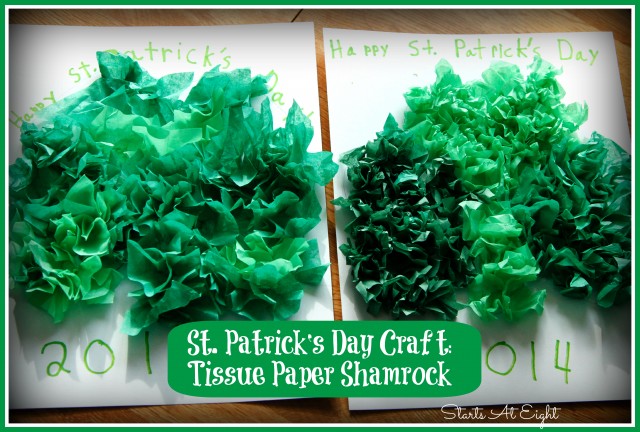 St. Patrick's Day Craft ~ Tissue Paper Shamrock:
Supplies: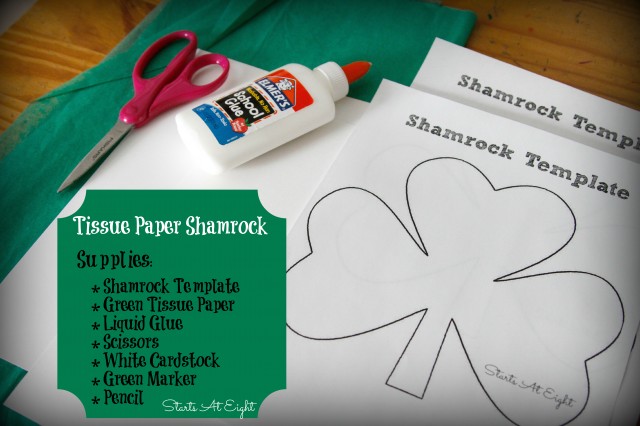 Shamrock Template
Green Tissue Paper (we used multiple shades of green)
Liquid Glue
Scissors
White Cardstock
Green Marker
Pencil
Directions:
Print out this FREE Shamrock Template and cut it out. (Simply right click and save photo.)
Trace template onto white cardstock.
Cut green tissue paper into small squares.
Cover a section of the shamrock with liquid glue.
Using a pencil to shape a green tissue paper square, push it into place where there is glue on the shamrock.
Repeat steps 4 & 5 until the entire shamrock is covered in green tissue paper squares.
Using a marker to add "Happy Saint Patrick's Day" or any other saying to your paper, either above or below the Tissue Paper Shamrock.
More St. Patrick's Day Ideas: