Minecraft is a big topic on our house. Both of my younger children love to play and build in this online world. Problem? Being online can be tricky with little kids. You never know what they are going to run into. In walks the SKrafty Homeschool Minecraft server! It is a safe and fun environment for my children to enjoy the game they love, with the added bonus of having the option to take educational classes using Minecraft!

*Disclaimer: I was given free classes for review, however my opinions are my own. Your experience may vary.
Welcome!
It's back to school time, and for homeschool families – that means gathering curriculum, planning and finding new ways to inspire kids in their studies. SKrafty Homeschool Minecraft is the perfect way to add the fun and inspiration you need.
This fall, the class line up is spectacular! If you need homeschool math, science, bible, history, language arts or more . . . you are in for a treat. Using some of your favorite homeschool curriculum companies (including Apologia Science, Mystery of History, and A+ Interactive Math) you'll learn to incorporate Minecraft projects into your family homeschool.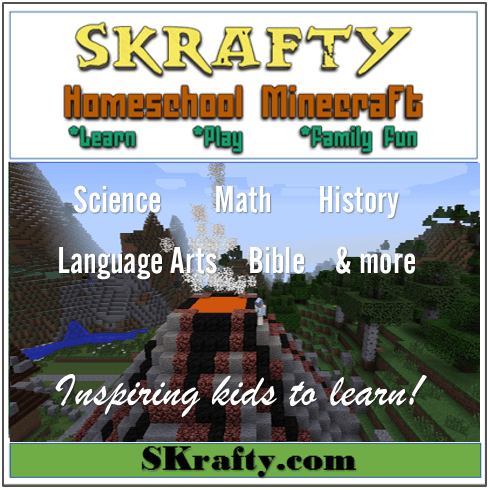 Find out more about the fully monitored SKrafty Minecraft server where it is safe for your family and children – and get whitelisted for FREE right HERE.
SKrafty is specially designed and the rules are constructed to encourage good sportsmanship – with no griefing allowed, no bad language or ugly talk, and no sharing of outside links to protect your children. See a full list of rules HERE.
What other parents are saying about SKrafty Homeschool Minecraft:
"Since starting Skrafty my son has blossomed. His typing has gotten a lot better. School work is not a chore any more I just give him the list of what needs to be done and he does it. He finds the lessons entertaining and engaging and he loves the activities that go along with them. We are all very grateful for Skrafty." ~ Cheryl J.

"My son enjoys playing on Skrafty with other kids and I love that it is a safe, moderated Minecraft server! While playing on Skrafty he has learned creative building, developed critical thinking skills, made friends, and learned to be a team player. The classes have been fun and the reading program has encouraged him to read more than ever. Skrafty has been such a blessing to our family!" ~Julie B.
Special needs learning:
"Skrafty has been a huge blessing to our family! My son with dyslexia is not only learning but enjoying learning!!!! His reading and writing have developed more with Skrafty than any other program we have used. The classes are engaging because they are so hands on and truly turn learning into an adventure. I so highly recommend Skrafty!" ~ Caroline D.
What we learned:
Two of my children are not only playing in the SKrafty Minecraft server but are also taking SKrafty Classes.

My 11 year old son is taking the 15 week Tour of the Periodic Table of Elements class. He has learned so much through the added video and reading assignments (the Periodic Table of Elements song he is learning is so much fun!).  Plus he is creating his own Table of Elements in the Skrafty Minecraft server!

My 8 year old daughter has just completed the 6 week Animals & Their Habitats class. She was so bummed that it was over and asked what one she could do next? (We are thinking All About Plants) She loved being able to choose her own plot to create each of the 6 biomes. With the reading and video part of the course she learned about each biome, including animals that live there. Then she went in to the Skrafty Minecraft server to create her own biome! Apparently it looked like so much fun that my son had to join in so they went in to the main server to create biomes together!
Affordable:
Extremely affordable classes (between $6.99 – $32.00) make it easy to add creativity and excitement into your education at home. Sign up HERE for live classes or self-paced classes and begin your journey into the world of homeschool Minecraft with SKrafty.
Giveaway Companies – Multiple Winners!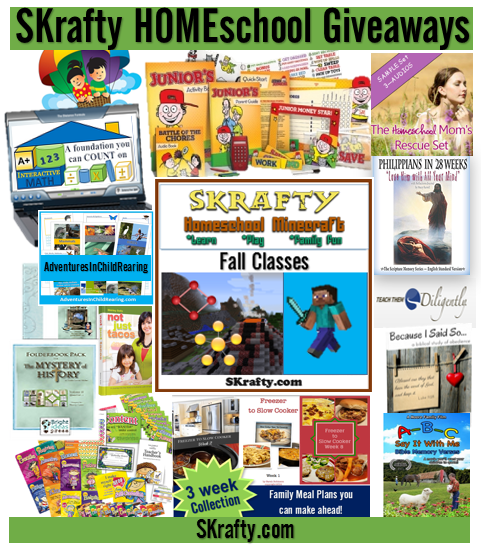 Check out all the wonderful companies and prizes you can win for your family homeschool:
3 SKrafty Fall Classes – Value up to $32 each
Mystery of History Volume 1,2, or 3 & Super Supplemental – Value $150
A+ Interactive Math – Family Package for 3 Students – Value $450
Adventures In ChildRearing – Wildlife Adventures bundle- Value $27.99
We Choose Virtues – Homeschool Kit – Value $98.99
Sidetracked Sarah – Crockpot Freezer Meals 3 pack – Value $8.97
Moore Family Films – ABC Say it With Me – Value $15.99
Not Consumed – Back to School 4 Pack – Value $12.50
Teach Them Diligently – Family Pass to 1 Convention – Value $65
Homeschool Adventure Co. – Philippians in 28 Weeks – Value $18.95
Media Angels – Homeschool Moms Rescue Set – Value $9.99
A Journey Through Learning – Math Lapbook – Value$15.00
Dave Ramsey – Financial Peace Jr. – Value $24.95
Enter with 1 entry or enter with them all:
Some of the above  prizes are not open to international winners – Mystery of History, Dave Ramsey, and Moore Family Films – Those products will only allow US winners. You can certainly enter the giveaway though as there are plenty of chances to win the other products! Winners should be announced on Tuesday August 19th!
a Rafflecopter giveaway