One of the things I love about having a designated homeschool room is the ability to have everything together.  In our old house I had books tucked away in every room and it was difficult to take advantage of those resources because I had such a hard time finding and accessing them.  Now, a large portion of the walls in our homeschool room are designated to bookshelf space. I would like to share with you one way in which you can organize your homeschool bookshelves.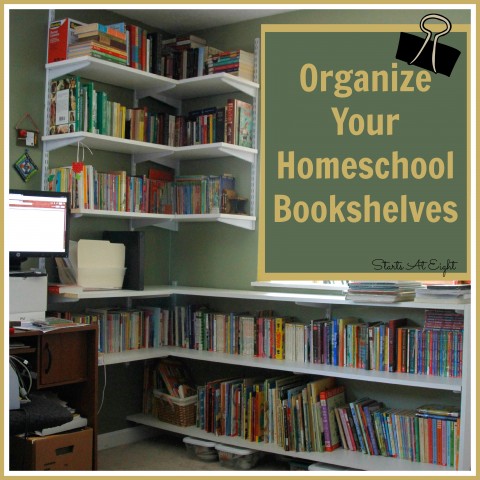 Having so many books, and now being able to have them in one place gave me a reason to find an organization system that would work for us. I made sure to leave the easy readers and picture books down low for little hands to grab easily, and to separate out the fiction and non-fiction for ease of finding what you need.
Bookshelf #1: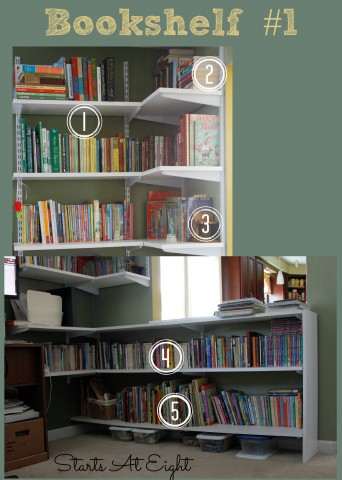 This bookshelf is for the bulk of the fiction books (it did get over filled so we had to move some to bookshelf #2 though).
Classics – This section includes poetry, Shakespeare, classic novels and collections of short stories.
Mommy Books – These are mostly novels that I have reviewed here at StartsAtEight
Science/History Series – The Magic School Bus, Magic Tree House, Wright on Time, Imagination Station
Chapter Books – All in alphabetical order by author
Picture Books – On the bottom shelf for easy access and in any order as I grew tired of alphabetizing them all the time!
Bookshelf #2: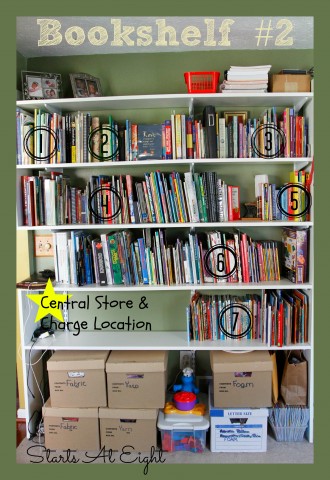 This bookshelf contains all of the non-fiction books (and the overflow from bookshelf #1).
Art/Music  – This section includes how to books, as well as informational booksT
Religion/Self-Help – Here we have Bible's, books about different religions, parenting books, and homeschooling information books.
Biographies – Both long and short, easy reader and more in depth, all of our biographies are here.
History – Everything history from Ancients to present day, world, and US.
Reference –  This little section contains dictionaries, a thesaurus, writing reference books, topic specific encyclopedias.
Science –  A whole shelf of everything science related from experiments to information.
Easy Readers & Holiday– These are both overflow from bookshelf #1 and are on the bottom for easy access.
This bookshelf is also where our Central Store and Charge Location is that I refer to in 5 Ways To Limit Your Teens Texting Time, as well as where I store many of our larger craft supplies in labeled Cardboard File Boxes.
You can see our full homeschool room here