This is from Peggy at The Simple Woman's Daybook.  It is a list of questions to answer each Monday – a simple journal of sorts.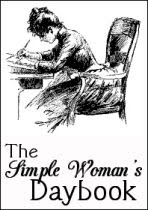 FOR TODAY:
February 1st, 2010…
Outside my window…the sun is shining!
I am thinking…where did January go?
I am thankful for…having winter and thus snow as a part of our four seasons.  I may hate the cold, but the kids enjoy building snowmen, snowboarding, sledding and so much more outside in the snow!
From the learning rooms…ferns do not need seeds to reproduce and moss is a type of non vascular plant.  It is all about Plant Classification in science this week.  We are doing the food coloring in the water to change the color of the carnation experiment today!
From the kitchen…pork chops and baked potatoes for dinner, and Valentine's Day cinnamon rolls that the kids plan to make for dessert!
I am wearing…green Jingle Jammies from Old Navy, I suppose I will take a shower soon.
I am creating…apparently nothing as my mind is totally blank as to what I can put here!
I am going…to stop this blog right now so I can get the Play-Doh out for Ava!
I am reading…Gone with the Wind of which a started the first few pages yesterday.
I am hoping…that hard work will pay off in the end.
I am hearing…the children whispering downstairs, as  if I can't hear them!
Around the house…there are many puzzles stacked in the dining room as our most recent past time is puzzles at the dining room table.
One of my favorite things…my watch.  I lost it yesterday and was surprised to find myself saying it was only a watch through the tears that I was crying over it!  Luck was in my corner though and I found it on the couch in the family room!
A few plans for the rest of the week: a much quieter week this week, usual activities like gymnastics for the girls, soccer for Jayden on Mon and Sat, Art class/library on Wednesday as well as my weekly "Walk and Talk" with Shana, and a "work day" on Friday to add more ceiling light fixtures in our house.
Here is the picture for thought I am sharing…I could not choose just one so I included 3!