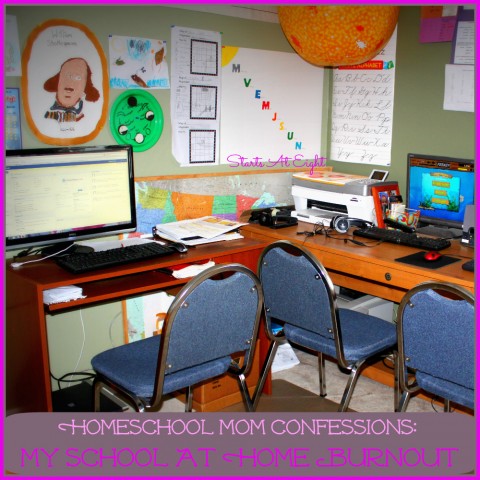 We do school at home.
I think that might be just as much of a confession as the fact that it burns us all out sometimes!
If you had a window into our homeschool you would see that we are a more school at home kind of family.
We sit at desks (not school desks but computer desks, and small tables).
We use curriculum.
We have schedules, checklists, and assignment sheets.
We have grades.
All of this means a fair amount of work for me. From picking curriculum each year, to creating lessons plans for each curriculum for each child. Then on a weekly basis the creating of assignment sheets for the coming week on top of grading work and logging it from the previous week. This can cause extra stress and pressure for me to get it all done.
I have heard it said that when you school at home there is a higher rate of burnout.
Head over to The Mommy Mess to read all about my Homeschool Mom Confession – My School At Home Burnout