Having navigated our first CLEP Exam, I can safely say the whole process was easier than I expected. (Of course I wasn't the one studying for, and taking the exam!) Today I will be answering the question of how to schedule a CLEP Exam.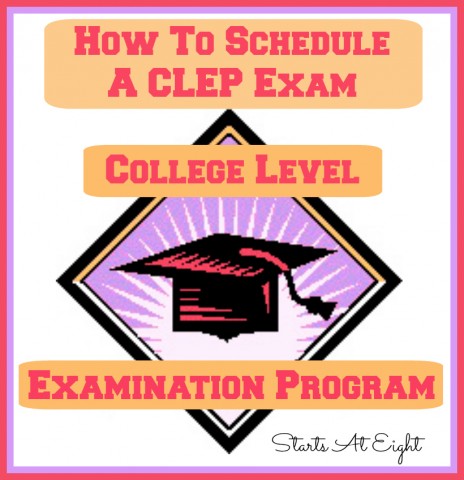 While navigating this process ourselves I have been compiling and documenting our experiences in an effort to make this path easier for others.
The first article answers the question, What is a CLEP Exam? Then in the second, Why Take a CLEP Exam? I discuss reasons why your student might want to take CLEP Exams. Then we covered CLEP Exam Study Resources which talks about how we prepared for the exam and offers various resources for studying/preparing to take a CLEP Exam.
Now I can walk you through the process of scheduling a CLEP Exam.
Steps To Schedule a CLEP Exam
1. Find Local Testing Site
Before anything else you need to find a local testing site. You wouldn't want to go through the whole registration and payment process only to find out there isn't a testing center close enough to you! You can find a site near you by using this CLEP Test Center Search. It will find the location nearest to you and give you the contact information you need for that site.
2. Register at The College Board Website
After confirming you have a testing site nearby, the next step is to register your student on the College Board Website. You can do that through the My Account Page on the College Board website. It is here that they will acquire the certification so to speak, to register and pay for their CLEP Exams.
Be sure to register as your student, and not as you. It is them who is registering to take the test, and them who will need to provide proof on testing day of who they are, and this must match the testing ticket receipt and ticket ID.
3. Select and Pay for Desired Exam
Once your student is registered with the College Board you can then choose a CLEP Exam and pay for the CLEP Exam your student wants to take.
Each exam comes with a cost of $80 paid at the time that you register for that specific exam on the College Board website.
Registering for an exam provides you with a payment receipt and a Ticket ID, but you must contact a test center to schedule the date and time you wish to take the test.
In addition to the non-refundable $80 exam fee, most test centers charge a nonrefundable administration fee, directly payable to the institution. Check with your test center and confirm the amount required and acceptable method of payment.
4. Contact the Local Testing Center
The next step after registering and paying for a specific CLEP Exam is to contact your local testing center to schedule the date and time to take the exam.
If you haven't found your local testing site as described in step one, or don't remember their contact information. You can use this CLEP Test Center Search to find out.
5. Day of Exam
BE SURE TO BE ON TIME OR EARLY – you may not be allowed to begin if you arrive late.
It will help to have become familiar with the exam ahead of time. Be sure you have read the CLEP Exam Description so you know how much time is allotted for the exam and what to expect of the exam.
You can also read about how your CLEP score is computed, if you haven't already figured that out from your CLEP prep time.
What to Bring to Your CLEP Exam
the registration ticket from your account registration for that specific exam
administration fees for the testing location (In our case there is a $35 testing fee that I have to pay to the testing location)
identification – your student will need to provide a valid ID in order to allowed admittance into the exam. It must contain their photo and signature, like a driver's license or non-driver id. You can find the full list of ID Criteria here.
---
Interested in learning more about earning college credit through a CLEP exam?
Want to know how a CLEP exam differs from AP?  Don't know what AP is?
Others posts in this College Credit by Exam Series: