Spring is coming! That means the snow might be melting but that also shuffles in April showers! With still more time inside, how we can we find new ways to entertain our restless kids? How about with rainy day games that you and the kids can make yourselves?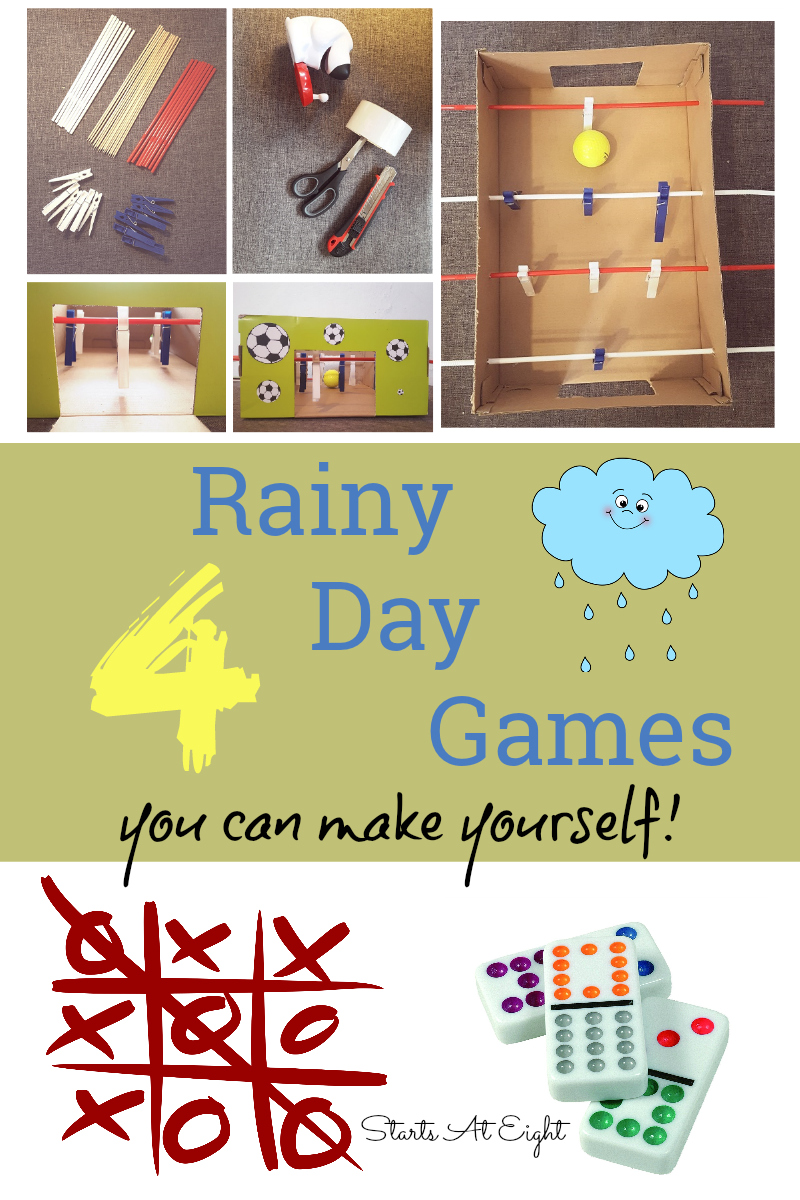 Rainy Day Games You Can Make Yourself
Here are some great rainy day games for you to create with your kids! These are a great way to spend some quality time together and possible teach your kids something new!
All the projects are easy to make, and can be done in 10 min to 30 minutes. You will find that most of the items you will need are simple things you probably already have around the house,  like a cardboard box, straws, clothespins, glue etc.
1. Foosball Table
This is an indoor game that so many kids and adults alike enjoy playing! The problem is that to buy a table is not only expensive, but you need to have the space to put it as well. Making an inexpensive table top version is a great alternative.
Supplies:
cardboard box
small wood dowels
clothesline pins
ruler
marker
scissors
decorating supplies (contact paper, or paper and glue)
small ball such as these foosball balls
Directions:
Use cardboard box for the field of the foosball table.
You will need to cut holes for goals on the shorter side of box and 4 small holes on both long sides of the box that will be for the dowels to hold the 'players'.
After you are done cutting, give it to your kids so they can have creative license with the box. They can use contact paper, or paint, or colorful paper and glue to decorate the box.
Through holes in longer side put straws that are filled with wooden sticks. Glue the clothespins on straws to make foosball players. The ball you can create from paper or use ping pong ball.
2. Dominoes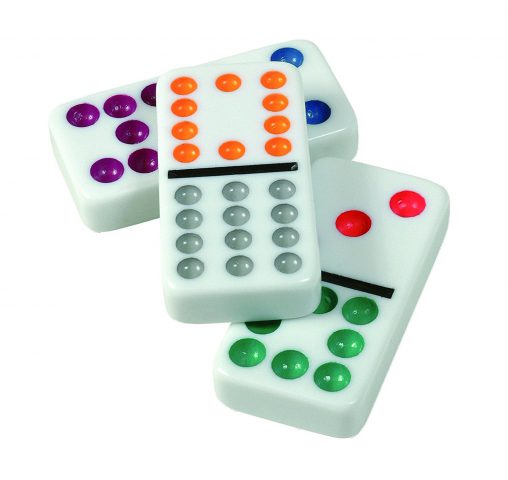 Dominoes are one of the oldest games on the list. Despite being old, they can be so fun and interesting!  If you don't have dominoes you can easily make them out of paper or cardboard. You can also buy a set of dominoes (or 3 like we have!) and then play some of the games you will find below!
Supplies:
To make a set of dominoes you will need:
cardboard or paper (we often laminate our paper dominoes to make them sturdier)
markers
If you want ideas for making dominoes other than the basic dot ones check out this FREE Domino Maker
Directions:
Rather than trying to draw them out yourself, I suggest printing on paper with a blank domino template. If you are going to use cardboard then I would cut out a single domino template to trace onto the cardboard.
Once you have your dominoes you can use colored markers to create the dots on each one.
Games to Play with Dominoes:
3. Tic-Tac- Toe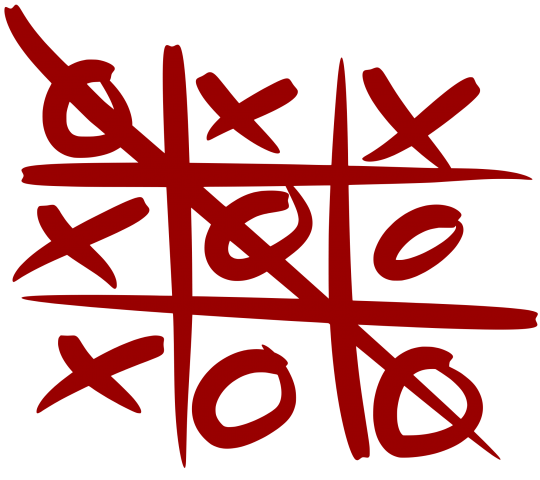 I don't know why but Tic-Tac-Toe never seems to get old with kids! While you can draw it on paper, or use chalk on the driveway if you can be outside, it is also fun to be able to play it in a hands on manner!
Supplies:
small square piece of cardboard
9 bottle caps
Directions:
If your cardboard isn't square, then start but cutting a square piece of cardboard. (A cereal box works well.)
Next, draw a layout for tic-tac- toe onto the cardboard.
You will need to have playing pieces, for which I suggest using bottle caps. If you have all different ones you can use a maker to mark X or O on each one. You could even use candy like M & M's or Smarties as playing pieces and then whoever wins gets to eat them!
Still want to print one on paper? Check out these FREE Printable Tic-Tac-Toe Boards!
4. Memory
One of the great things about making a memory game is that you can customize it to what your children like!
Have a soccer fan? Make cards with soccer balls, cleats, soccer goals, jerseys, fields and more!
Have a horse lover? How about using different breeds of horses or horse tack?
Lover of dogs? Have them make all different colors and sizes of dogs for their cards!
The possibilities are endless, and so much more fun when the images are things they know and love!
You can make the cards (2 of each matching image) on paper and laminate them, or even glue them onto cardboard to make them sturdier.
The games on this list are great for those days when your kids can't go outside to play. With these rainy day games, you will keep your kids entertained and the best thing is that playing these rainy day games can be both fun and educational!
AUTHOR BIO: Mark has one son who loves to make DIY games. Mark and his son have made more than 20 different games in last two years. Everything started with a foosball table because he found a DIY foosball table on the Internet. After that, he started to do more and more games. You can find him writing at Foosball Zone where he writes about foosball and shares his experience with others players.