Nothing says fall like pumpkins and apples! These Pumpkin Spiced Apple Muffins bring out that wonderful spicy pumpkin smell and warm fuzzy feeling as the leaved change and weather turns colder.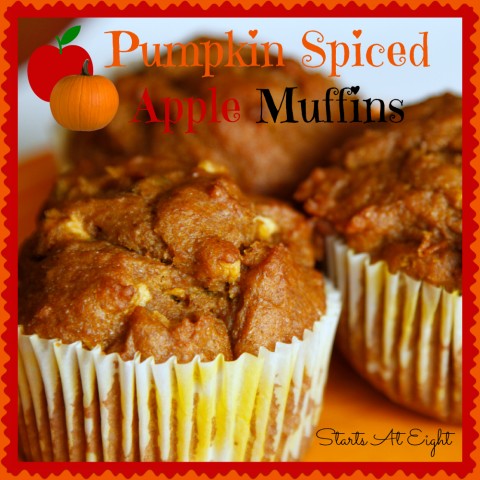 Pumpkin Spiced Apple Muffins
Servings: 16 full sized muffins; about double that if making mini-muffins
Ingredients:
2 cups whole wheat flour
1/2 cups sugar
1 Tbsp. pumpkin pie spice
1 tsp. baking soda
1 tsp. baking powder
2 large eggs
1 can (15 oz.) pumpkin puree
1⁄2 cup canola oil
1 cup chopped apples
Directions:
Preheat oven to 350°F.
Mix flour, sugar, pumpkin spice, baking soda and baking powder in a large mixing bowl. Set aside.
Beat eggs in separate bowl. Mix in pumpkin puree and oil.
Fold wet ingredients into dry ingredients until just combined.
Fold in apple.
Line muffin pan with baking cups and fill each cup approximately ¾ full
Bake 25-30 minutes, or until toothpick inserted in muffin comes out clean.
Some Possible Substitutions:
Replace the canola oil with coconut oil and the white sugar with organic coconut palm sugar
1/2 C honey instead of sugar and applesauce instead of canola oil (1:1 ratio)
Egg Substitute = Use a flax/water mixture consisting of  1 tablespoon of flax to 3 tablespoons of water, and whip until frothy.
Gluten Free = gluten free by substituting  all-purpose GF flour  in a 1:1 ratio