This is the 3rd week in my series that is chronicling my venture into a new planning/filing system for this year.  You can check out part I, and II if you missed them.
During this week I was able to get started on labeling and adding my files to my box.  I used a yellow folder for the first week in each "quarter" and the rest are green.  That way it gives me an easy visual break in my quarters.  We have to file quarterly reports to our district so I break the school year down by quarter.  Using a 36 week plan would mean 9 weeks in each quarter.  I found a flaw in my nifty little box while doing this though 🙁 , it is too small to hold all 36 weeks.  Luckily for me I have some of the cardboard box file boxes and I made room in one I already had in a convenient location to hold the over flow.  I might just keep one quarter at a time in the file box I have out.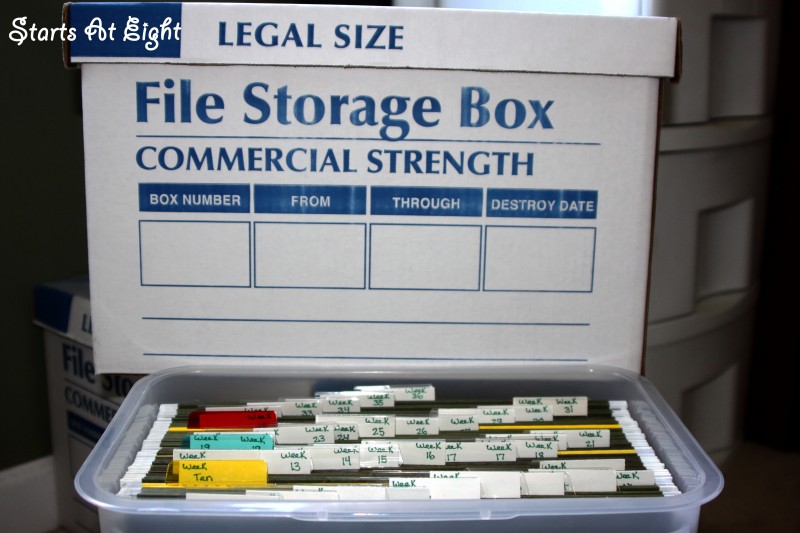 After reading through some other planning systems I decided to give the Teacher Lesson Plans section of Homeschool Tracker Plus a try. It turns out that I may be able to create lesson plans for each subject and then just add them (by clicking add to agenda) into our planner for each week. I started to input Jayden's ZB Spelling Connections Grade 5 into the Teacher Lesson Plans. That means all the information (Subject, Resource, Activity, Grade Possible, Time Spent) is already in the program so that each week all I have to do is choose the next assignment in the series and add it to our agenda for the coming week.
I am excited about this because that means each week all I have to do to prepare for the week is open the coming weeks folder, and then open Homeschool Tracker on my computer and move the appropriate lesson plans from the Teacher Lesson Plan section, to the student Agenda section! That will save me LOTS of time each week! The major down fall is how long it is going to take me over the next 3-4 weeks to get all of it planned and in place. 🙁 It is like taking the 2-3 hours each week that I was spending, and cramming it together. So 36 weeks x 3 hours each week, that's 108 hours of work I have to get in over the next 3-4 weeks.
Hopefully during this coming week I will be able to finish inputting Jayden's spelling and get it into the folders. Then I am also hoping to get Chloe's Writing Strands 3 planned, and inputted into Homeschool Tracker. Hopefully I will be ordering our Mind Benders and Chloe's Teaching Textbooks Pre-Algebra this week. Then I still have both their math curriculums to plan/input, First Language Lessons 4, Mind Benders, Science (still waffling on which one to purchase), and History/Geography. I am tired just listing them all! One step at a time as all I can do.
Planning/Filing/Crate System Series
Also be sure to check out all the articles in this Planning/Filing/ Crate System Series!