Week Four continues to bring me knee deep into this planning process. I have been able to add Jayden's Singapore Math, Jayden's Spelling, and Chloe's Writing Strands 3 into Homeschool Tracker+. It was easier than I thought it was going to be once I got the hang of it. I am sure there are more tricks but for now I can manage with what I know. Using the Forum on their website was very helpful. It also led me to join some Yahoo Groups that were created just for HST+ lesson plans. Here are the basics of what I did:
Open Homeschool Tracker +
Go to Teacher Tab
Go to Lesson Plan Tab
Create a Plan Title – I chose to name one for Chloe 2011/2012 and one for Jayden 2011/2012
I then chose a Subject to begin planning (Assuming you already have Subjects created in the program.)
Then I chose the Add Box
Filling in the Add Box was pretty straight forward by adding Subject, Resource, Points, Time, and then selecting copy to make multiples of the same thing; like for Spelling which is the same every week, just one Unit up.
To add something that did not easily increment one unit up, I just had to add each item one at a time; like for Math which I did partial units or pages based on what I know Jayden can manage in a day. There may be a better way and I just don't know it yet.
Since I finished Jayden's math and spelling, and Chloe's Writing Strands, I decided to move on with more. The Mind Benders books are ordered but I have not received them yet so I had to move on to something else. I decided on Pandia Press R.E.A.L. Chemistry for science this year. One thing I really liked about the Pandia Press Chemisty is that they already created a lesson plan over 36 weeks. So I began printing 2 copies of the student pages for the kids, and a copy of the parent pages for me. I printed a larger copy of the Suggested Weekly Schedule and cut it into strips to tape on to index cards for each weeks work.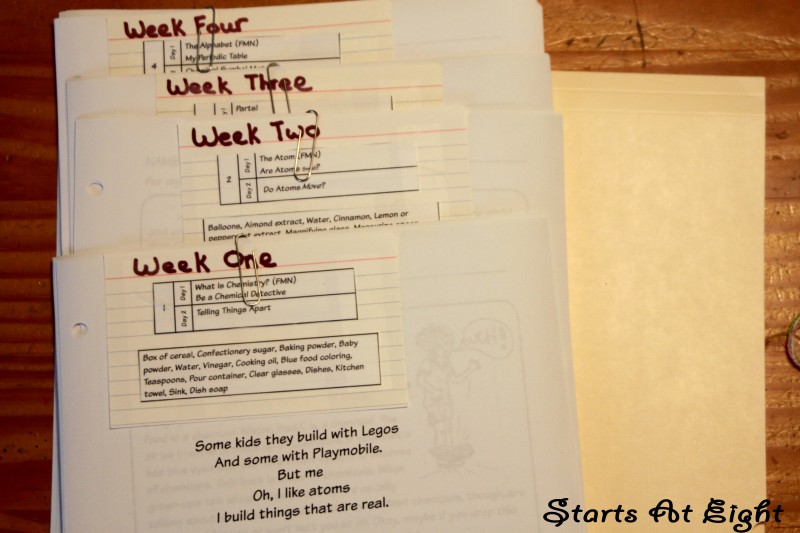 I am only 4 weeks in, but plan to have science planned and hopefully move on to history by the end of the week. If I get the Mind Benders I may detour to that because it will be an easy, straight forward print, and Lesson Plan in Homeschool Tracker +.
Planning/Filing/Crate System Series
Also be sure to check out all the articles in this Planning/Filing/ Crate System Series!