I have seen a ton of Never Have I Ever memes floating around the Internet. Some totally relatable and some totally off the wall. How about we take a look at a Never Have I Ever Homeschool Edition? I'd be interested to hear what some of yours might be. (Feel free to leave them in the comments)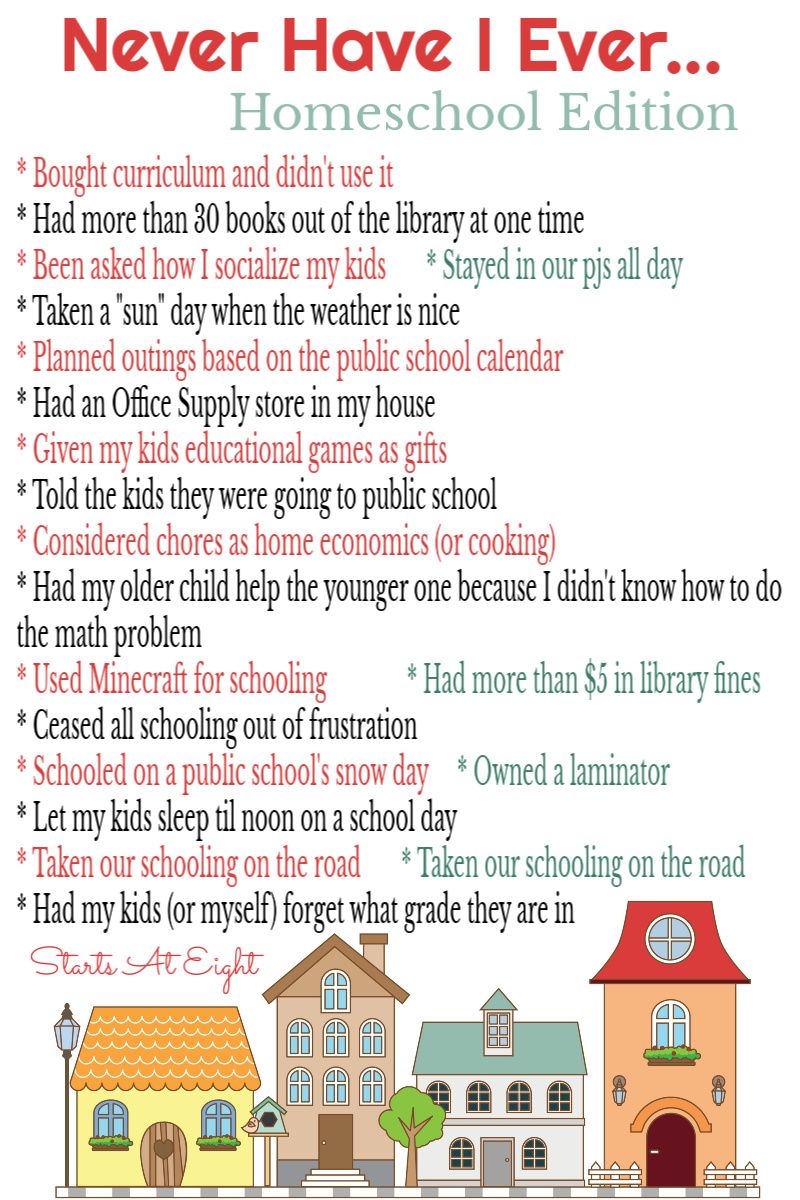 For those of you that haven't seen something like this, please note that these are true, but snarky too! Homeschooling offers us a wonderful opportunity to live our lives as we choose, and to be flexible with our time. That often means we do some things, even some silly things, that others might not do.
Never Have I Ever Homeschool Edition
So here goes…Never Have I Ever…
Bought curriculum and then didn't use it
Stayed in our pjs all day
Had more than 30 books out from the library at a time
Been asked how I socialize my children
Been asked why my kids aren't in school
Taken a "sun" day when the weather is nice
Planned outings based on the public school calendar (Museums are quieter when school is in session!)
Had an Office Supply store in my house
Owned a laminator
Given my kids educational games as gifts
Told the kids they were going to public school
Considered chores as home economics (or cooking)
Had my older child help the younger one because I didn't know how to do the math problem
Used Minecraft for schooling
Had more than $5 in library fines
Ceased all schooling out of frustration
Schooled on a public school's snow day
Let my kids sleep til noon on a school day
Taken our schooling on the road
Had my kids (or myself) forget what grade they are in
You get 1 point for each one you've never done! Leave your score in the comments!