Coding is becoming an ever prominent skill in today's technology based world. The earlier you can learn to code, the better off you will be. For this reason having a means of teaching coding to your children or a method where they can independently learn to code is becoming of more and more importance.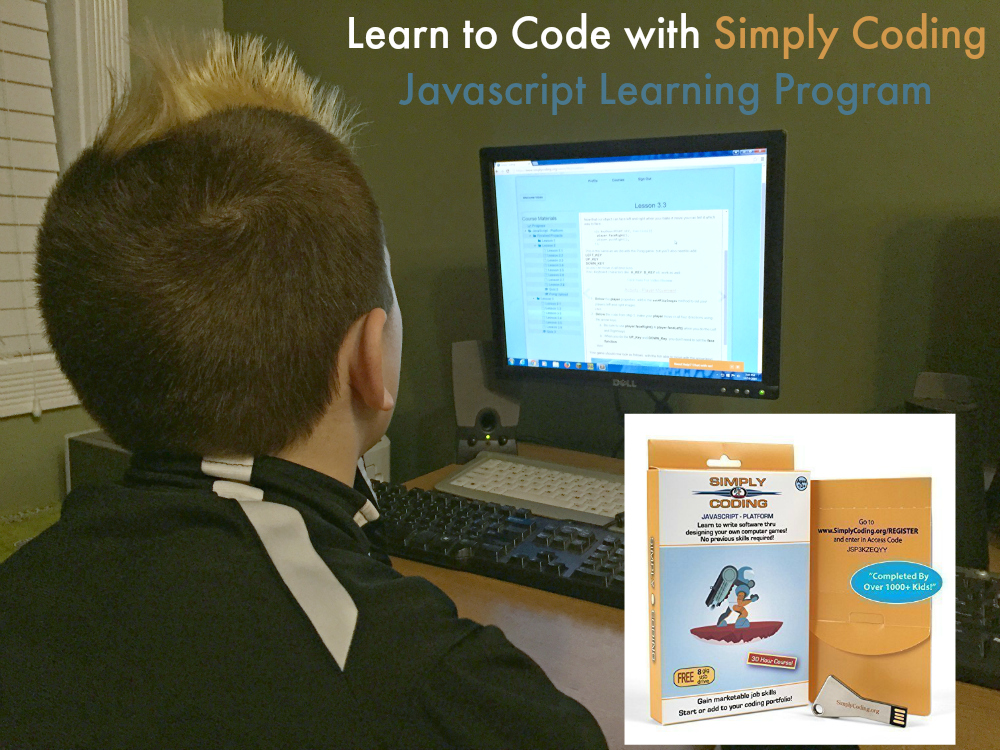 Learn to Code with Simply Coding Javascript Learning Program
I have had the pleasure of using Simply Coding Javascript Platform with my middle school aged son. {Disclosure: I received a copy of Simply Coding Javascript Platform for review and was compensated for my time in writing this review. My opinions are my own and I was not required to write a positive review. Your experience may vary. Please see my full Disclosure Policy for more details.} This coding software is meant to teach ages 10 and up how to build games and learn to code. All you need to get started is a computer with Internet access and the registration access code!
Features of Simply Coding Javascript Learning Program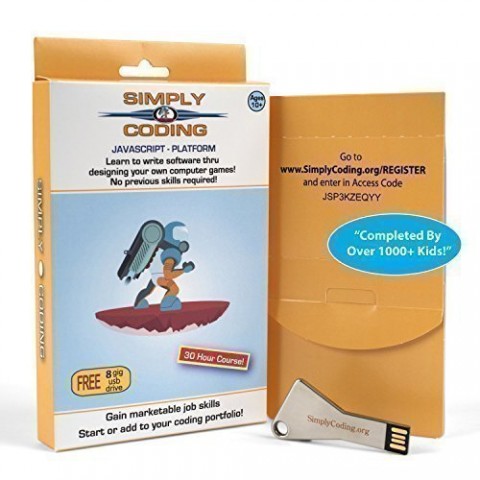 1. It's an online program.
The fact that the program is online means you can access it from anywhere, on any computer that has Internet access. I can't begin to tell you how convenient it is to not have my son tied to just one computer for this learning program! It means he can do it when we are out at the library, or on a laptop, or if one room is too noisy, I can move him to another without an issue.
2. Provides an 8 Gig USB Flash Drive
Given that the program is online and thus you can use it on any computer with Internet access, it is great that they provide a Flash Drive for your child to save their work on. This makes it easily portable because you are not storing your work on any one computer, but instead on the the Flash Drive which you can easily take with you.
3. Works on both PC and MAC computers.
4. Create 3 Working Games
This is not just about lecturing and learning rote steps. With Simply Coding Javascript Learning Program your kids will learn how to code 3 different games which when those skills a combined together are the building blocks for them to build their own games.
5. Short Simple Lessons
Each lesson is not overwhelmingly long. This is a bonus because it can be difficult for kids to absorb so much at one time, especially with something that is possibly very new and more complex. Each Lesson contains text to read, a video review, and an activity to complete. I love that you can get the information both by reading it as well as by watching the video as not everyone has the same learning style.
6. Live Chat Assistance
One very unique characteristic of this Simply Coding Javascript Learning Program is that you have Live Chat Assistance available to you. This service is available from 8am – 6pm MST. Along with this there is also a community forum where you can get on and ask questions.
To Find Out More & receive 25% OFF- See my full Simply Coding Review
There you will see Simply Coding's Other Courses, learn how the program works and find a code for 25% OFF