Hands on crafts and art projects are not my strong suit. I am not creative enough to come up with something on my own, and I often tire of searching around to find supplies for things I find online or in a book. This is not great news for my youngest who LOVES to do crafts and activities. Then in walks Kiwi-Crate, a monthly craft service delivered right to your home!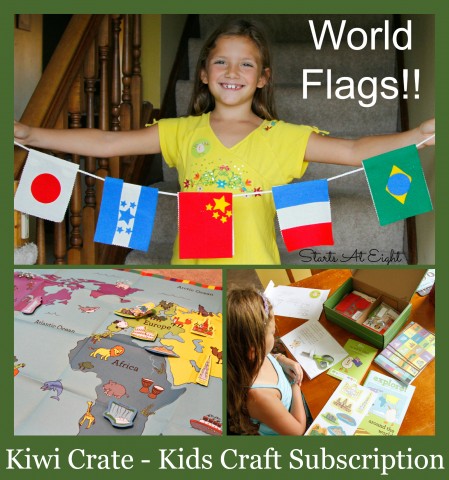 Kiwi Crate – Kids Crafts Delivered To Your Door
Each month your child will receive a box of fun, hands-on arts, crafts and science activities from Kiwi Crate. Kiwi Crate subscriptions are geared towards kids ages 3-8 and include everything you need to complete at least two (sometimes 3) complete projects with the given theme of the box. They even included scissors in ours!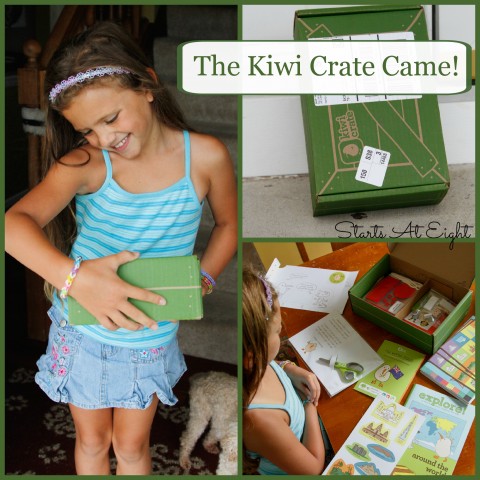 Each Kiwi Crate has a theme, things like flight, camping, water fun, fairies and more! We received one called Around the World which includes supplies to make some felt world flags, and to play a fun world landmarks game. It couldn't have come at a better time because we are actually doing World Geography this year and the Around the World Kiwi Crate was a great way to kick off our studies!

Getting started and doing these projects is easy because Kiwi Crate has everything ready for you. From full color instructions, to every supply you need, all in ONE BOX!
Kiwi Crate – Around the World Crafts
World Flag Craft
We started with the World Flag craft. It was easy for little hands to do because all the felt pieces were sticky to there was no gluing or taping needed.
After making the 4 flags that were suggested in the craft guide Ava enjoyed looking up world flags on the computer and choosing one of her own to create. (The one thing that was frustrating is that after making the suggested flags, there really wasn't any red felt left and most of the flags she looked at required red.) We did however find a flag that used a lot of blue (which is what we had left). The flag she created is the flag of Honduras.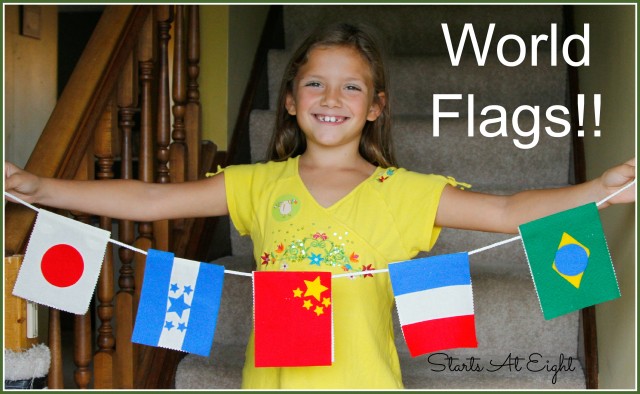 She is so proud of these flags that after they were all complete she wanted to hang them in her room. Now she is taking everyone up there to see them!
My World Map Game
The second activity in the Around the World Kiwi Crate is a game using a large, colorful world map.  After laying this section of the crate out I had to run out for a bit. Ava was so excited about getting started that she read the direction herself and was able to set it up without any assistance!
So Easy to Assemble! My 8 year old did it without me!
We started out playing it on the floor but soon learned it was much easier and more fun to have it up on the wall to play. Ava quickly began to remember on which continent that you could find each of the land marks in the game. This is a game we can use and play over and over again. (Note: I am concerned about the thinness of the map and the "bingo" style playing boards. I plan on laminating the playing boards and think that keep the map on the wall will help with wear and tear.) We are considering adding our own landmarks and cards to the game along the way to add more learning and fun!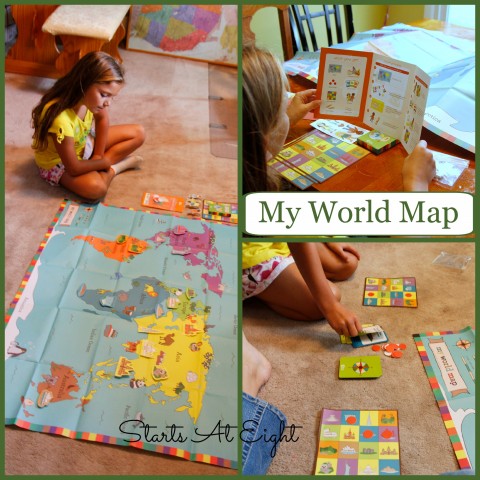 Kiwi Crate Subscriptions
Kiwi Crate offers a few different subscription packages, as well as the option to buy one of a selection of fan favorite crates at a time. The more you buy, the better per crate deal you get! While each crate has enough for one child, they also offer a "sibling add-on" where they include extra materials for a sibling to share the crate. (an additional $9.95/month)
1 Crate = $19.95 + Shipping
3 Month Subscription = $60 + FREE Shipping
6 Month Subscription = $110 + FREE Shipping
12 Month Subscription = $205 + FREE Shipping
SPECIAL DEAL
They have a great deal right now for Back to School. Use code BTS25 for 25% off 1st month subscription to Kiwi Crate. New subscribers also receive free shipping PLUS a bonus welcome kit.
Find Kiwi Crate on Social Media