This past week marked the first week of our ninth year of homeschooling. Normally we would begin right after Labor Day but things stacked up to waiting an extra week to begin.
Beginning a New Homeschool Year means a switch back to more routine and structure in our house. It also means many hours of preparation for me.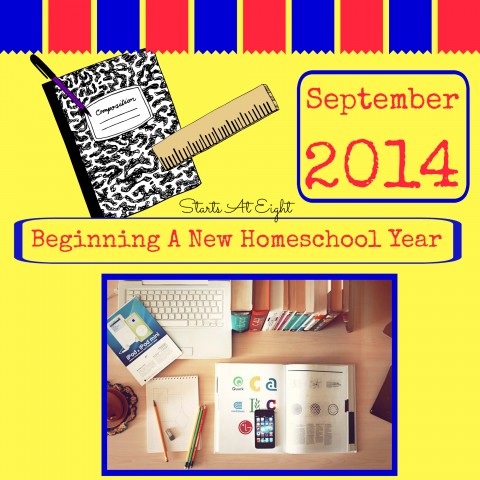 I am a planner. We use curriculum.
There, I said it!
These two facts mean preparation and structure when beginning a new homeschool year.
For the past month I have worked to gather our curriculum choices for 3rd, 6th, and 10th grades. Countless hours have been spent clearing and reorganizing our homeschool room, buying supplies, printing resources, and so on.
Some of the things I have done to prepare for this new homeschool year are:
1. Creating an Organized Chore Chart
You can see here how our Morning Routine and Chore Chart are set up to work. (Coming  9/23)
Basically the Morning Routine is the same each day and includes things like breakfast, brushing teeth, and picking up their room. I change out the chores each day to reflect what needs to be done by each child. Finally, school Assignment Sheets are printed at the beginning of each week for the entire week. Each of these things must be completed before our children are allowed free time for the day.
2. Creating Lesson Plans
Homeschool Tracker (HST) is the digital planning and logging system I use for all our homeschool related needs.
I create lesson plans, keep attendance, log resources, and books, print weekly assignment sheets and more using Homeschool Tracker.
3. Organizing Binder and Books
As part of my organization for the year, I not only create lesson plans in Homeschool Tracker, but I print and organize binder for the year.
One example of this is my 10th grader's North Star Geography binder where I planned, printed and compiled all assignments and quizzes.
4. Rethinking Work Spaces
We are moving Chloe (our 10th grader) back into the homeschool room this year because she needs help keeping on task. (Last year she started out in her room, then in the dining room, and now it is back with me.) Due to this we moved her brother, Jayden (6th grade), off the homeschool table and full time on to the computer desk. While this physically keeps them from touching, it does not alleviate the noise and disruption complaints. That is something we will be working through during this year.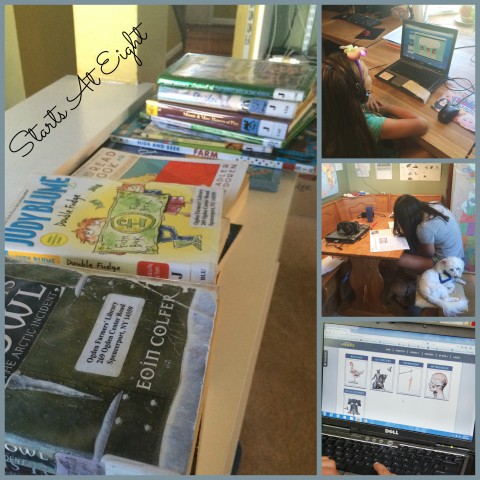 Challenges When Beginning a New Homeschool Year
While I always look forward to getting back to a rhythm after the summer off, I also dread getting going at the beginning of a new homeschool year. These are just a few of the things I find challenging at the beginning of each new homeschool year:
Getting up earlier
Getting the kids into the flow of required studies
New curriculum means figuring out a new flow for that subject (ie. how long, how often, how independent they can be, etc.)
Continued worked towards the goal of independent study when they reach high school age. This means focused effort and work with accountability and personal work ethic.
Fun Things In Our New Homeschool Year
Good work, means playtime rewards
Fun field trips
New and exciting information to explore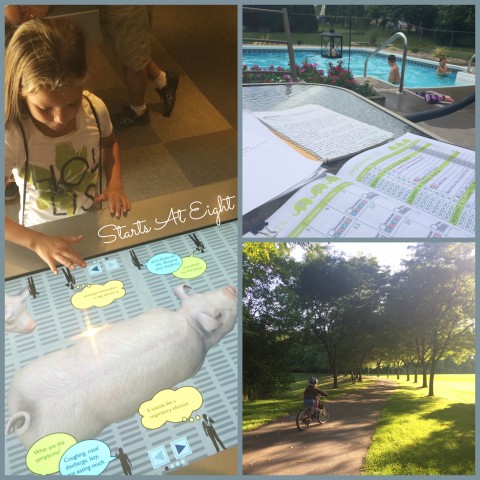 ---
The Big Book of Homeschooling
To get tons of great advice, and move beyond the basics of academics, pick up a copy of The Big Book of Homeschool Ideas. Some topics included are things like active learning, learning with video games, helping teens/tween become independent learners (one of my chapters), teaching on the road, learning with movies, high school literature (one of my chapters), and gardening.
This book can carry you through all your years of homeschooling, covering the stages your children will mature through: preschoolers, elementary grades, middle school, and high school. As your life situation changes, you will find new chapters that apply to you. You can view the full table of contents to see all 103 topics!
If you would like to purchase a PRINT Copy that option is now available via Amazon!! The Big Book of Homeschool Ideas – Print Copy