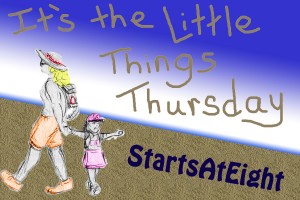 As you all know I have not posted since my "It's the Little Things" post last week.  I have been consumed with  sore teeth from getting braces as an adult, and the endless hours of landscaping that has to be done in our yard.
I seem to remember having a great idea for my Little Things post on Wednesday, but it has left me.  Instead, I had a moment yesterday that made me appreciate the benefits of homeschooling my little monsters.
Yesterday was Ava's day to celebrate her birthday at preschool.  So on Wednesday night she and Daddy made cupcakes to take to school.  Joey took the day off to be the helper in her classroom and then he was going to take her with him to have some work done on the truck.  As they were preparing to leave Jayden hugged Ava goodbye and then asked when she would be back.  They are so used to being together that this little change in the routine was suspect to him.  I told him she would not be back until after lunch.  He was disappointed with that answer.  He then hugged her a little tighter and told her he would see her after lunch!
It was such a sweet moment to be reminded of the strong bonds the kids have formed with each other.  They are so used to being together and despite the fussing and arguing, they do like being together.  It was a very small moment in what seems like a stressful week for me so I have to hold on to it and appreciate the time we all get to spend together.
Please join me in celebrating the "Little Things" that make this crazy journey called "Motherhood" all worth it in the end!  Add your link to the Mr. Linky and then leave me a comment. I would love to hear from you!
Mister Linky's Magical Widgets — Easy-Linky widget will appear right here!
This preview will disappear when the widget is displayed on your site.
For best results, use HTML mode to edit this section of the post.