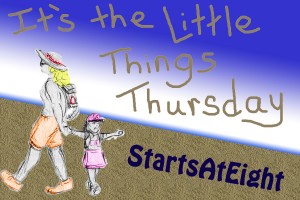 I remember the "Little Thing" post that I forgot from last week!
Chloe does not like to write.  It is the one thing that I have left a little by the wayside, trusting that she will come around to it in her own time.  A few months ago I gave her a rhyming dictionary and let her have at it.  I told her if she got a bunch of poems together that we could publish them.  Even I did not know exactly what that would entail at the time.  I did know that if she followed through with it that Joey and I would find a way to publish her creation.  What I did not know, was how amazing it was going to turn out!
Last week Chloe and Joey set out to create her book.  They are using a program call Picaboo.  After completing the first pages of the book together they called me to come see.  I was stunned at how awesome it was turning out.  But the "Little Thing" that got me was the look on Chloe's face!  She was glowing, I swear!  Beaming from ear to ear she says to me, "I had no idea it was going to be like this.  I just thought you would print the poems out on the printer and we would draw some pictures on them and staple it together."  Needless to say, she is overjoyed.  The keepsake she is going to have from this experience is one I believe she will have forever and never forget.  The book is a two page spread with each on including her poem, scrapbook style backgrounds, and photos both from our personal photos and high quality images that Joey found on the internet.  We are busting with anticipation for them to arrive!
Please join me in celebrating the "Little Things" that make this crazy journey called "Motherhood" all worth it in the end!  Add your link to the Mr. Linky and then leave me a comment. I would love to hear from you!
Mister Linky's Magical Widgets — Easy-Linky widget will appear right here!
This preview will disappear when the widget is displayed on your site.
For best results, use HTML mode to edit this section of the post.