Are you concerned that your child might have math gaps? Using a curriculum or not, you might find learning gaps in their math education. The question is how do you identify them, and then work to close those math gaps?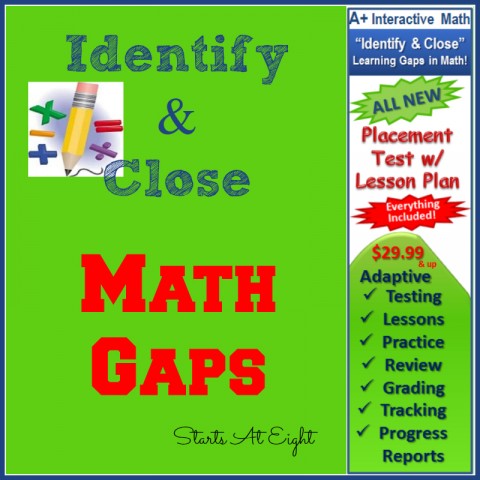 A+ Interactive Math is now offering an Adaptive Placement Test with Individualized Lesson Plans program. This is a 3-month comprehensive program that begins with grade level testing to identify your child's math gaps and then creates personalized lesson plans where learning gaps have been found.
What's Included
Multi-grade level testing
"Individualized" lesson plan to target the problem areas – Engaging lessons to learn math concepts (video, audio and text)
Interactive review with automatic re-teaching
Practice problems to apply math concepts
Step-by-step solutions to reinforce math concepts
Automatic grading and tracking
You can use this program to "Identify & Close" learning gaps in Math regardless of what Math curriculum you are using.
How does it work?
1.  Your student takes a "unit test" for each major concept to identify current skill level.
2. The program then creates an "Individualized" lesson plan your student can follow which includes everything you need.
3. You measure progress using various easy-to-read and very visual reports as your student master various skills and closes their math gaps.
The cost for all of it is totally affordable too! 1 Student is only $29.99, and then it's just $10 for each additional student!
Don't need it right away? No worries, you can purchase it at this introductory rate and wait to activate it!
Our Experience
My son (age 12) has always been advanced it math. It is a subject he has always loved and that has always come easily to him. In walks this school year (his 6th grade year). I switched him from Teaching Textbooks (where he finished grade 7), to A+ Interactive Math's Online Family Package (I love the fact that you pay for one year and have the flexibility to change grade levels if needed.).
The problem? He seemed to suddenly be floundering and I wasn't sure why.
The solution? Adaptive Placement Test with Individualized Lesson Plans program from A+ Interactive Math. I seriously think I might do this each year! For a low cost I can have him evaluated, know where his math gaps are, and have the lessons plans done for me to fill those gaps!

After each section of their grade level assessment a screen appears showing their progress for that section. It is awesome to see the screen where they have met their grade level for that section! But if they haven't you will see a similar screen telling you so and linking you up to your lesson plans where the student can begin work on that section to close that math gap.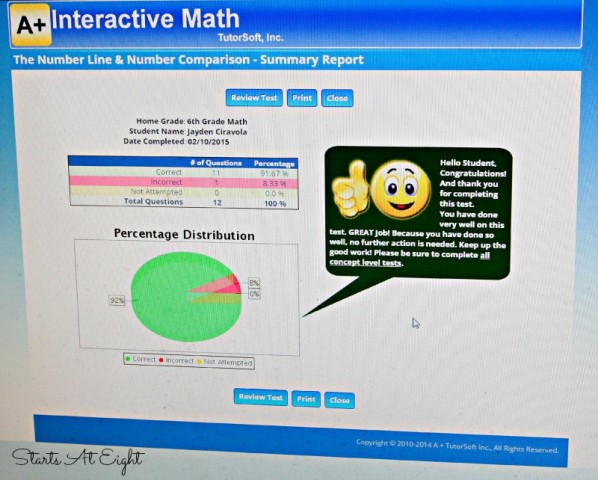 Get Your FREEBIES
These are good until April 30th, 2015
1-Month Family Math Package Online – Comprehensive math program with access to ALL grade levels (K1-Algebra 1). Option for 1-10 Students. A+ Family Packages are the most flexible, comprehensive program on the market – allowing you to change grade levels as needed. This is excellent for those needing to review previous grade levels or move ahead. A+ interactive Math online is accessible from anywhere with high speed internet access. A+ Math Teaches, Grades, Measures, Reviews and Tracks automatically.
Download FREE "Time" Software ($21.95) Value – Use Coupon Code: Time4Aplus. This Time Teaching Software (valued at $21.95) introduces your students to Time. It teaches them about days, weeks, months and year, seconds, minutes and hours, telling time using analog and digital clocks, duration of time, converting units of time, and about finding and adding elapsed time.