Inspired by the series, Great Black Heroes, this is the fifth in a series of posts meant to honor Black History Month. Through this series we will cover some of the great, and not so well know contributions of blacks and African-Americans. This fifth book is, Great Black Heroes: Five Famous Writers.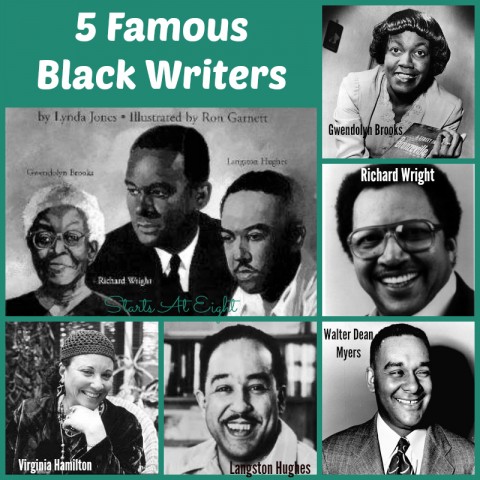 1. Langston Hughes
James Mercer Langston Hughes (1902-1967) was an American poet, social activities, novelist, playwright, and columnist.
He is particularly known for his insightful, colorful portrayals of black life in America from the twenties through the sixties. He wrote novels, short stories and plays, as well as poetry, and is also known for his engagement with the world of jazz and the influence it had on his writing, as in his book-length poemMontage of a Dream Deferred (Holt, 1951). His life and work were enormously important in shaping the artistic contributions of the Harlem Renaissance of the 1920s.
In addition to leaving us a large body of poetic work, Hughes wrote eleven plays and countless works of prose, including the well-known "Simple" books: Simple Speaks His Mind,  Simple Stakes a Claim,  Simple Takes a Wife, and Simple's Uncle Sam.
Check out a brief video biography.
2. Richard Wright
Richard Wright (1908-1960) was an author of sometimes controversial novels, short stories, non-fiction, and poetry.
Much of his literature involves a theme of the plight of African American during the late 19th to mid 20th centuries. He wrote such things as Native Son – a vivid portrayal of slum conditions in the South and Black Boy – an autobiography that describes vividly Wright's often harsh boyhood and youth in rural Mississippi and Tennessee.
3. Gwendolyn Brooks
Gwendolyn Brooks (1917-2000) was a poet who won the Pulitzer Prize for Poetry in 1950 as well as being appointed Poet Laureate of Illinois in 1968 and Poet Laureate Consultant in Poetry to the Library of Congress in 1985.
Brooks published her first book of poetry, A Street in Bronzeville, in 1945. The book was an instant success, leading to a Guggenheim Fellowship and other honors. Her second book, Annie Allen, appeared in 1949. Brooks won the Pulitzer Prize in poetry for Annie Allen, making her the first African American to win the coveted Pulitzer.
Read her full biography.
4. Virginia Hamilton
Virginia Esther Hamilton (1934-2002)  was an African-American author of children's books. She wrote 41 books, including M.C. Higgins, the Great
, for which she won the U.S. National Book Award in category Children's Books and the Newbery Medal in 1975.
You can find out all about Virginia and her works on her website. You can find a timeline of the major works in her life here.
5. Walter Dean Myers
Walter Dean Myers (1937-2014) was a children's book writer best known for his young adult literature. He wrote more than 100 books including picture books as well as non-fiction.
Among his works areSunrise Over Fallujah
, Fallen Angels
, Monster
, Somewhere in the Darkness, Slam!, Jazz, and Harlem
. Walter  Myers has received two Newbery Honors, five Coretta Scott King Awards and numerous other awards.
You can find out more about Walter and his works on his website.
Here's a brief video interview with Walter Dean Myers:
Other Great Black Heroes