This is the third of my four part series called High School Literature List. This section covers some of the most famous poets you might want to read about and read some of their poetry. As with all these literature selections it is not necessary to cover them all, but to try and include a nice cross section of poetry for your high school student to engage with.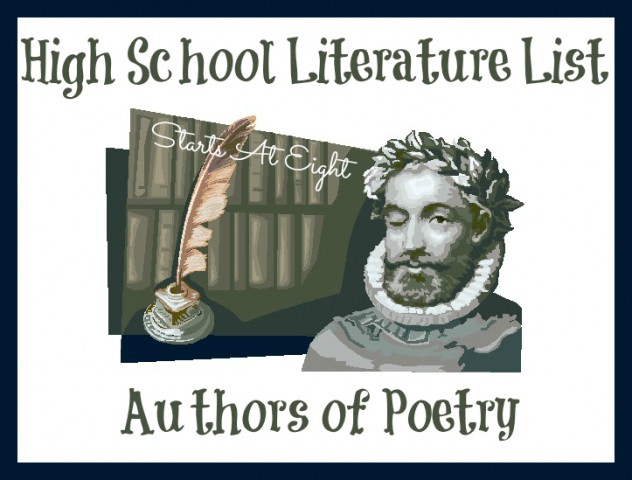 Authors of Poetry
Alfred Lord Tennyson –  The Brook, Sweet and Low, The Coming of Arthur, Balin and Balan
Edgar Allen Poe – To One Departed, The Bells, Serenade
Elizabeth Barrett Browning – How Do I Love Thee?, My Heart and I, The House of Clouds
Emily Dickinson – Conferring with Myself, Few Yet Enough, Here Where the Daisies Fit My Head
Ernest Hemingway – A Moveable Feast,  Pride and Prejudice, Emma
E.E. Cummings – I Carry Your Heart With Me, All In Green Went My Love Riding, This is the Garden: Colours Come and Go
Henry David Thoreau – Walden, Civil Disobedience
Henry Wadsworth Longfellow – Chaucer, Christmas Bells, Hiawatha and Mudjekeewis
Homer – Hymn to Demeter, The Iliad
John Keates – Hymn to Apollo, Last Sonnet, Ode to a Nightingale
Langston Hughes – Nigh Funeral in Harlem, Quiet Girl, The Blues
Maya Angelou – Alone, Touched by An Angel, Woman Work
Oscar Wilde – At Verona, Charmides, Panthea, Portia
Ralph Waldo Emerson – Ode to Beauty, Loss and Gain, Give All to Love
Robert Frost – A Passing Glimpse, Gathering Leaves, Putting in the Seed, The Egg and the Machine
Shel Silverstein – Where the Sidewalk Ends, Anteater, The Toucan
Sir Walter Raleigh – Farewell to the Court, Now What Is Love, Song of Myself
Sylvia Plath – Tulips, Wuthering Heights, Conversation Among the Ruins
T.S. Eliot – Gus: The Theatre Cat, Gerontion, multiple Preludes
Walt Whitman – Leaves of Grass, All is Truth, O Captain! My Captain!
William Butler Yeats – The Falling of the Leaves, Broken Dream, Brown Penny
William Shakespeare – Romeo and Juliet, Twelfth Night, Othello – The Moor of Venice, The Winter's Tale, Julius Caesar, As You Like It
William Wordsworth – I Wandered Lonely as a Cloud, The Ancient Mariner, The Thorn
For a list of these and other famous poets, as well as their biographies and poetry check out The Most Popular Famous Poets – The Top 50 Poets in Order from Poetry Soup.
---
High School Literature List Series: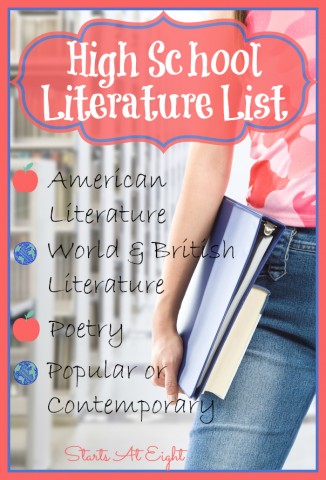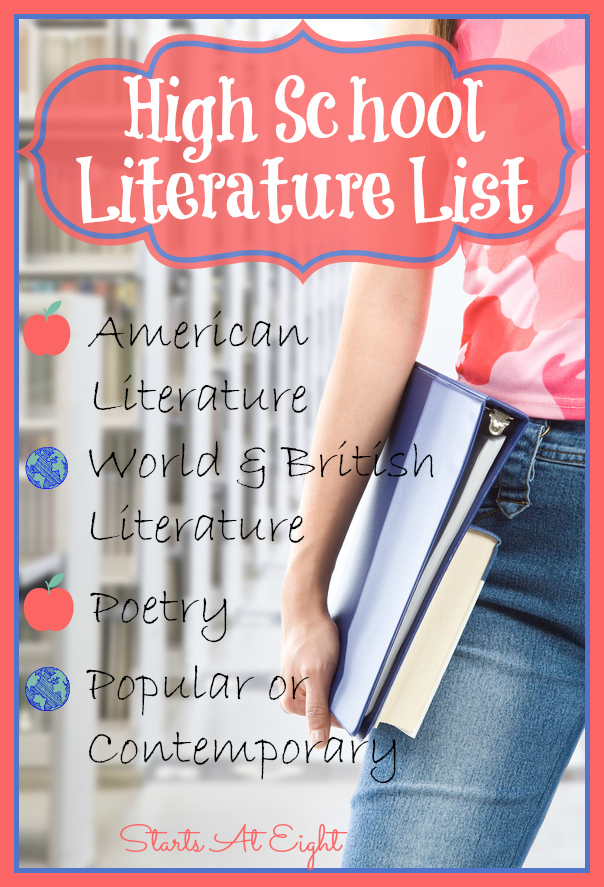 Are there books that you thought of or have read that you think belong on this High School Literature List? Share with us in the comments!