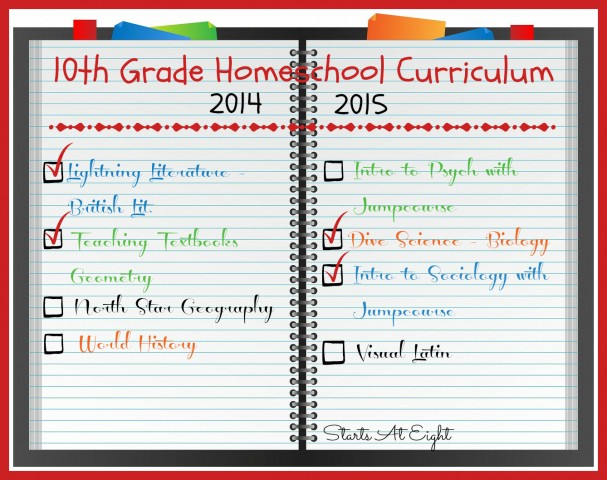 After completing our first year of high school I feel a little less like a newbie, and a little more confident about the choices we are making for the coming year. This is our 10th grade homeschool curriculum choices for our oldest child.
One of the big changes for high school this year is that we are focusing on completing some CLEP credit. Over the summer she took her first CLEP Exam – US History I.  She will be at least completing two more this year, both Psychology and Sociology. We haven't decided on the math, history or science as of yet. We will see how the year goes.
You can check out my series on CLEP (College Level Examination Program).  I will be adding to it as we go.
English/Language Arts:
We are continuing on with using Lightning Literature and Composition from Hewitt Homeschooling.
This year we are covering British Literature which is split into two sections:

I have also compiled a list of World and British Literature for High School that we hope to read a few selections from.
Mathematics: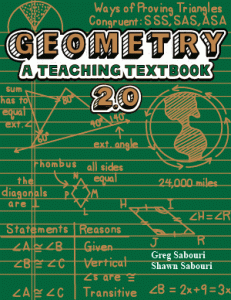 Teaching Textbooks was our math savior a few years back. You can read about our math journey in The Old Schoolhouse Jan/Feb 2014 Edition – Math! You Can Hate It and Still Be Good At It. You can also read about How I Homeschool High School Math in another article here at Starts At Eight.
We have continued with Teaching Textbooks for years now and this year for 10th grade she will be completing Teaching Textbooks Geometry.
History/Geography:
We are combining two courses together to cover World History and Geography this year.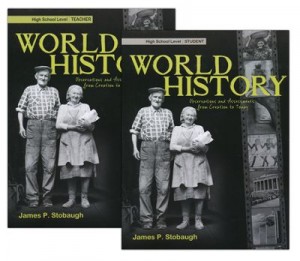 Master Books World History
Bright Ideas Press North Star Geography – this is a new middle & high school course from Bright Ideas Press that we are using to get the World Geography part of our World History studies.
Science:
We started out using DIVE Science for 9th grade and are very happy with the course.  (See How I Teach High School Science) We like the fact that it includes various types of learning to suit many different learning types, but the big thing for our daughter is that she does well with video courses. This course includes textbook reading and note-taking, lectures, video labs and unit exams.
This year we are using DIVE Biology and are buying the science kit to do many of the labs hands on in our home.
Electives:
This year we have chosen to do 3 electives.
Latin
Latin is a continuation from last year (9th grade Curriculum) where we used Vocabulary Vine: A Spiral Study of Latin and Greek Roots
. You can read about why we chose Latin as a High School Elective & Foreign Language.
This year we will be beginning a full Latin course called Visual Latin from Compass Classroom.

Psychology
For Psychology we will be using two different things:
7 Sisters Introduction to Psychology
JumpCourse Psychology – We had the chance to try out and review JumpCourse last year as a means of studying to earn college credit. We liked it so much that we are using JumpCourse to work towards CLEP credit in both Psychology and Sociology.