When your kids are busy with school work and studying for tests, it's helpful to not only set the right kind of environment for efficient learning, but to fuel them with the right foods.  It's critical that their surroundings allow them to stay focused and alert.  The question of what are healthy study foods for children is a good one to ask yourself.   Your goal should be to provide them with the right study snacks and prepare healthy meals for them on a regular basis.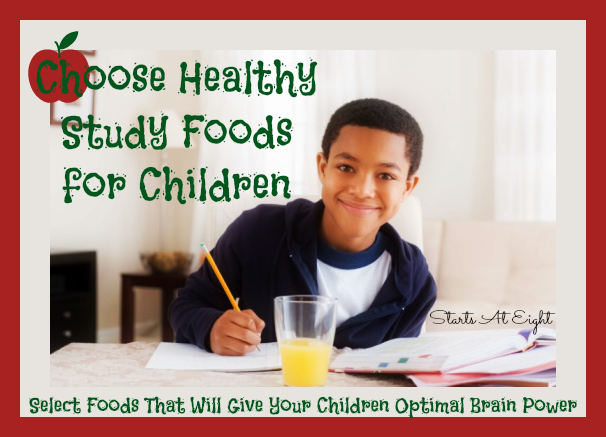 Foods that will give your children optimal brain power:
The time of day is crucial when trying to determine the best study meal or snack.  It is important to eat smaller portions, and more frequently to keep a steady balance in your body.   Below are some ideas of which brain foods would be good for each meal.
Breakfast:
Eggs are a common breakfast food and for good reason: eggs are low-calorie, but filling, and provide lots of nutrients and antioxidants.
Eggs provide a good starting point to the day because they are rich in Vitamin B which helps the body use energy, as well as high in protein which helps build lean muscle and keep you filling full longer. Online University Lowdown claims that they are also a good source of EFAs (essential fatty acids) for the brain. Although yolks are high in cholesterol, a basic building block of brain cells called choline helps improve memory.
Lunch:
Sandwiches offer a wide variety of healthy and appealing options when it comes to eating lunch.
Leafy greens, avocado, peanut butter, cheese, and egg salad are among the many fillings you can put in your sandwiches that are considered brain food. Tuna fish is a great option that is high in protein as well.  Remember to choose wholegrain products instead of white bread, as simple carbohydrates can lead to lethargic behavior.
Afternoon Study Snack:
Vegetable sticks make for healthy snacks any time of day. Because consumers have increasingly grown weary of the health value of generic retail products, additions like the Cruditè Selection to one of the UK's leading brands platter selection shows that many are taking notice of the importance of health requirements for children's snacks. The Cruditè Selection from Marks and Spencer has become a front runner in their health-conscious ranges. Reason being: cruditès are low in calories, and the carbohydrates from the vegetables provide the necessary fuel to the brain to get energized.
Dinner:
Salmon is high in protein and omega 3, which is essential for mental development. In an article posted by The Health Site, research indicated that participants with omega 3 deficiencies had smaller brain volumes, resulting in lower scores in tests measuring mental functions. Omega 3 has been associated with dementia prevention so in this way, salmon would help boost your kids' memories.
Evening Study Snack:
For school work that's being undertaken after dinner or before bedtime, fruit is highly recommended. The fructose in the fruit will digest at a slower rate than if consumed on an empty stomach, providing lasting energy for your children. According to Top Universities blog, the best fruit to snack on is bananas, apples and berries. Try arranging a platter with this fruit for those evening study sessions.
Spreading your meals and snacks out throughout the day allows for your body to feel full and digest food in an efficient manner.  What is great about this plan is that you are getting in all your essentials like protein, fruit and veggies in reasonable sized portions.
Other Posts Related to Raising Healthy Children:
Author Bio:
Angela Wilkinson is a part-time superheroine/lifehacker/student of life and a full-time mum of three little children. When she's not busy taking care of her children and experimenting in her mad scientist's lab called kitchen, she writes on her own blog and tries to help other mums out there in dealing with daily home activities like cooking, gardening, and child care. She is married to a 34-year old business associate who serves as her lab rat for her new experiments, er, dishes.
---
*This post contains affiliate links. See my Disclosure Policy for more details.