Tis the season of AP Exams. Every year in May, across the United States, kids are sitting for AP Exams in various subjects. But what is an AP Exam? What will earning AP Credit do for your high school student? Read on and let me tell you!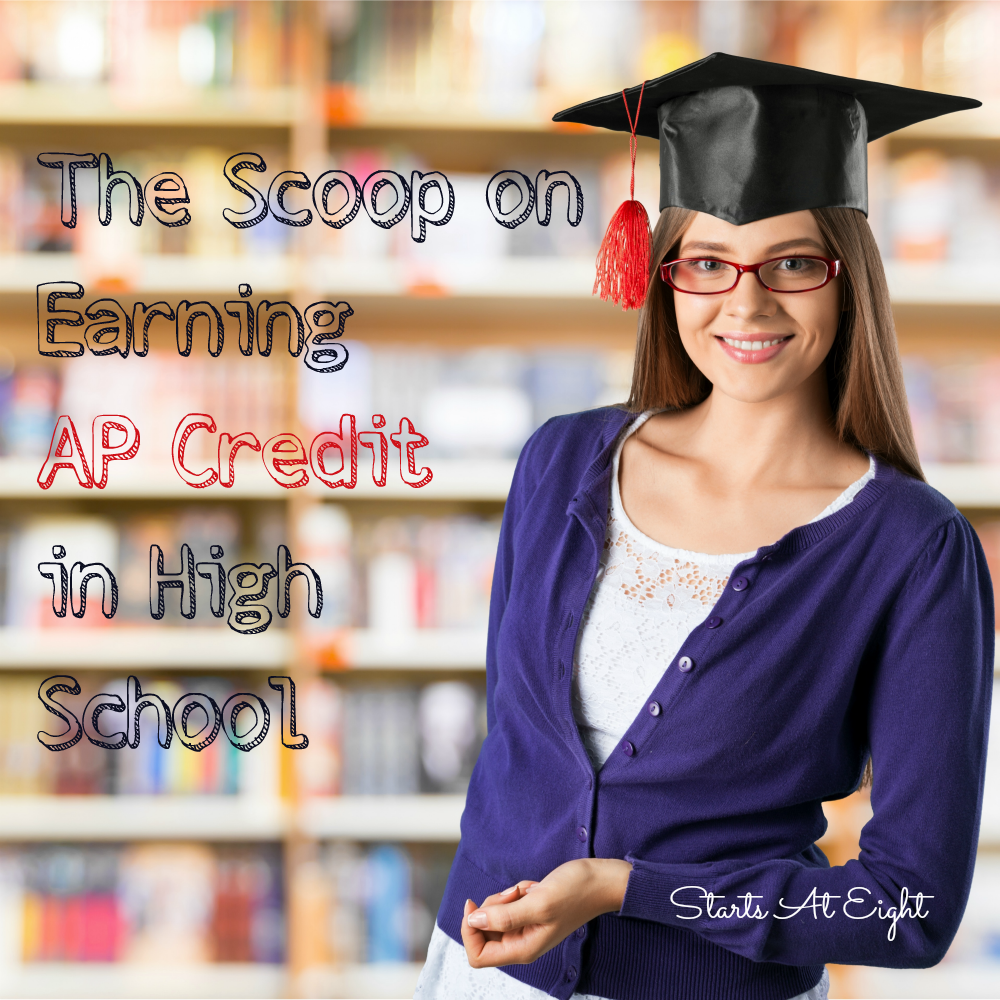 I am graduating my first child from our homeschool this year. We have chosen a path of earning dual credit in her high school years. Between taking CLEP Exams, earning AP Credit, and attending classes at our local community college, she has set herself up for college while still in high school!
The Skinny on Earning AP Credit
What is an AP Exam?
AP stands for Advanced Placement. The College Board offers more than 30 AP courses, enabling students to pursue college-level studies — with the opportunity to earn college credit, advanced placement or both — while still in high school.
Quick Facts About AP Exams
One of the things that makes AP unique from other programs like IB or dual-enrollment courses is that you can take an AP test without taking the AP class.
High enough scores often translate into college credit after graduation. More than 90 percent of four-year colleges in the United States offer credits, advanced placement, or both based on AP exam scores. Normally a score of 4 or 5 out of 5 is required, but be sure to check with your school of choice.
You can take it more than once. Therefore if you take one in 11th grade and aren't happy with the score, you can take it again the following year.
Students who do not do well on the exams may direct that the schools they have designated not receive specific scores. They may also direct that the score is cancelled from their records completely.
Test results are usually back in July.
Benefits of Earning AP Credit
Earn college credit with a qualifying score.
Learn how to handle tough material and lots of deadlines via the rigor of an AP class.
Skip over some of the more basic, crowded freshman-level classes if you rack up enough credits through exams.
The added credit could also help you graduate early.
AP Exams and Homeschoolers
Homeschoolers can take AP Exams! Contact your local school district to connect with the AP coordinator NO LATER than March 15th of the year your child would like to take the exam. If you local school does not offer them, contact AP Services no later than March 1 to get the names and telephone numbers of local, participating AP Coordinators willing to test outside students.
Once you locate a school, that school's AP Coordinator is responsible for ordering your exam materials, telling you when and where to report for the exams, and collecting your fees, which may be higher to cover the school's additional proctoring or administration costs. That school must administer the exams for you; the school cannot forward them to you or your school for handling.
For all the detailed information be sure to check out Explore AP from the College Board website.
Preparing for an AP Exam
 
More High School Helps