The ever popular or better yet, #1 New York Times Best Seller, 5 Love Languages books by Gary Chapman have come out with yet another fabulous product! I am pleased to be able to review Discovering the 5 Love Languages At School (Grades 1-6) which is a curriculum meant to help strengthen connections between student and teacher, student to student and by proxy stemming out into family relationships too!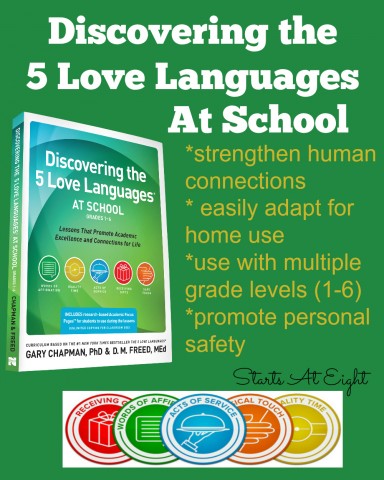 Inside Discovering the 5 Love Languages At School you'll find:
Seven easy-to-use lessons written in both scripted and abbreviated formats (average time per lesson: 35 minutes)
Curriculum that reaches all elementary-aged students, including trauma-sensitive, complex, and highly capable learners
Instruction that connects students with their teachers, educational staff, peers, and family at the deepest levels of understanding
Academic Focus Pages™ written at age-appropriate levels. Students can use them during the lesson and the classroom teacher can reproduce them year after year
Tools and ideas for all staff members to create an overall school climate of acceptance and break down walls of diversity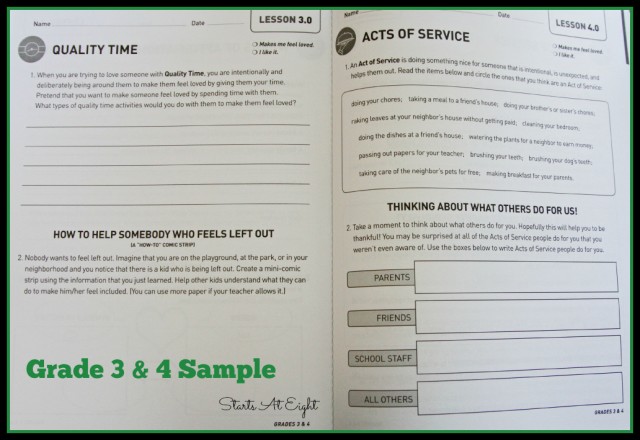 For anyone who has found benefit in any of the 5 Love Languages books, you will find benefit in Discovering the 5 Love Languages At School
. Just as in math, science, etc. we strive to teach the basics in the early years, this method of personal connection via the 5 Love Languages is easily taught as a foundation in the younger years with benefits lasting a lifetime.
Using Discovering the 5 Love Languages At School in our Homeschool
1. Easily Adaptable for Homeschool Use
While this was written for classroom use it is easily used within your homeschool with little to no adjustments.
2. Lesson Scripts to Choose From
I liked the multiple choices for the amount of scripting in each lesson. I found myself easily using the script guidelines and adapting or adding with my children were I found it to be necessary.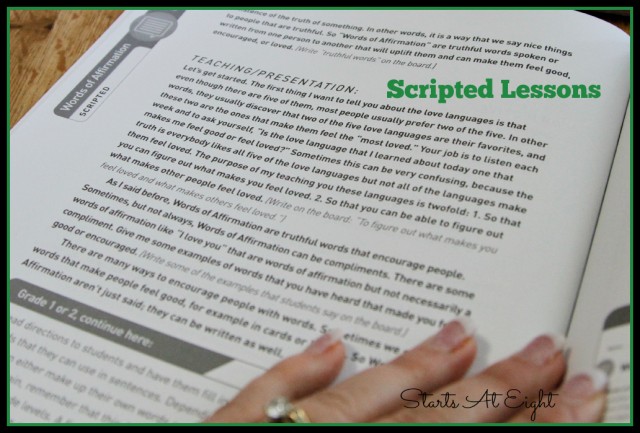 3. Multiple Grade Level Worksheets
The multiple grade level Academic Focus Pages (worksheets) allowed me to use this simultaneously with my 3rd and 6th grader without any adjustments. We talked together and went through the lesson together, while each of them had their own level of worksheet to use.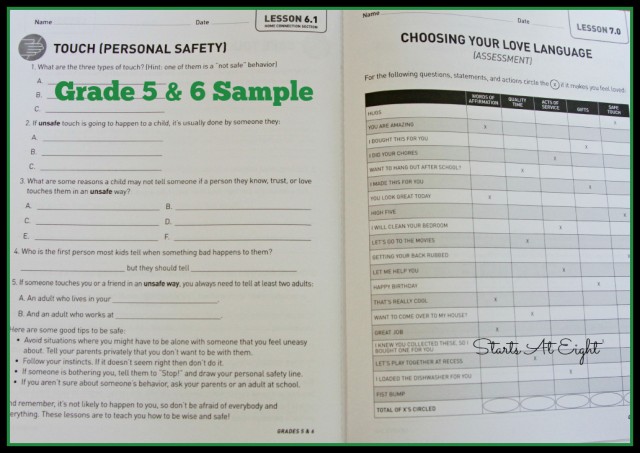 4. Perforated Edged Papers
All the worksheet pages have perforated edges. This allowed me to easily remove this whole section (it is located at the back of the book). By removing this section the worksheets were easily copied (see copyright of book for full details), as well as kept the rest of the book (the teacher portion) in tact for me to continue to use.
Love what you see?
You can purchase your copy of Discovering the 5 Love Languages At School here
Disclosure: I was given a copy of Discovering the 5 Love Languages At School for review. My opinions are my own honest opinions and I was not required to post a positive review. Your experience may vary. Please see my full Disclosure Policy for more details.
Another Gary Chapman Book for Raising Children