We have young athletes in our house. While they may never be Olympic hopefuls or NFL stars, they strive for greatness in their own ways. I love it when they can see role models not only in the sports they participate in, but in other sports as well, living healthy, positive lives. Here are 3 Inspiring Books to Encourage Your Athlete that we currently have in our house.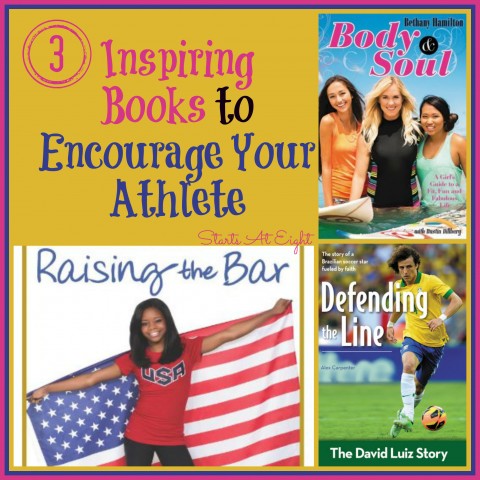 1. Raising The Bar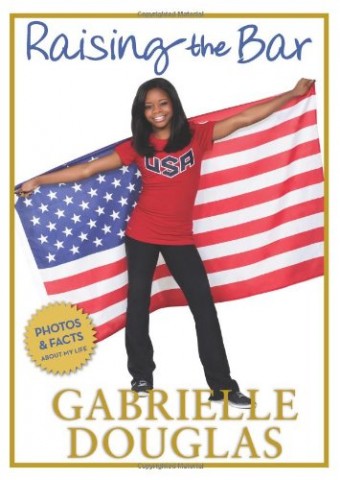 Written by Gabrielle Douglas herself, in Raising The Bar she shares a bit of herself with all of us.  With gorgeous full color photos, tons of stats and information about her, and tons of inspiring quotes, Raising The Bar is every young gymnasts dream.
Inside these pages, Gabrielle shares an inside look at her day-to-day world, from the things that are still important to her—time with her friends and family, her favorite comfort foods, and her training routine—as well as what's it's like to suddenly walk the red carpet and interviewed by various people. Along the way, Gabrielle also offers tips on how you can raise the bar on your life and accomplish your dreams.
My teenager is a competitive gymnast, she started in the gym at the age of 3 and has been competing for 7 years.  She has faced many obstacles along the way, and the ever looming question from people about if she was going to the Olympics.  Why that is an automatic question with gymnasts I am not sure but reading about Gabby, and taking strength from her insight has given my daughter a renewed since of drive and confidence in the gym.
She is adding this Gabby Douglas quote wall decal to her room this coming month when she redoes it for her birthday!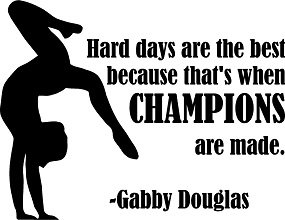 Also by Gabby is Grace, Gold, and Glory My Leap of Faith. In this personal autobiography, Gabrielle tells her story of faith, perseverance, and determination, demonstrating you can reach your dreams if you let yourself soar.
2. Defending The Line
This book is about David Luiz – one of the rising stars in international soccer. David Luiz has been impressing crowds since he was a boy. But it is his faith, not his fame, that drives him to greater success and keeps him "defending the goal."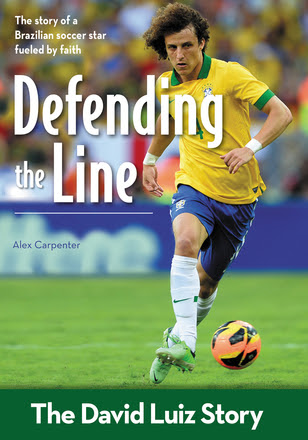 Our son plays soccer and has since he was a tot.  This was the first year (at the age of 11) that he was interested in the World Cup.  His team of choice was Brazil, despite his mother being German and father Italian, he had some need for Brazil to win.
Thus Defending the Line could not have come at a better time for him. Written by Alex Carpenter, Defending The Line is the story of the Brazilian soccer star David Luiz.
One of the things that I love is that he is a defender and vice-captain for the Brazilian team.  If you know anything about soccer you know that all the young kids want to be on offense, particularly the striker because they see being top goal scorer as the only worthy position. And honestly, (and unfortunately) we as parents often make them feel that way.  I love that David is a star defender (because the defenders are just as important as the striker).
Our son was encouraged and inspired by David's story and it opened up the opportunity to highlight not only a great person, but a top notch player and defender.
3. Body & Soul – A Girl's Guide to a Fit, Fun, and Fabulous Life
When we watched the movie Soul Surfer we were all so inspired by Bethany's grit and determination. She faced a massive obstacle along her path to surfing. Yet she fought back and found a way to continue doing what she loved. Bethany is a poweful example of strength and courage to our young athletes, no matter the sport they play.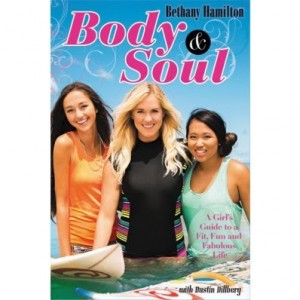 In Bethany's book, Body & Soul – A Girl's Guide to a Fit, Fun, and Fabulous Life Bethany shares some of her core experiences with body, mind and spirit. Sharing her expertise as an athlete, Body & Soul helps young girls develop a healthy lifestyle, understand their changing bodies, gain confidence, and establish a pattern of healthy living starting at a young age.
Bethany is an awesome role model to have for sharing some important tips and healthy living guidelines with your daughters.  She shows the benefits to  healthy living, body and soul.
This book includes workouts specially developed for young girls by Bethany's personal trainer, recipes and information on healthy eating based on "Bethany's food pyramid," which follows the Mediterranean diet, and advice on deepening your spiritual health, for a total body wellness book perfect for growing girls.
This isn't a book about Bethany, this is a book about wellness and becoming your best "you," through both physical and spiritual balance.  Body & Soul is a great choice to inspire, encourage and guide our girls.
---
Disclaimer: This post contains affiliate links.  I want to thank Gabrielle Douglas, Bethany Hamilton and Zondervan for supplying me with review copies of Raising the Bar and Body & Soul. I would also like to thank Alex Carpenter and ZondervanKids for supplying me with a copy of Defending The Line for me to review. While I received these free of charge in exchange for my review, my opinions are my own, and have not been influenced in any way.
---