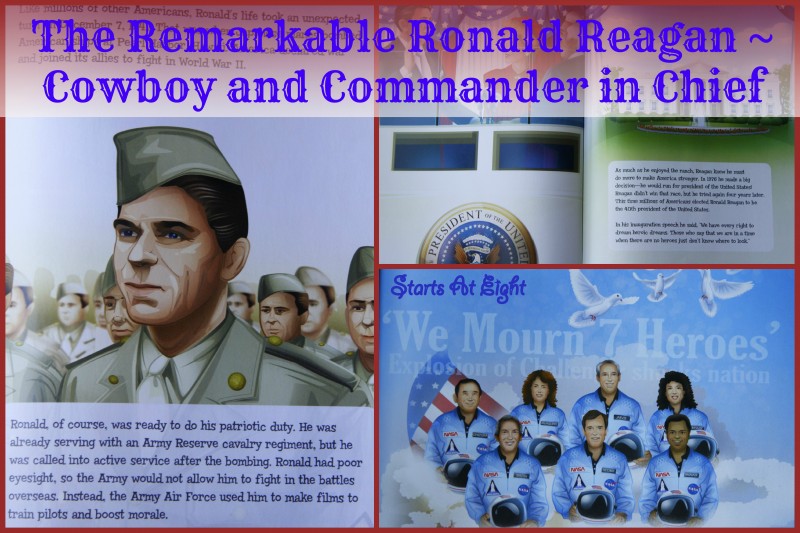 From the moment I opened the packaging of The Remarkable Ronald Reagan ~ Cowboy and Commander in Chief I was impressed. The cover illustration is stunning! Plus my little one is in love with horses and here we were staring right at one – along with Ronald Reagan that is!
About The Book: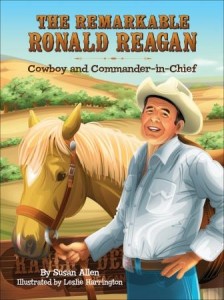 Ronald Reagan was a natural leader, well-remembered not just for his political leadership, but also for his warmth, kindness, dignity, and optimism. There's a lot kids can learn from Reagan, about our country and about being good leaders and good people.
The Remarkable Ronald Reagan: Cowboy and Commander in Chief is a fun, colorful look at his life, from his humble beginnings as the son of a shoe salesman, to his years as a Hollywood actor, his service in WWII, his life as a rancher, and finally the culmination of his political career in the Oval Office.
Ronald Reagan is an ideal role model, not only as a leader and former president, but also as a shining example of self-sacrifice and determination.
"Government's first duty is to protect the people, not run their lives."
To hear more about this book, check out what other people on the tour schedule are saying.
About The Author: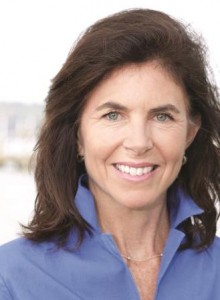 Susan Allen served as First Lady of Virginia when her husband, George Allen, was elected as the Commonwealth's 67th Governor. In that role, she worked on many initiatives including tourism, breast cancer awareness, and children's issues.
Accompanying her father-in-law, famed NFL head coach and Chairman of The President's Council on Physical Fitness, Susan met Ronald Reagan in 1987 in the Oval Office. Reagan was an Allen family friend and the one who inspired her husband to run for office. George led Young Virginians for Reagan in 1976 and currently serves on the Board for Governors for the Reagan Ranch.
Susan Allen resides in Mt. Vernon, VA, with her husband and is an avid fan of reading, history, and the outdoors. The Allen's have two daughters, Tyler and Brooke, and one son, Forrest.
What I Thought
While this book is geared towards ages 5 to 8, with a guided reading level of P for third and fourth graders, this book really appeals to all ages.  From my mother to my daughter we all enjoyed and learned from this book.  I even found my 10 year old son had picked it up and taken it to his room to read on his own.  The illustrations are superb, the story inspiring, and the amount of factual information is plentiful.
One of the facts that has stuck with me is that, "President Reagan wrote more than ten thousand letters over his lifetime. Many, of course, were to important world leaders, many to beloved family and friends.  Reagan especially enjoyed corresponding with children – both to hear their ideas and to encourage them."  He even had an ongoing correspondence with a 7 year old boy in which he wrote 175 letters to over the period of 5 years.
The Bottom Line
The Remarkable Ronald Reagan ~ Cowboy and Commander in Chief is beautifully illustrated, well written, and jam packed with information, facts and quotes about Ronald Reagan. In my opinion and must read for anyone looking to learn a little something about our former President Ronald Reagan.
---
Disclaimer: I want to thank Susan Allen and TLC Book Tours for supplying me with a copy of this book to review. While I received it free of charge in exchange for my review, my opinions are my own, and have not been influenced in any way.
---
Ronald Reagan Quotes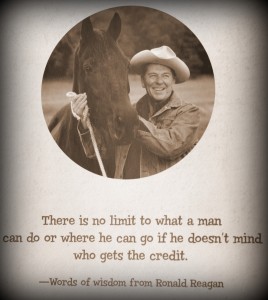 "A people free to choose will always choose peace."
"Freedom is never more than one generation away from extinction."
"Whatever else history may say about me when I'm gone, I hope it will record that I appealed to your best hopes, not your worst fears…"
"The nine most dangerous words in the English language are: I'm from the government and I'm here to help."
"all great change in America begins at the dinner table."
Ronald Reagan Facts
* Born February 6th, 1911 in Tampico, Illinois, to Jon and Nelle Reagan.
* After eight years of governor of California, Reagan and his wife, Nancy, bought a large ranch in the mountains outside Santa Barbara, California. They names it "Rancho del Cielo," which is Spanish for "Ranch in the Sky." It was Reagan's favorite place in the world.
* January 20th, 1981 he was sworn in as the 40th president of the United States.
* In 1985 Reagan is sworn in for a second term. At seventy-three years of age, he is the oldest president ever to take office.
* In 1986, Reagan signed legislation making the birthday of Martin Luther King Jr. a national holiday to be celebrated on the third Monday of January.
* Reagan told Mikhail Gorbachev, the leader of the Soviet Union, to "Tear down this wall" that divided the free side of Germany from the oppressed side. After this, Gorbachev agreed to take down the wall.
* Ronald Reagan died June 5, 2004. At age ninety-three, he lived longer than any president in American history.